Newsletter #13 – 2019. MAZDA-COTR. Season #14. The big finish!
Powered by MAZDA

Don't leave your bike dirty in the garage. Clean it. Check it over. Put some 40c tires and a wide range cassette on it. Get out there again!.

Buckle in……this is the last e-mail of the season….and it is a big one!
Newsletter #13.
COTR does not happen without the support from these people
Save the dates (aka don't send us an e-mail asking which dates the races are on in 2020)
Hot Crossed Bunnies Review
Study Build Youth Fund Details (Your young racer has 2 weeks for this)
If you want to keep racing this year (you know you do!!)
The Warm Ups
If you had a chance to look around at the prize table at Hot Crossed Bunnies you might have notices we gave away a LOT of stuff. Just at that race alone the total was over $12,000 worth of prizes, cash and merchandise. Over the course of the season the total goes well over $20,000. COTR gave away 3 bikes and 2 framesets! Thousands of dollars worth of prizes! Cash!! Take a look at the sponsor list on this newsletter. MEMORIZE IT! Give them your thanks and your spending dollars. They make the sport that we all love happen on the island. It is not because they EXPECT more business because of it…..but man it would be sweet if they did get a bit more business BECAUSE of it!
The various stages of "Post COTR" race season. Day 1. Happy it is over. Day 2. Wash the bikes. Day 3. Start thinking about racing again. Day 4. Start looking at the race calendar looking at late season cx races and early season gravel/mountain bike/adventures.
If you did not see our FB post about the crazy stolen bike-found bike-recovered bike story from Hot Crossed Bunnies you can check it out on our page. One thing for sure is that we all get a little complacent from time to time with our bikes. Heck one of the Naked riders (We can all guess who that was) left his bike behind last Saturday…..it was just sitting outside when we came out and were cleaning up from the awards. Stay vigilant people! Keep an eye on your stuff and especially your bikes. We live in a crazy time right now…..we don't want people losing their bikes as a byproduct of this crazy time!
Lots of highlights this year; the sheer number of first time podium and winners, the number of Zoom Zoom racers (check our FB post this week for contrast), the team atmosphere especially the Team Hotel Zed Cycledelic Blurs and Buttcat FACTORY racing! Mostly the increased POSITIVE vibe this year. There were so few "not as positive" notes or suggestions. People were cheering rather than "jeering". Encouraging. Real positive racing. General respect for other racers. It was noticed through the season. Everyone is working to make it better…..this will carry this series onward and make even a better community for cycling on the island! So thanks to everyone this year!
If you don't have the Quadra Island Cycloquest on your radar and schedule for 2020 you should put it on. May long weekend. MayhemAggedon edition. https://quadracycloquest.ca/details It will be an epic event with awesome people.
Title Sponsor: MAZDA who make a LOT more possible with the series including covering all the prizes for ALL the kids races. Sean and Justin were super bummed to miss the last race by 24 hours. They love being at the races and watching the little kids!
Presenting/Prizing Sponsor and main sponsor of the Muc Off Cup: Peter Creighton from HLC and MUC OFF
Prizing sponsors for our Victoria races: Pro-Pearl Izumi, Shimano and Lazer.
Super Masters Men's Category Sponsors Island Cycles…a small bike shop on Quadra and one man, (Jack Mar) makes ALL the prizing for Super Masters happen all season long. No wonder we ran out of Super Masters race number this year…..word is out!
Corey and Sean from Rock City Cycles Nanaimo
Phillips Brewery for their continued support for the Single Speed category and series prizes
Frontrunners who let me race and organize and do prizing for some of the races.
Nutcase do a great job supporting the kids races for years!
Trek Bikes Victoria. Pro City Cycles for Topaz
Wade Luksay from Riverway Dental (Youth Category Sponsors giving CASH to these little up coming racers)
Andreas and Danielle from Study Build from Quadra Island who are sponsoring the Youth race for FREE program (See the details and deadline below)
Kyle Denny from 11 Speed Coffee covering the Last Not Lapped (AKA most in need of coffee) and this years "Moving on Up"
And Sam Wittingham from Naked Bikes for once again sponsoring the GRAND PRIZE and supporting this years winning team.
There can only be ONE WINNER of the COTR Naked frame for the season!!
Congratulations to Brian Moran!!!!!!!!!!!!!!!!!!!!!!!!!!!!!!!!!!!!!!!!!!!!!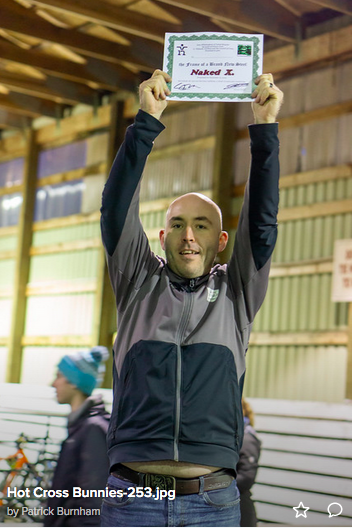 2. Save the dates
Every year the calendar for the fall gets more and more busy! We are all active people enjoying a multitude of activities including Cross on the Rock. For 2020 there are extra considerations for the calendar that we have not had to factor in before including the Grand Fondo World Championships in Vancouver that quite a few of our racers are doing. As well the National Cyclocross Championships will be held at Bear Mountain on Cross on the Rock's old driving range course. This will occupy another spot on the fall calendar. We are in discussions weekly with all our races and directors but this is how the September to November calendar looks so far.
AUGUST
Mid-Summer Cyclocross Night. Most likely Wednesday the 8th or Thursday the 9th. We will keep you posted!
SEPTEMBER
5th and 6th. Labour day weekend. People are busy. Triple shot is taking a break. Summer is finishing up. Enjoy!
12th and 13th. Grand Fondo World Championships in Vancouver.
CYCLOCROSS STARTS ON THE ISLAND. BE READY!
19th and 20th. COTR #1: Qualicum Beach or possibly Victoria.
26th and 27th. MOMAR is on the 26th as well as possibly the Burnt Bridge Gravel Fondo. We will be racing on the 27th. Most likely in Cumberland for COTR #2.
OCTOBER
3rd and 4th. So this would be COTR race #3. Venue will depend on where we are going for Thanksgiving…….still waiting to hear back.
Thanksgiving weekend. October 12th. Thanksgiving MONDAY. This will make it weekend #4 for COTR. Starting the season with a HUGE BANG!! Either in Victoria or back in Nanaimo.
OCTOBER 17th and 18th. Crossfondo is looking at the 18th. Cross on the Rock takes a break.
October 24th and 25th. COTR Race #5. (Possibly a double header).
October 31st/November 1st. AVOIDing this weekend. Weekend OFF of all races. Halloween. Possible time change. Recovery. Rake leaves.
Which takes us to November which will be again FULL ON!
NOVEMBER
November 7th and 8th. Possibly a double header. So could be Race #6 or race #6 and #7.
14th and 15th. Last COTR race weekend. MOST likely on the 14th to give us maximal time to recover and get ready for the National Championships on the 20th to 22nd in Victoria. Because Nationals are in Victoria we may look at doing this race back up island as people will otherwise be double traveling to the south island for back to back weekends.
20th to 22nd. National Championships at Bear Mountain. We have high hopes for this event to have FULL Youth categories. 5 year age categories for Masters. A possible revised and fair call up system using Provincial Championships as ranking. A single speed race for the jersey all over 3 days. We all want to see this be the best and most modern Cyclocross Championships in Canadian CX history! Something to work towards and focus on!
So in Summary we will have EITHER 7 races again or possibly 8 if we can figure out the challenge or a double header. Most of the events will be on Sundays. The season will start with a BANG with 4 weekends in a row!
2020 will be our 15th season of Cross on the Rock. We have some specific things we will be focuses on for the season and will share those as 2020 kicks off. We will also have some special items to celebrate the 15 years we have been racing on Vancouver Island! We can't wait.
3. Hot Crossed Bunnies Review
Check out Patrick's photos from the event including many podium shots
Norm's Notes.
Thanks to everyone that helped tear down the course after the racing was done. People were out there pulling tape. Raking. Loading. Stacking…..it was so fast! Many hand make faster and lighter work!!
Extra thanks to Paul Brend for constructing the awesome trophies again this year. Every year we think we have started them early enough and earlier than previous years….every year we are building them during the OPEN races! I was personally pumped to earn one again this year!
MIVA did a great job with this event again this year!
Loved the course….even though I personally missed the BMX track! With the BMX club trying to work towards an entirely new track our use of the track may be history.
Roland absolutely killed it with his fast results for the awards!
Extra thanks to Brett, Sheri and Patrick for all the work they do on the full series as well as all our race directors and groups/clubs.
Notes from Patrick….the race Directors Notes.
Thank you to everyone who braved the weather and came out for final race of the Cross on the Rock season. It was nice to have proper cross weather and deep mud for our final. Every year we try to take what worked from previous years and refine it and improve the overall experience. I have to thank Norm and Shep for their work and input on this years course. Moving the team tents and food trucks really seemed to tighten up the venue and improve the atmosphere while also reducing the number of close calls on that fast opening straight.
I'm always amazed how quickly this course comes together, Beban doesn't have a lot of trees to tie off to which means that every single stake and cone in the Cross on the Rock trailer get used. We can't do that without the support of the Club members coming out put it all together and then help maintain and repair the course through out the days events.
This event couldn't happen without the planning and prep put into by the members of the MIVA board Shep, Paul, Phil, Peter, Jesse, Antonius, Lorrie, Kiyomi, Brad and Lee. Sorting out Permits and insurance, brainstorming prizing then making it a reality. Especially Peter for the amazing Hot Cross Bunnies mugs and Kiyomi for the womens podium prizing.
I have to thank Rock City Cycles for keeping the excitement around cyclocross high in Nanaimo with their weekly practices as well as for helping the club source the majority of our draw prizes including the Norco Threshold Single Speed bike that we gave away.
As well we couldn't have done it without the help of our many sponsors including Whitesails Brewing, Regard Coffee, Rock City Cycles, Coal City Cycles, Arrowsmith Cycles, House of Kiyo Salon, and many more.
It was great to have both AJs Grill and Wanna Wafel on site and to have Georgies Pies for the podiums again. (Next year we'll try to book earlier and Georgie set up her stand again.)
To have an event this large in a multi-use park requires buy in from quite a few different entities.
The Nanaimo Equestrian for the use of the Agriplex and the riding rings.
The Nanaimo parks Department
The Vancouver Island Exhibition
Lastly I have to thank Shep, who did so much to leading up to and day of to make this event run so smoothly and Sherry who kept things running smooth in the timing tent this season.
4. Study Build Youth Fund Details
The DEADLINE for applications is December 8th.
Study-Build sponsorship form for COTR Youth Racing 2019
Study-Build Youth Sponsorship: COTR 2019
Please fill this out yourselves, kiddos!! Or if you're super young, ask a parent or older sibling to help you out.
Congrats on participating in another incredible cyclocross racing season with Cross on the Rock!
We're proud of you for dedicating your time and energy to something fun, awesome, healthy, hard and rewarding!
1. Fill out the information in the form below and submit it.
2. We'll mail you a cheque to help cover your racing costs.
3. Go ride your bike (or clean it, if you haven't since the mudddddy Beban final race)!
We hope our sponsorship helps you and your family continue to pursue the challenge and joy of cyclocross, so you can contribute your own positive energy to the amazing Cross on the Rock community.
Keep on riding and racing!
Danielle + Andreas | Study-Build, Quadra Island
5. If you want to keep racing this year
The Cyclocross season is short BUT ski season has not yet started yet. That gives you a bit of time to stay on your bike. Take advantage of some of the fitness you have developed. Enjoy or work on your skills. Experience different CX cultures in different areas…..or all of the above. IF that is the case here are some other events going on in the near future:
1) The organizers of the USA CX Championships contacted us after noting that the Canadian CX Championships did NOT have a single speed category (again) this year. They offered their race for the Canadian Single Speed Championships. The first time EVER a Canadian Cycling Championships is held OUTSIDE of Canada! What a historic opportunity. Since the American CX Championships is not crammed into 1 day they actually have time on their schedule to pull this off.
Single Speed race at US CX Nationals on Tuesday, December 10th will be consider the Unofficial Canadian SS CX Championships by MFG Cyclocross. If 25 riders register in the men's race and 10 in women's race we will do a Jersey Presentation Ceremony following the race. Let's do this.
Registration is here: https://www.bikereg.com/usa-cycling-cyclocross-nationals
Best Regards,
Terry Buchanan
Low Pressure Promotions, LLC
425-503-2333
Producing MFG Cyclocross since 2009 | Co-Host 2019 US Cyclocross National Championships
2) https://cascadecross.com/ Cascade Cross based in Bellingham has 2 events left in their season. I have done a couple of their events and have always enjoyed a trip down there. If you go let me know and I can put a Trader Joe's order in with you.
November 30, 2019: Lutherwood Cross
January 11, 2020: Cornwall Cross & Series Finale Awards Party
3) Washington has a series of races called the Northwest Cup. There are 2 events left in that series the weekend before US Nationals (being held in Seattle). These races could be very competitive and fun!! Take the ferry from Victoria to Port Angles for an easier trip.
http://www.53eleven.com/nw-cx-cup.html
Saturday 12/7/2019 – NW CX CUP #5 ​Fort Nugent CX
Sunday 12/8/2019 – NW CX CUP #6 Fort Nugent CX
4) Broad Street Cycles has said to keep an eye on their FB and IG pages …..they might…..or they might not have their famous CX race sometimes held in December and sometimes held in January….but when ever it is held it is awesome?
Cross on the Rock is an ISLAND series and the past support we have received from our island community is awesome. Lets keep it up in the future as it is what drives this series and makes it special. PLEASE SUPPORT THE SPONSORS. These are local businesses and companies that support local businesses. On-line companies, amazon, big business (besides Shimano and local dealers of MAZDA) do NOT support community events.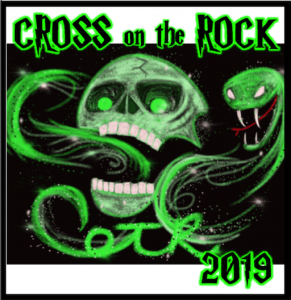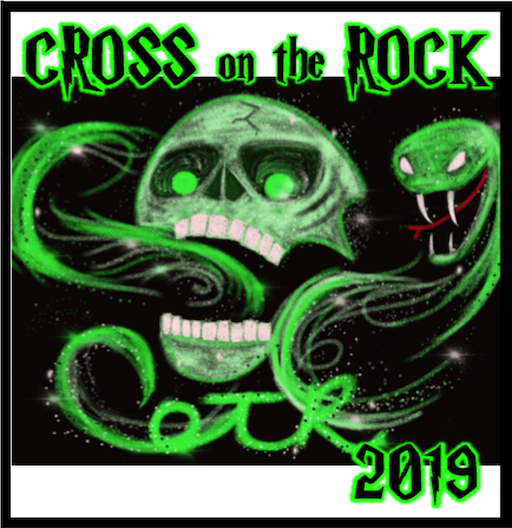 Cross on the Rock is organized by the council of cross and supported by a lot of bike shops and awesome people.
Parting Shot for the season.
Bridget on her new bike funded and donated by the Hotel Zed Cycledelic Blurs team.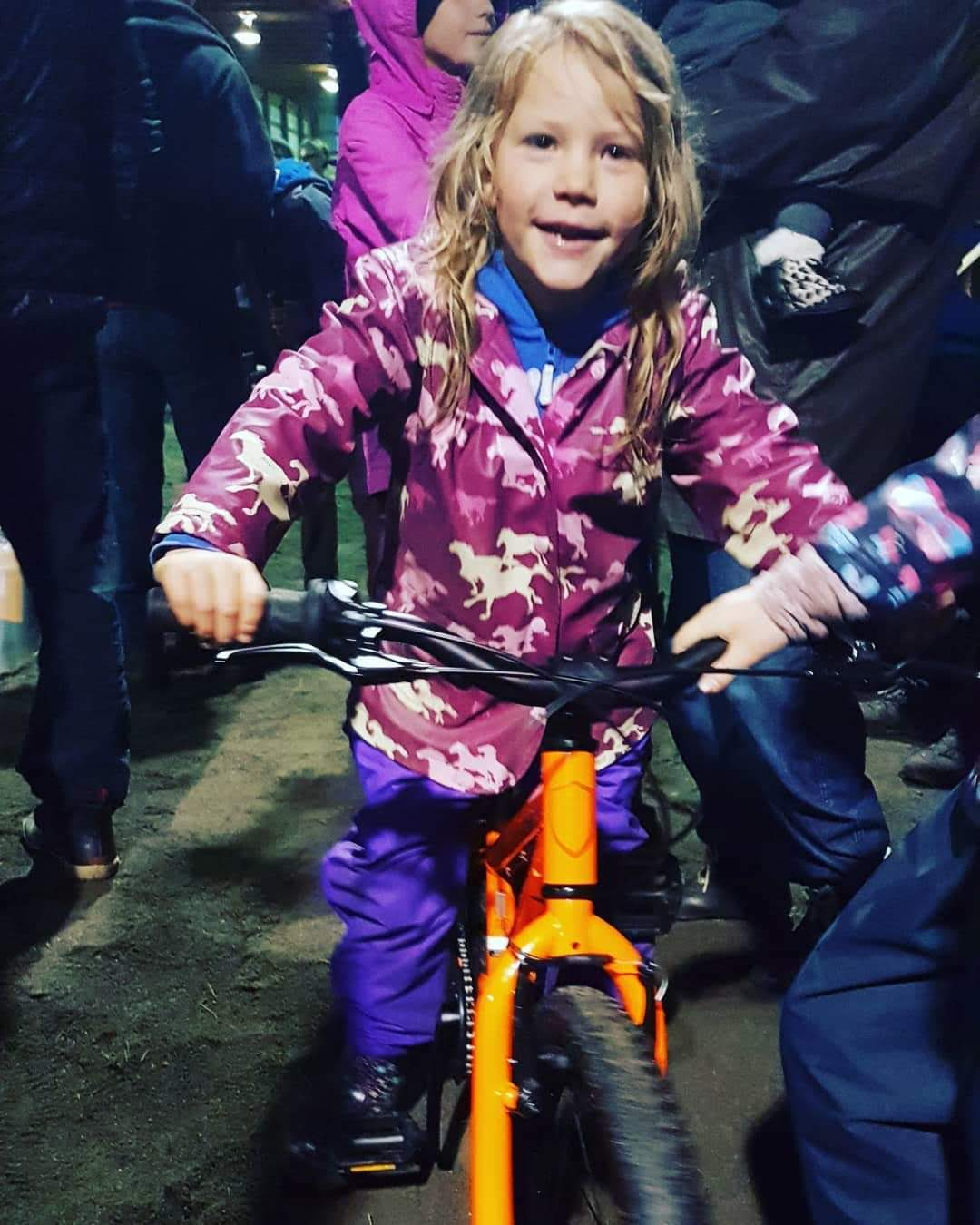 SPECIAL THANKS TO:
Race Directors
Coal Cross: Dave Nowak and Chris Sykes
Pro City GP: Scott Mitchell from Pro City Cycles
Cross on the Commona: Roy Kregosky with the Arrowsmith Bike Club
Muc Off Cup: Corey and Sean from Rock City Cycles
Crosstoberfest: Mike and Tara Pollack
Day of Thunder: Joele and Drew
Hot Crossed Bunnies: Patrick Burnham and MIVA
Our Cycling BC Official at every race besides myself has been Sherry Barnes
EXTRA AWARDS
Top Male Goblin – – Noan Lutz
Top Female Gobin – – Megan Lutz
Top U19 Male: Carter Woods
Top U19 Female: Emily Johnston
Most Improved – In 2015 at age 9 this racer was doing the Zoom Zoom Half Track. At 10, In 2016 they graduated to beginners just missing their first podium with a 4th place in the finals. In 2017 at 11 they had 4 X 4th places in Beginners and won the U13 category. At 12 years old they won the U13 category again in Beginners and placed 1st or 2nd in every race. From Beginner women last year to winning intermediate races and podium in OPEN women in her first OPEN race this year. From Zoom Zoom to Open podium in 4 years. Sarah Roberts.
Top Female Wizard – – Joanna Fox. 11 years of COTR.
Best Rookie Season – – Diego Franco. 3 Podiums in his first season racing in Intermediate. Honorary mention to Jessica Planeta who podiumed in every launch race
Top Auror Professor – Male – – Sam Whittingham
Top Auror Professor – Female – – Wendy Simms
Forever Young – – Glenyown Carlson. Racing COTR for 12 years Since 2007. Supportive. Helping out. Racing the hardest women's category.
Top Wizard Professor – Bill Mc Millan
Spirit Award – – This person continually hounds me. Calling me up. Texting me. Sending me e-mails. Cornering me at races. With that hounding has come the growth and development of COTR. We have changed for the better because of this person's suggestions. He has dedicated a large portion of his life to cycling and to enriching the people around him through cycling. Triple Shot's head coach…… Lister Farrar.
See you in 2020. Please help us out by completely the survey when it becomes available.
Newsletter #13 – 2019. MAZDA-COTR. Season #14. The big finish!