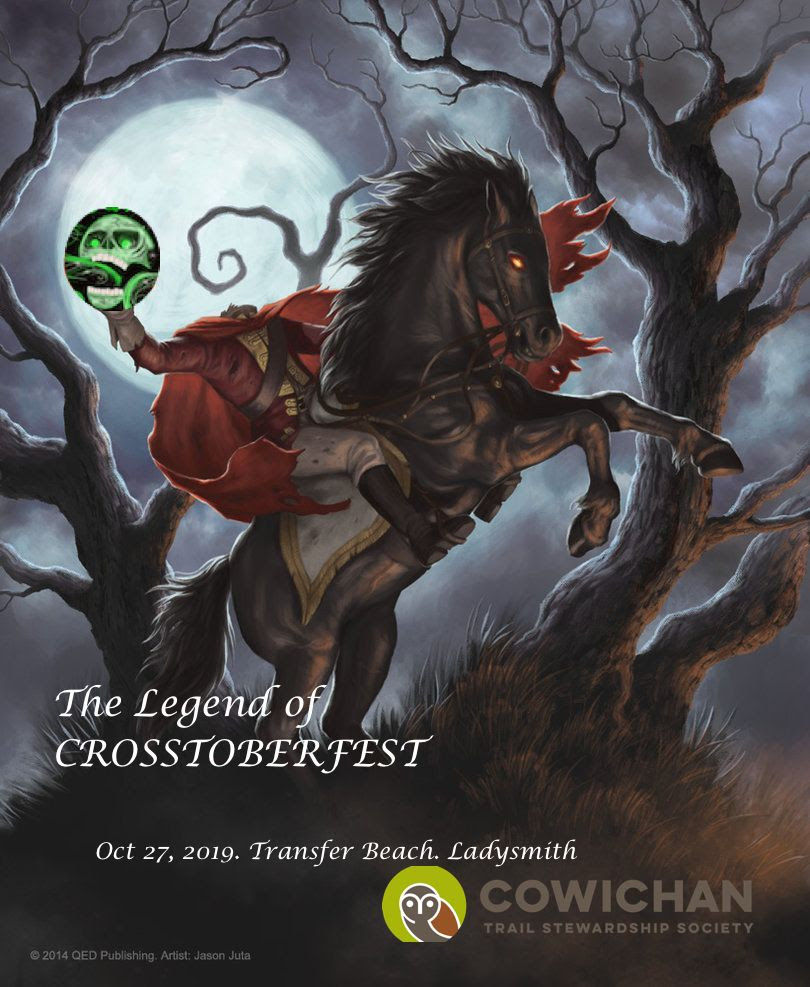 Course Description
IMPORTANT NOTE: The main road through the park is an active road ALL DAY LONG. We really need to emphasize that traffic flows through the park and anyone warming up, going to and from your cars, with small children, dogs etc. should be very conscious of the traffic and road rules. We can not have any racer/bike/car conflicts in this park. Thank you in advance.
COSTUMES ARE ENCOURAGED!
Norm's Notes:
The race at Transfer beach (Tugboat CX, Crosstoberfest. The great pumpkin cross…. What ever name it has) in Ladysmith has been voted the most popular event by racers the in 2017 and 2016. Racers LOVE this venue and this race.
The 2015 version of Tugboat ranks as the 8th tamest (least DNF's) race in COTR History.
Ladysmith is also one of the easiest races to get to by both UP and DOWN Islanders.
From the Race Directors:
Course Description:
The course will be similar to previous years with all the good characteristics; sand, stairs; and lots of fast grass.
Currently the forecast is NOT for rain…..so it might be time for your FAST sand tires to get mounted up.
Venue:
Transfer beach is located on the water side of Ladysmith right under (east) of the town of Ladysmith. It is SUPER-EASY to find.
Parking will be challenging, so please car pool with friends/frenemies/teammates.
Food.
Wanna Wafel will be on site for the second time this year. (We can't wait). As well making their first COTR appearance will be Taco Mania (We had a chance to sample these at the Frontrunners – Nanaimo anniversary run and they were SO GOOD).
Team tents:
Team tents are welcome and there will be an area set aside for them on the lawn near the volleyball court. First come…..first up.
| | Pre-register | Day Of |
| --- | --- | --- |
| Launch | $17 | $25 |
| Intermediate / Masters / Open | $25 | $35 |
| Jr/Youth racing Intermediate or Open | $17 | $25 |
| Kids | Free | |
| Category | Start Time |
| --- | --- |
| Registration Open | 9:15 am |
| Beginner Clinic | 10:00 am |
| Launch Men (formerly Beginner) (Including Youth U13 and U15) | 10:45 am |
| Launch Women (formerly Beginner) (Including Youth U13 and U15) | 10:46 am |
| Goblin Zoom Zoom Half Lap | 11:40 |
| Intermediate Men (Including U17) | 12:10 pm |
| Intermediate Women (Including U17 and Masters Women) | 12:11 pm |
| Lil Nutcase Kids Race | 12:15 pm |
| Masters Men (40-54) | 1:15 pm |
| Super Master Men (55+) | 1:16 pm |
| Open Men (formerly Expert) | 2:30 pm |
| Open Women (formerly Expert) | 2:31 pm |
/div>