A MAJOR thanks to MAZDA for continuing their title sponsorship of the COTR series. Sean is bringing the CX5 out on Monday to Bowen Park for people to check out. Through the season they will be displaying different CX series vehicles at different races. Check them out.

We are having a week BETWEEN races this week as we prepare for Cross at the Commons in Qualicum Beach on October 22nd. There is still a LOT of action to report on!
The Warm Up
Amazing Video Edit from Ted Hobby:
Photos of KONA KUP from Patrick
Un-edited Photos of KONA KUP from Sean from Mazda
A HUGE photo album from Petra Knight (quite a few crashes)
If anyone has photos or video of the finish of the masters race and the battle between Norm and Justin we would love to see it.
If you have been following the stats for the last 3 races you will notice they have all been in the "HIGH" DNF category. We figured out that the Zoom-Zoom races have not been placed. Kona Kup was fixed and it is into the top 6 tamest races for the 2017 event. Impressive!
Get well soon to series sponsor, event organizer and masters racer, Corey Piket, who experience a crash on Lap #1 at the Kona Kup and will be on the mend for the next little while.
IN THIS NEWSLETTER:
1. Kona Kup Review
2. Cross Fondo this weekend
3. Keeping up your SKILLS in an OFF week (what is going on TODAY, Tomorrow and next week)
1. Kona Kup Review
How awesome was it to see Ella Egan win the Kona Private Jake from Kona and Rock City Cycles on Monday. Ella at the age of only 10 years old has done 15 cross on the rock races (not counting little nutcase). She started racing the Mazda Zoom Zoom half track as soon as it was introduced and has 6 overall wins. This year she moved up to Beginners even though she is only 10. Obviously a climber and a good technical rider as her best placing is 16th at Ladysmith this year. Her first beginner race. Pictured here with Sean Lunny from Rock City Cycles.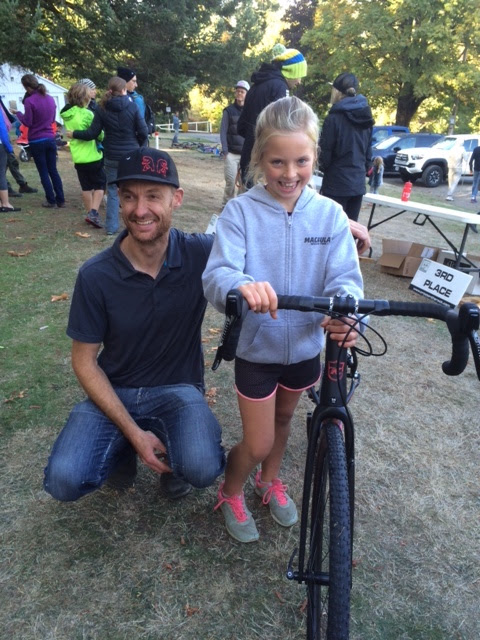 414 racers (not including the little nutcasers). 2nd biggest race in COTR History. Over 110 women!! Sold out Intermediate Men and Masters men (Biggest category to date). Tonnes of kids!! PLUS an amazing atmosphere in Bowen Park. Great weather. Taco Revolution! FREE Beer. HUGE number of spectators!
Lets just say the Kona Kup was one awesome day in Nanaimo!
From race directors Sean and Corey.
It was a great day of racing, perfect weather and an awesome course. It's one of the hardest tracks but also one of the riders favorites. Thanks to all the volunteers who came out and helped get it set up so quickly and to everyone who helped tear down, it's always appreciated. This was the most help we have ever had and it made a huge difference.
Thanks to Pete and Jamie from Lambert for coming out and MCing and wrenching and for help with the prizes. Thanks to Kona for tape and prizes. Also thanks to Norco for prizes. Thanks to Taco Revolution and Wolf Brewing for keeping everyone fed and happy! Special thanks to Medix for patching me up and getting me prepped to go the hospital! We are so lucky to have Cross on the Rock, so many new riders out again this year. It's so cool to see the young riders moving up the ranks.
Special Congratulations to Ella Egan (Harbour Air Seaplanes) for winning the Kona Private Jake!!
Norm's Notes:
How awesome was the BUZZ in Bowen park on Monday!
Thanks to Peter Creighton from cycles Lambert for making fun of the music and doing all the announcements at the Kona Kup. If you missed my explanation of Peter's support at the awards I will just repeat that he has been supporting this series since before it was a series. Peter helped us out when we were just one race in Beban park and every single year since. He is a HUGE part of making COTR happen from year to year.
Awesome to see COTR rookie (season) Oliver Evans take his second victory.
Also great to see 16 year old Carter Woods come back from early season injury to earn his first even EXPERT podium.
Huge thanks to EVERYONE that helped out with the day. We had a great crew of people out there along with racers that helped out when their day was done.
EXTRA thanks to Nik Kay and Andrew Hamilton for staying later than everyone else to rake out a huge portion of the course and make it look good for other users.
2. Cross Fondo this weekend
Sunday down in Victoria the Tripleshot Cycling Club will host the second annual Cross Fondo. This event is one of the club's main fundraisers for the year. With all the support this club gives to young riders they need the funds!!
It is a super fun event.
http://tripleshotcrossfondo.ca
Check out the video from last year here: http://tripleshotcrossfondo.ca
Registration closes Thursday: https://raceroster.com/events/2017/13462/2017-tripleshot-crossfondo
3. Keeping up your SKILLS in an OFF week (what is going on TODAY, Tomorrow and next week)
Days are getting shorter BUT you can still get out there with a group to practice and get a good workout in.
COWICHAN VALLEY
Tonight's practice will be a ride on the TCT – bring cross bike, geared or not geared, and meet in the parking lot at Quamichan High School at 5:30.
cowichancx@gmail.com and Cowichan Cyclocross on Facebook
NANAIMO
Note earlier start time. Wednesday nights at Rock City Cycles. Cross ride starting at 5:30. Will adjust length based on daylight.
Thursday nights starting September 7th. Cross practices hosted by MIVA and run by Carey Mark. Carey3221@gmail.com . 6:00pm at Bowen Park off Wall Street. 5 weeks and re-asses based on light.
COMOX VALLEY
Wednesday Night cross practices. 5:30pm. Location will vary each week in either Cumberland/Courtenay/Comox. FB group for more info: https://www.facebook.com/groups/457383181299940/
VICTORIA (No "ride" this week with the short week and the cross fondo but will be back next week)
In Victoria there is the Cross Club. 7 training "rides".
Cross Club 2017, Victoria's Underground Cyclocross Series Returns
Rain we need rain…. regardless it's Cyclocross Season, so time to sharpen your CX skills!
B's ride at 5:30pm
A's at 6:00pm.
Details on locations will be emailed to the registered riders list each week.
Ride#5 is October 18
Ride#6 is October 25
Ride#7 is November 1
www.crossclubvictoria.com
The Council of cross signing off until next week with the Cross on the Common's PREVIEW (we will still be live on FB though).

The Wolf Brewery just pulled up to the parking lot and started handing out beer. How great is that?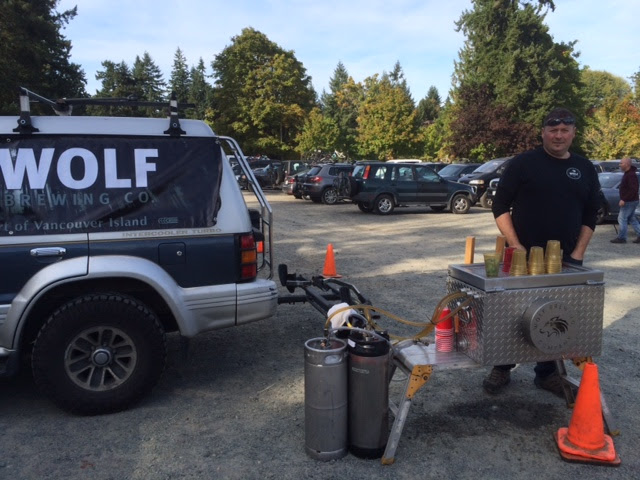 Bikes were EVERYWHERE in Bowen Park.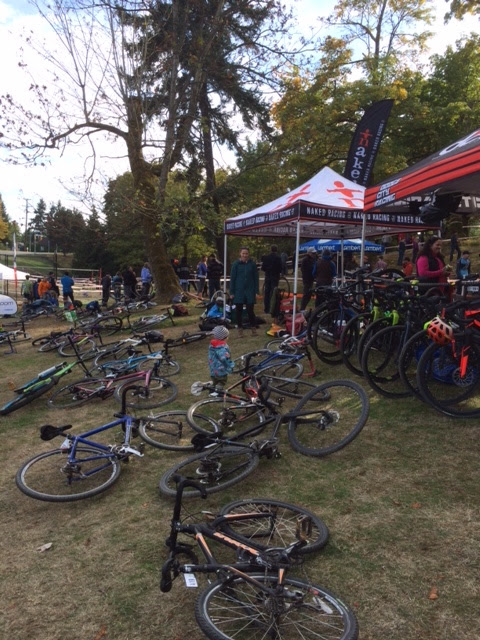 COTR – Newsletter 2017 #6 – Powered by MAZDA then cleaned and prepped by Muc Off. #COTR2017