Nov 14, 2021

Please NOTE: MASKS ARE MANDATORY IN THE AGRIPLEX for registration and spectating. They will not be mandatory for racers during the race. The awards will need to be fully masked for all ages and all people attending. Plan accordingly.
Parking
: (Consult Map) Beban park is HUGE. But on any given weekend there is a LOT going on. The best place to park for the race is south of the race course in the gravel lot by the golf course and tennis courts. Be aware that there is a new road access to the Steve Smith Jump park, please do not block it. IF there is no soccer on the Beban fields then that lot will also be available. The lot by the BMX track is normally under-utilized. The paved parking by the Pool and arena might be over run so it would be best to avoid those lots. Parking on the roadways or grass is strictly forbidden and will get you towed
Team Tents
: Make 100% sure your tent is staked and secured. With wind this week and in the forecast we can not have any tents becoming kites. It is drop and go (NO PARKING AT TEAM TENTS AREA) until we close and lock the gates around 9:30am. After that point you will have to carry your gear in. On the flip side the gate will be LOCKED until after the OPEN races so it will be carry out until that point. There will be no team vehicles inside the gate or we will run out of space for the team tents.
Registration: As it has been all season pre-registration only. This will close like normal at 6:00pm the night before the race. In this case that will be SATURDAY NIGHT at 6:00pm. The call up sheets are literally done by 6:10pm the night before the race. So if you FORGET or put it off you are unlikely to get your earned call up spot.
Race day number pick up and race central will be located in the Agriplex. Consult the map.
Washrooms: NOTE: MASKS ON IN THE PORTA JOHNS AND IN ANY OTHER BUILDINGS IN BEBAN PARK. There will be porta johns located at the end of the opening straight away. There are LOTS of other (Flush) washrooms located in Beban park. You can also locate washrooms in almost all buildings in the park. Both arenas. Down by the artificial turf field. In the Pool. NO DIRTY BIKE SHOES OR DIRTY PEOPLE INSIDE THE BUILDINGS OR WASHROOMS. Clean yourself up BEFORE going into a public area. We want to be able to use this venue again. MORE IMPORTANTLY if you are going IN a building LOCK YOUR BIKE!!!
Awards: Awards location will be in the Agriplex where the finish is located.
Race Course: The weather is calling for rain. MIVA will have been out cutting blackberries and scouting lines. With the rain we'll have mud, sand, gravel, grass, pavement and off camber hills. Everything you could want for an epic final race of the season.
Food: Tipsy Avocado (Same as Bowen Park) will be on-site and ready to serve up Lunch. We have also invited Georgies Pies to come back and set up her baked goods stand as she did in 2019.
Post race: We will want to get the awards going as soon as possible on Sunday. With that in mind please help us both tear down as well as RAKE out the course. With the rain in the forecast the more raking we can do the better the course will look on Monday when people are driving by or walking through. Please bring a rake and work gloves. Many hands make light work and get the work done FAST. We will make an announcement when we are starting the awards….and…..well…..there will be no one left on course so you will notice that the awards have started! Ideally we would like to start around 4:00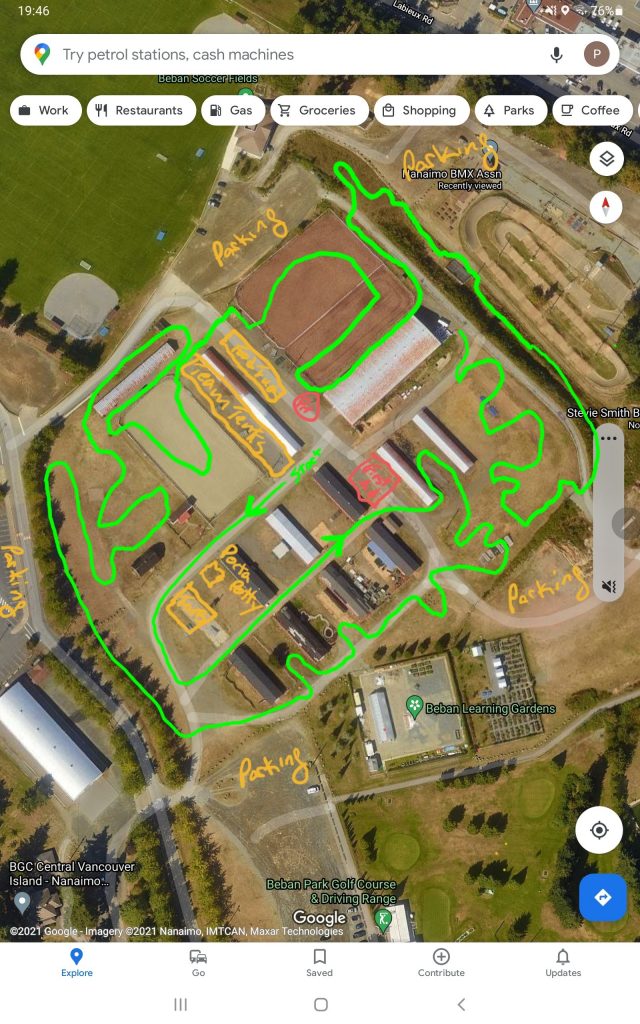 ADULT
YOUTH
Launch
$20
$15
Intermediate / Masters / Open
$27
$17
Kids (Grogu and Younglings)
Free
PRE-REGISTRATION ONLY. NO day of race registration.
| Category | Start Time |
| --- | --- |
| Registration Open | 9:15 am |
| Beginner Clinic | 10:00 am |
| Launch Men (formerly Beginner) (Including Youth U13 and U15) | 10:45 am |
| Launch Women (formerly Beginner) (Including Youth U13 and U15) | 10:46 am |
| Younglings (Bigger Kids). Full lap or almost a full lap | 11:40 |
| Intermediate Men (Including U17) | 12:10 pm |
| Intermediate Women (Including U17 and Masters Women) | 12:11 pm |
| Lil Nutcase Kids Race | 12:15 pm |
| Masters Men (40-54) | 1:15 pm |
| Super Master Men (55+) | 1:16 pm |
| Open Men (formerly Expert) | 2:30 pm |
| Open Women (formerly Expert) | 2:31 pm |