Hot Crossed Bunnies.  Race #6.  Series FINAL.  Preview!
Read this first.  SUPER IMPORTANT:  There has been a tremendous amount of work to make sure that our race goes ahead this weekend.  Beban Park is currently an active construction zone as a huge water main project is happening in the park.  The area we race has equipment and pipe storage on it which has caused us to move and alter the course based on where this equipment is.  Nanaimo Parks and Recreation and in particular a few people that work there have worked hard to make sure this race happens.  We are going to put this in all caps now and repeat it in a two places in this newsletter as well as on social media.  IF ANYONE FROM OUR EVENT AND/OR RACERS FANS OR FAMILIES GOES ON ANY OF THE EQUIPMENT OR SUPPLIES THAT ARE ON SITE FOR CONSTRUCTION THEY WILL BE DISQUALIFIED FROM THE RACE AND NOT ALLOWED TO RACE FOR THE 2023 RACE SEASON.  This is MEGA – Serious.  We can just picture kids trying to "play" on the pipe pile and dislodging a pipe or slipping between (This includes the very NICE looking dirt pile.  We asked if we can use it as a run up…..but no).  Or one of our awesome photographers trying to get "that great shot" on top of the pipes.  Just don't do it.  Please tell your friends and watch your kids.  Thank you in advance for being on this 100%
Parking:  (Consult Map) Beban park is HUGE.  But on any given weekend there is a LOT going on.  Adding to that is the massive construction zone in the middle of our course. The best place to park for the race is south of the race course in the gravel lot by the Steve Smith Jump park.  This is accessed off the main road through the park by the gold course.  This is the BEST parking spot for our event. PLEASE DO NOT PARK at the soccer club house parking which is the closest to the start.  There is always soccer going on the weekends and they love their close parking lot.  The lot by the BMX track is normally under-utilized and close to all the action.  The paved parking by the Pool and arena is also a good option.  Parking on the roadways or grass is strictly forbidden and will get you towed and we will not like you.  There is limited parking as well south of the course by the golf course.  You will find a spot without parking like a…..you know…..starts with an "a".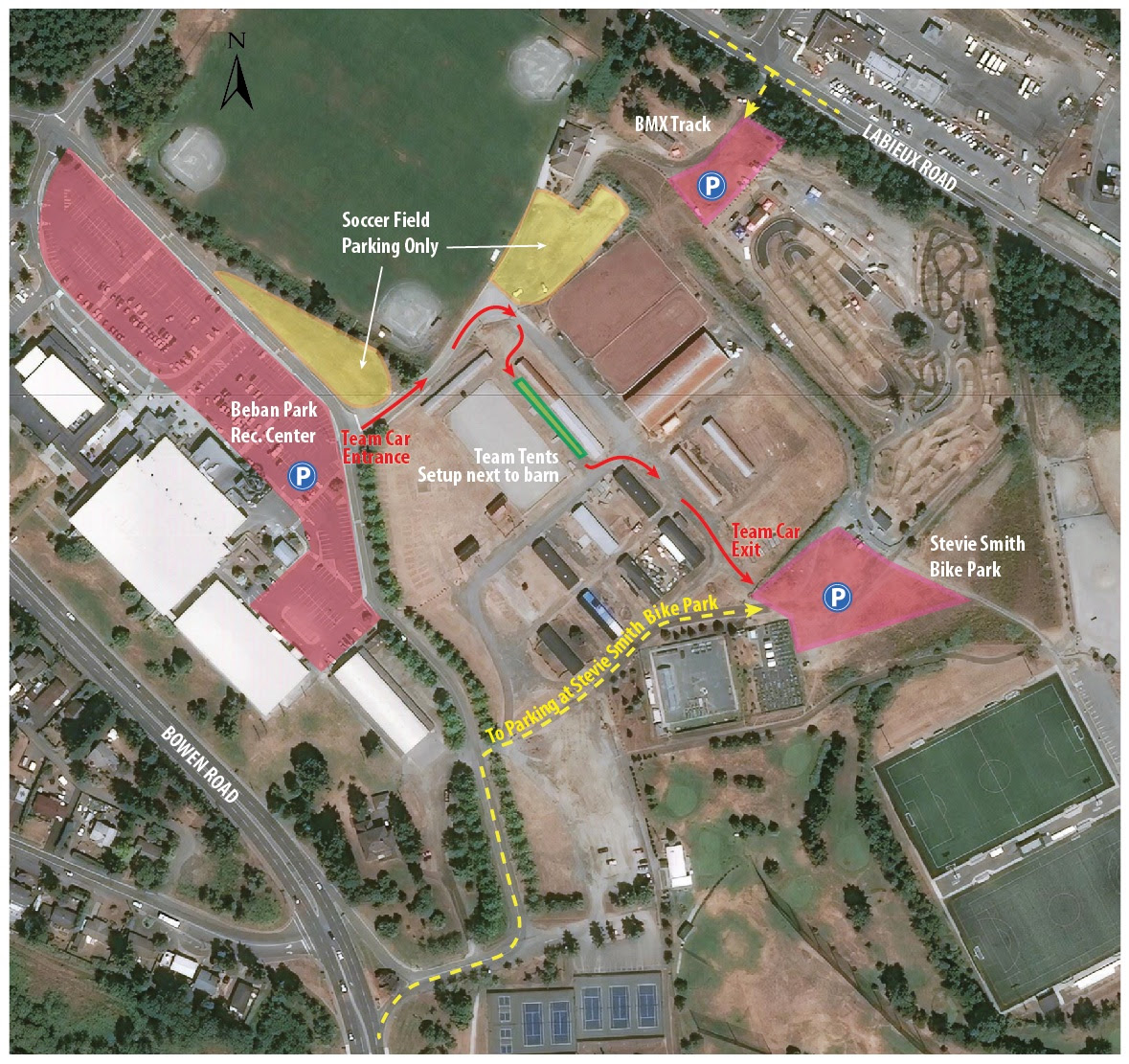 Team Tents:  Will be in the same spot as last year by the sand riding ring.  Weather forecast is much better than last year but still make sure your tent is staked and secured. It is drop and go (NO PARKING AT TEAM TENTS AREA) until we close and lock the gates around 9:30am.  After that point you will have to carry your gear in.  On the flip side the gate will be LOCKED until after the OPEN races so it will be carry out until that point.  There will be no team vehicles inside the gate or we will run out of space for the team tents.  This will be a GREAT spot to watch.  Close to the pits and the course.
Registration: As it has been all season pre-registration only.  This will close like normal at 6:00pm the night before the race.  In this case that will be SATURDAY NIGHT at 6:00pm.  The call up sheets are literally done by 6:10pm the night before the race. So if you FORGET or put it off you are unlikely to get your earned call up spot.
Race day number pick up and race central will be located in the Agriplex.  Consult the map.
Washrooms:  There will be porta johns located at the end of the opening straight away.  There are LOTS of other (Flush) washrooms located in Beban park.  You can also locate washrooms in almost all buildings in the park.  Both arenas.  Down by the artificial turf field.  In the Pool.   NO DIRTY BIKE SHOES OR DIRTY PEOPLE INSIDE THE BUILDINGS OR WASHROOMS.  Clean yourself up BEFORE going into a public area.  We want to be able to use this venue again. MORE IMPORTANTLY if you are going IN a building LOCK YOUR BIKE (Bikes have been stolen at this event when left unattended.  Don't lose your bike)!!!
Awards: Awards location will be in the Agriplex where the finish has been located in the past but is NOT located this year.  You can't miss it.
Race Course: The Major construction this year has meant a major shake up of our course design.  We'll still have the classic elements that make this course great. MUD, SAND, WOOD CHIPS, PAVEMENT, GRAVEL.  It will be be awesome.
Food Truck: Sip and Sliders (Same as Muc Off Cup) will be on-site and ready to serve up lunch or snacks.
Post race:  We will want to get the awards going as soon as possible on Sunday.  With that in mind please help us both tear down as well as RAKE out the course.  With Construction we won't have to worry as much about the top section by the Arenas, but the hill by the BMX and the riding rings always need some work post race.  Please bring a rake and work gloves.  Many hands make light work and get the work done FAST.  We will make an announcement when we are starting the awards….and…..well…..there will be no one left on course so you will notice that the awards have started!  Ideally we would like to start around 4:00.  Racing will be done around 3:30 so that gives us 30 minutes to get it all done:  Torn down.  Raked.  Trailer loaded for the National Championships!
ADULT
YOUTH
Launch
$20
$15
Intermediate / Masters / Open
$27
$17
Kids (Grogu and Younglings)
Free
PRE-REGISTRATION ONLY. NO day of race registration.
| Category | Start Time |
| --- | --- |
| Registration Open | 9:15 am |
| Beginner Clinic | 10:00 am |
| Launch Men (formerly Beginner) (Including Youth U13 and U15) | 10:45 am |
| Launch Women (formerly Beginner) (Including Youth U13 and U15) | 10:46 am |
| Younglings (Bigger Kids). Full lap or almost a full lap | 11:40 |
| Intermediate Men (Including U17) | 12:10 pm |
| Intermediate Women (Including U17 and Masters Women) | 12:11 pm |
| Lil Nutcase Kids Race | 12:15 pm |
| Masters Men (40-54) | 1:15 pm |
| Super Master Men (55+) | 1:16 pm |
| Open Men (formerly Expert) | 2:30 pm |
| Open Women (formerly Expert) | 2:31 pm |