Newsletter #6 for 2018. COTR YEAR #13
Powered by MAZDA
Bikes prepped for race #4 – The KONA KUP with Muc Off.
#CROSSISHERE #COTR2018 #crossontherock
(It is a BIG newsletter….but it is a LONG weekend so besides eating turkey what else are you going to do?)

As organizers of the biggest cycling race series in Western Canada and the biggest CX series in Canada the Council of Cross would normally be at the Cycling BC Night of Champions tonight but apparently none of us received invitations. I am sure it was just an oversight…..same oversight that happens every year but one in the last 13. No worries. We will just keep focusing on what we do. Putting on cool events for all of you to race!!
Backwards……3 races in a row. All as good going backwards as forward.
We never get sick of hearing, "I loved the course today".
Two things before we get into the MAIN Body of this massive newsletter:
1) Passing Etiquette. We have talked about this at the start of each race BUT it seems to still be a bit of an issue. If we can address it here and have this changed by the KONA KUP and into the rest of the season that would be great. Passing HAS to get more polite. Chopping, blocking, bumping etc. is not acceptable. ESPECIALLY when you are doing that to someone that is racing at the same time as you BUT is not even in your race or category. Smooth it out. Let people know you are coming. Look for a place for them to pull over or to pass safely. IF this does not smooth out by the KONA KUP then we will be watching, calling and DQ'ing. Racing is supposed to be fun. Don't ruin someone else's fun by being a D**K.
2) 2019 Island Youth Road and Track racing
Keep the COTR fun for youth going: Coffee meeting Monday 4:30″ish"-5:30 after Kona Kup Awards, Tim Hortons Rock City Centre, 2980 N Island Hwy #200 https://goo.gl/maps/emKpaEzzbJU2
Over 80 young people from u11 to u19 rode the COTR Qualicum race. One of the big reasons it's fun is kids get to race with people their speed. Ontario Cycling switched over their road and track youth series from age to ability categories and their numbers have doubled. If you'd like to see cycling fun for young people continue after 'cross season, come chat about how we might do some youth racing by ability groups on road and track next season.
The Greater Victoria Velodrome Association, Tripleshot Cycling Club, and Broad Street Cycles have offered to host events if we can get youth participation like COTR does.
More info? I have a calendar planning document with some ideas to help the discussion. Email me at Lister Farrar, coach, Tripleshot Cycling Club, 250 882 5420, listerfarrar@telus.net
IN THIS NEWSLETTER:
1. KONA KUP Preview
2. Cross on the Commons Review (Including we might owe you $5)
3. Cross Fondo (One of the coolest events out there)
3. Weekly Cross happenings on V.I. (revised)
1. KONA KUP Preview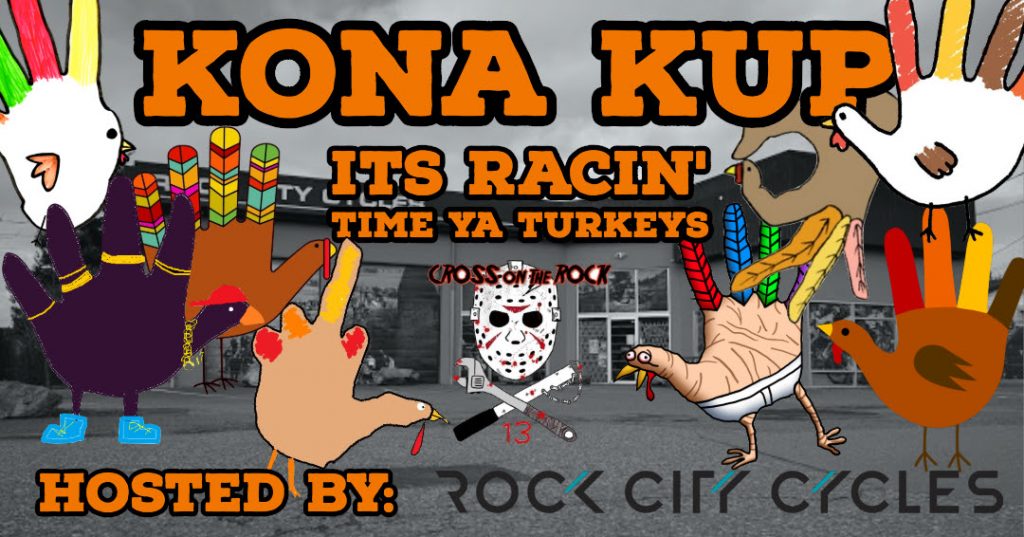 Out of the gate PLEASE be aware of other park users, dog walkers and Frisbee golfers. We do not have EXCLUSIVE use of Bowen Park on Monday. Last year some of our racers felt like we did and there WERE problems. IF we have similar problems again this year I can guarantee you this will be the last time we are permitted to use this venue.
Do you want to have a VERY good chance of winning a KONA Super Jake Frameset this Monday? Well you have to be PRE-REGISTERED for the race to start. Then you have to be at the awards. Do both those things…..and you will have a VERY GOOD chance of winning!!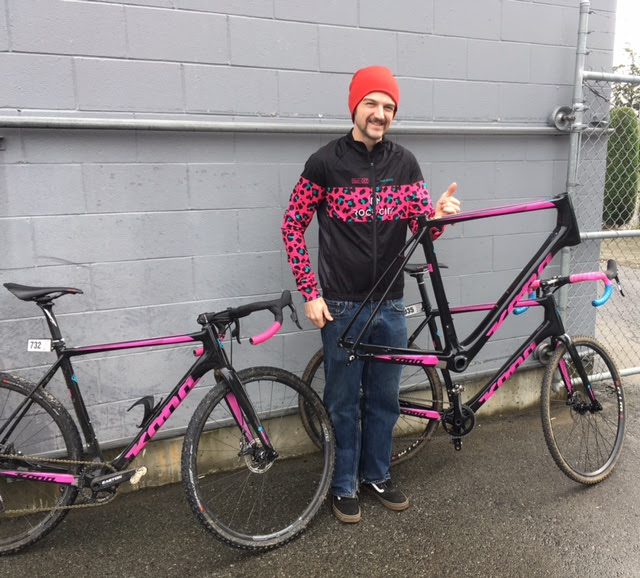 Norm's Notes:
The statistics tell an interesting and crazy tale. The 2014 version of the Kona Kup is ranked as the toughest COTR event EVER. While the 2016 event was ranked the EASIEST (Until the Coal Cross this year. The 2017 event is ranked 9th easiest. Same race. Virtually the same course. Different conditions. Complete opposite ends of the scale of 85+ COTR events.
From the Race Directors:
Taco Revolution Food Truck will be back again this year. There were RAVE reviews about these guys for the last two years so bring your appetite!
Course Description:
The Kona Kup is a true European cross course. It starts with a long wide open paved road before it heads into a switchback climb. The course incorporates a large grass area with tight turns but still has places to pass, a long stair run up and two sand sections. It has lots of elevation gain in a small footprint, no need for barriers on this course (But we might have the new ones anyways…..just because), it's a lung burner.
Venue:
Bowen Park is a gem located in the heart of Nanaimo. There is quite a bit of parking close to registration which will be off Wall Street close to the volley ball courts. Additional parking can be found across Wall street at the Curling Club as well as in other locations in the park off Bowen Road.
This is a BUSY park on a BUSY weekend. Please be aware and respectful of other park users.
Team tents:
Team tents are welcome and there will be an area set aside for them on the lawn along the edge of the parking lot. We will be doing one row on the grass. Another row on the dirt.
First come first spots.
Drop and go. Don't park by your tent…..'cause we will have to move you!
KONA KUP Race Day Schedule
PLEASE NOTE: We are extending our CUT-OFF time to 30 minutes before your race.
Make sure you are Checked in/REGISTERED and ready!
Last race for this schedule and then we go to the "tighter" one heading into shorter days.
9:15 REGISTRATION OPEN (beginner only until 10:35)
10:00 Beginner Pre-Ride/Mini clinic (meet @ start line)
10:45 BEGINNER MEN (includes U13 / U15)
10:46 BEGINNER WOMEN (includes U13 / U15)
NOTE to Beginners. YES this will be the FULL course. Including the stairs. Parents and helpers are allowed to help anyone young enough to REALLY need help on the stairs with their bikes BUT they can not impede or block any faster racers so please be prepared.
11:30 Zoom Zoom Mazda KIDS RACE (age 7-12)
NOTE to ZOOM ZOOM Kids. We will NOT be doing the stairs but the course will be longer than what we did the last 2 years keeping with the theme of longer Zoom Zoom Races. This will be a tough challenge for the Zoom'ers!
12:00 INTERMEDIATE MEN (includes U17)
12:01 INTERMEDIATE WOMEN (includes U17/ Masters)
12:10 KIDS Lil' Nutcase races (<7 years) 1:15 MASTERS MEN (40-54) 1:16 SUPER MASTERS MEN (55+) 2:30 EXPERT MEN 2:31 EXPERT WOMEN 4:00ish AWARDS ABSOLUTELY NO PRERIDING DURING RACES
Registration/Number Pick Up/Race day Procedure for Kona Kup
ALREADY RACED THIS YEAR: If you have done another COTR race this year you need to bring three things: Your bike number (attached to your bike). Your race number (either attached to your jersey or ready to attach). Your license or $10. Check in at registration. Show them your license or pay $10. Good to go.
HAVE NOT RACED THIS YEAR: Head to registration. If you are pre-reg then you don't need a reg form (otherwise you do). If you have a license you don't need a license form (otherwise you do). Head to the counter. Show your license (or pay $10 and give them the cycling BC form). Pick up your bike number and your body number. Good to go.
2. Cross on the Commons MEGA Review!!
We might owe you $5. If you registered ON THE DAY at Cross on the Commons the registration amount was incorrect on the race day entries. We will have a stack of $5's and a list of names at the KONA KUP if we owe you $5 come and grab it from us. VERY SORRY but trying to make it right!
This is the first time a race review has received the "MEGA" ranking. There is a LOT of info here from the race last Sunday.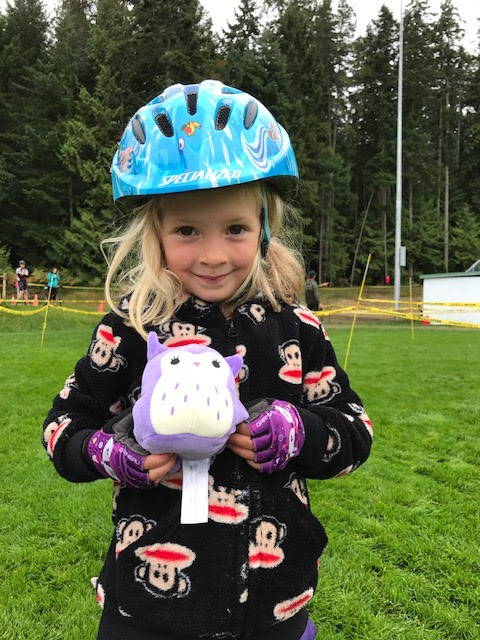 PHOTOS
Link #1 from Sean Voight from MAZDA. Photo links:
https://photos.app.goo.gl/AA8ttCKYQdUtAnsbA
Link #2 from Patrick Burnham
https://www.flickr.com/photos/palleus/albums/72157696132448850
Link #3 from Lindsay Burges
https://www.flickr.com/x/t/0096009/photos/97629575@N08/sets/72157671842336987/
VIDEO
How many times do you get 2 different videos from 1 event? I can answer that easily. ALMOST NEVER. BOTH with AWESOME Drone footage!!
First from Ted Hobby who traded this for the safe return of his front wheel which he left in the pits Sunday.
On board with Roland for the WHOLE masters men's race:
There is one more video but I can't find it right now. Will post later on the FB page.
From Race Director Roy:
Cross on the Commons (COTR-COTC) – The Rear View
Thanks again to Cross On The Rock for letting the Arrowsmith Cycling Club host another great cyclocross race in Qualicum Beach. It's a special series that just keeps getting stronger and bigger.
Wow, did we ever dodge that rainy weather that seemed to be everywhere else but Qualicum Beach. So Nice! And, hopefully, racers still had a great race on a great course. Thanks everyone for coming out in huge numbers to have fun and shred some sand and grass. Well done! And especially, thanks for following the 'no shoes' law in the Civic Centre. I talked with 2 QB Town supervisors and both said everything looked good.
And the next big shout out goes to all of the volunteers for making the race run so smoothly. Start at 7, home at 5 for a Big Day. With an extra big, high 5 to the main COTC organizing team of Dean Vinden (course design) and Liz Patola (volunteers) with Sally Vinden taking care of registration. Thanks also to Michael Addiscott (Alert First Aid) as well as Nicholas Knight (Beginner clinic and more). Once again, Richard Franklin (Parksville) gets a special nod for the Facebook banner and poster.
Without the great effort from the course setup crew, course marshalls, parking and registration volunteers now of this could happen. Fine job everyone!
And far from last, is the awesome support we received from a large number of businesses in Qualicum Beach, Parksville and Coombs that donated product, gift certificates and a whole lot more to a great event. Truly impressed!
2018 COTR season not even half over! Awesome!
Thanks one and all,
Roy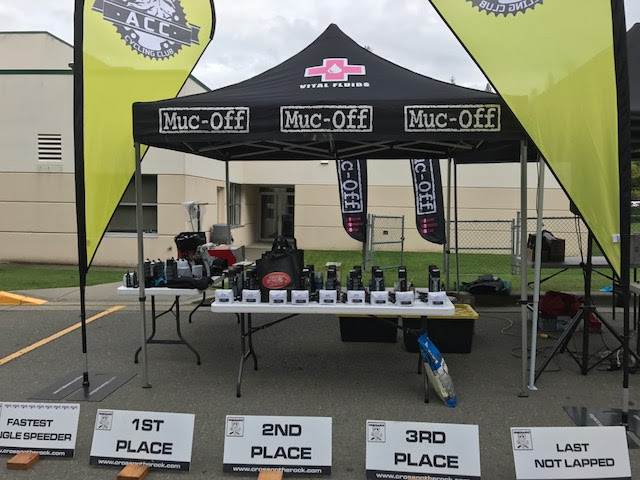 3. Cross Fondo (One of the coolest events out there)
It's Year #3 …. and the Tripleshot CrossFondo fun continues!!!! Join riders of all ages and abilities for Victoria's ONLY mass participation off-road cycling event! The course, appropriate for cyclocross or mountain bikes has a few new surprises and over 50 property owners are opening up access to their land for race day.
This event is a fund raiser for the Tripleshot Cycling Club Youth Team and a portion of the funds raised will support the development and maintenance of our region's amazing trail systems. So far riders have helped us donate $4,100 to the South Vancouver Island Nature Trails Society and South Island Mountain Bike Society. Registration will be capped at 300 riders. We expect to sell out early, so register now!
Options: Doubleshot (short course) approx 20-25 km; Tripleshot (long course) approx 40-45 km. Yummy food, bevvies and draw prizes are included with your entry fee! Got a lot of friends? Form a team of up to six riders! If you can't do either but feel strongly about the cause, you can donate online too!
Start/finish is Vancouver Island Tech Park; start time 9 a.m.; Race Pack Pickup for riders who are registered opens at 7:30 a.m. (beat the lineup and pick up your race pack on Saturday, Oct 13 @ Russ Hay's the Bicycle Store, 650 Hillside from 1 – 4 pm!).
VERY IMPORTANT NOTE: Online registration closes Thursday, Oct 11 at midnight! There will be no registration on Race Day . Ok! So what are you waiting for?!! See you October 14! More info @ tripleshotcrossfondo.ca!!
4. Weekly Cross Happenings on V.I.
If you hear of any cross rides or training sessions happening NOT listed here please let me know and I will keep these as up to date as I can.
Rock City Cycles Wednesday Night cross ride/workout. NEW TIME: 5:30 . Nanaimo
Comox Valley Cross Rides. Wednesday Nights. plug our FB group for the weds night cx practice in the Comox Valley https://www.facebook.com/groups/457383181299940
Cowichan Vallen Cross rides. I think maybe Wednesday nights too…..contact them through FB.
Wednesday night races in Victoria….they start This coming week. Here is the schedule:
2018 Cross Club
Registration link can be found @ www.crossclubvictoria.com.
Details on locations will be emailed to the registered riders list on the Monday of each week. Make sure you register by Monday morning on the 10th of September so that you can receive the info for Ride # 1 on September 12th.
If anybody you know is not on the email blast list from last year, just send them to www.crossclubvictoria.com to register for this year.
Please bring your UCI Licence, Cycling BC Licence or proof of Club membership. t
Cross Club 2018 Schedule
(Please note: No ride on Oct 10th due to Cross on the Rock race on Monday, Oct 8th of that week)
Ride #5 – October 17th
Ride #6 – October 24th
Ride #7 – October 31st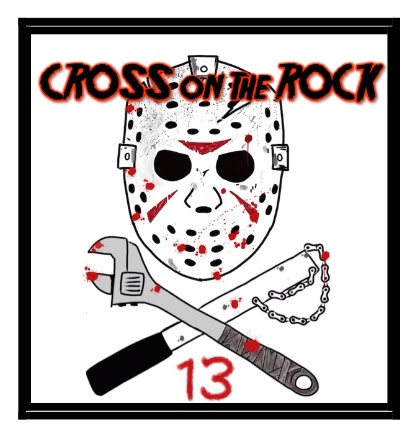 This is an ISLAND series and the past support we have received from our island community is awesome. Lets keep it up in the future as it is what drives this series and makes it special. PLEASE SUPPORT THE SPONSORS. These are local businesses and companies that support local businesses. On-line companies, amazon, big business (besides Shimano) do NOT support community events.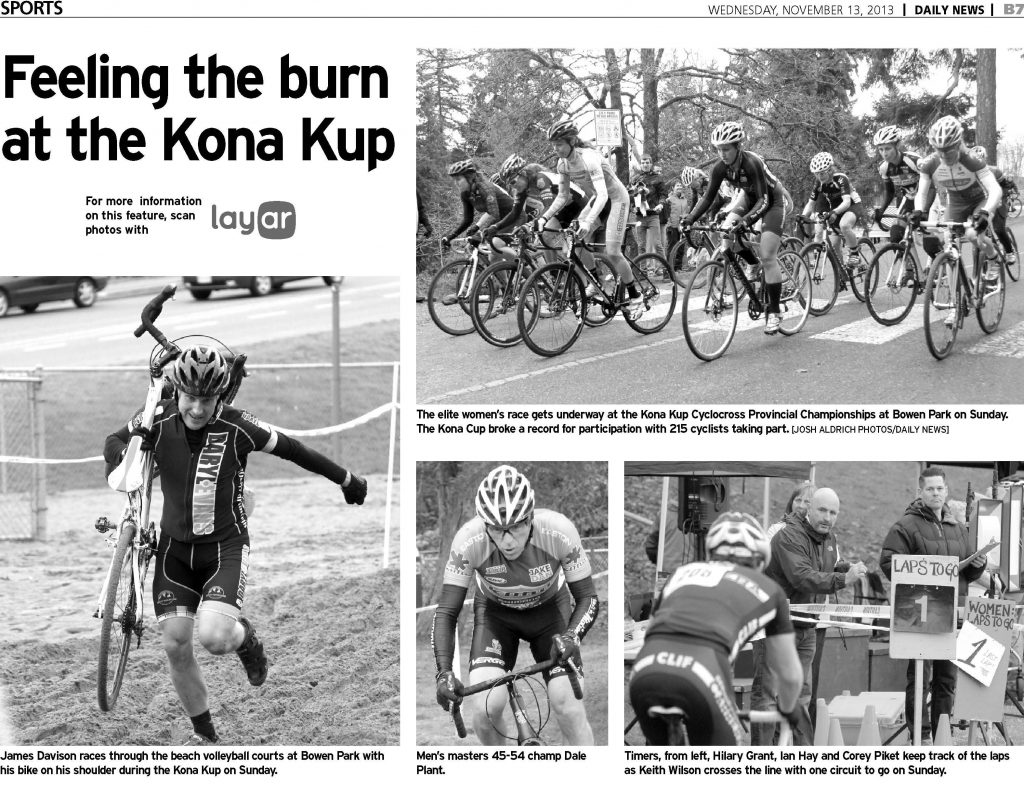 Mazda Cross on the Rock Newsletter #6 for 2018. COTR YEAR #13.