Newsletter #9 for 2018. COTR YEAR #13
MAZDA can outrun even Jason on Halloween.
Muc Off is the only sane way to prep your bikes for a zombie attack and possibly also Psycho Cross.
#CROSSISHERE #COTR2018 #crossontherock

Race and Series Maintenance Items
1) Are you ready for the "Jump In". We offered this a few years back BUT with the transition to chip timing and our first year with wristbands, keeping track etc. we had to can it. We can now offer it again. IF you want to do a second race (sorry does not apply to Zoom Zoom racers also doing Beginners obviously) we can DO IT. You need to check in at REGISTRATION and get them to write you down on the "Jump In" form. It will be $10 Cash. You will have to start at the back (since it is not your regular category) and battle to move forward. You can use your regular race number and regular chip BUT it needs to be recorded at registration. (Can not be done in advance on pre-reg. Sorry).
2) Chips and Pits. This is a reminder. IF you are on the course racing. Your bike NEEDS to have a chip on it. That chip needs to be registered to YOU. With the chaos at McLeans Mill people were grabbing any bike to finish the awesome course…..many did not have the chip of the racer using it. This is IMPOSSIBLE to keep track of, score or time. If you are proceeding in a race the bike you have must have YOUR chip or a pit bike chip registered to YOU. Otherwise it is a DNF. We will try to put an extra set of zap straps and one of the side cutters in the pits attached to one of the bike racks for the remaining events to make this a bit simpler.
3) Race Call Ups. Rolland has been making extra effort to post the call up lists the night before each event (pretty soon after registration closes). This gives everyone a chance to look it over and let us know if there are any mistakes or issues (i.e. someone registers with a middle initial but all their points/previous races they did not…..thus the new name has 0 points). IF there is a problem please let us know. Trying to sort it out at the start line after everyone has been called up is TOO LATE.
4) From Sarah Hauser. Shout out to all Intermediate Women! Are you feeling like you could race a bit longer? Have a bit more in you when finished your race? (See note above about the "Jump In") Well, the Expert Women are looking for more women to race with. Well, I am looking for more people to race with. I decided to race Expert this year because I wanted to have a longer race. The one thing I'm missing is someone to race with. I need some more women my speed so that I have a race. I don't care if we are battling for last place or last not lapped, as long as we can challenge each other for that position. I know, you might feel like you are not fast enough but that's okay. Concerned, well honestly I think it's easier to race Expert. Why? Well, after all those other racers have raced the course a good track forms. Sand pits become easier because a packed down track forms. And because it's such a small field ( 10-13 women) there are not traffic jams. Usually you get a clean attempt at hard bits with no one in your way. Of course that might change if more of you come to race at this time but I don't think numbers will suddenly jump up that much. So just putting it out there for you to think about. I wanted to make sure I had a race yesterday so I also did the Master's women race. So fun to have someone to chase or try to stay in front of. Way to go Rowan Belanger for doubling up too!! Let's do it again next weekend!!
5) Race Numbers (last housekeeping item). A few people tried to get their cloth number last weekend as they had not raced since Topaz Park. The registration crew (new each race) did not clue into that they were on the clip board until later. SO if you are still missing your cloth number and raced/registered for the first race but have not received it yet. We do still have it! Check with the crew when you check in at any of the next 3 events.
Warm Ups
Tycho and Tessa (and helpers)

had a great merchandise stand going at Lumber X. They will be set up again this Sunday by the Frontrunners van. They have last year's COTR shirts (youth, women and men's sizes (will update on FB)), COTR socks from this year SM and ML, COTR Hats and COTR 2013 Stickers. Cash Only. They MIGHT have a one fresh bag of liquorice left as well.

Did you race Lumber X?

We are doing an e-mail campaign. See details below in the Lumber X Review
IN THIS NEWSLETTER:
1. Lumber X Review
2. Psycho Cross Preview
3. We owe you $5 (updated List) (Last reminder)
4. Weekly Cross (Updated as time is running out)
1. Lumber X Review
Norm's Notes:
Great to return to McLean's Mill for the 3rd time in 13 years.
A MTB'ers course
Old School Jungle Cross style.
Absolutely LOVED it!
Great atmosphere.
Where were all the Victoria crew? No Broad Street riders at all…..scared were they?
Patrick's Photos (yes he can time AND snap photos): https://www.flickr.com/photos/palleus/albums/72157672697584597
Race director Lee Blais Notes:
LUMBER CROSS!!!!
No one hurt themselves AND the sun was shining!!
Thank you sooooo much COTR family for braving the treacherous Hwy 4 into the Alberni Valley.
The course turned out amazing, It was a real challenge to make it long enough and interesting enough without tearing up the Mill site to much. I was super impressed with the respect shown for the Mill by all the racers and spectators.
Random thoughts and comments:
Single speeds not being a disadvantage
Campbell river dirt bag course prep wizards
Less volunteers bringing out the best in the volunteers
Wendy Simm's support at registration
Burgers and fries www.knockannanagrill.com
Train nails (railway spikes)
Please take the time to email Deanna the mill manager with any positive feedback, we'd love to return to that venue. deanna@mcleanmill.ca (CC the COTR e-mail address and everyone that does this in the next week I will put in for a prize package of: Phillips, socks, hat and some Muc Off.)
Thank you volunteers, thank you Normon Thibault and the council of cross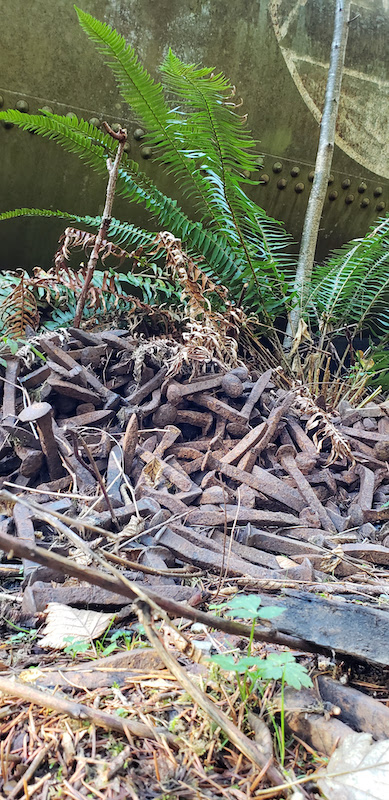 2. Psycho Cross Preview
New course. New Venue. New Town. Lots of Excitement.
Closer than Nanaimo to Victoria. Closer than Shawnigan to Quadra. This race should take almost everyone on the island that races cross less than 2 hours to get to. A great location.
Pre-Registration closes at 5:00pm on Saturday. Link is here!
We have received incredible support from the Town of Lake Cowichan as well as the Cowichan Valley Regional District to bring Cross on the Rock and a race to this area. We can't say enough about how much of a pleasure it has been to work with these two groups who are dedicated to building sports and sport tourism in this amazing area of Vancouver Island. We hope that you can support the town while you are there for the event!
As a HUGE BONUS the Town and District of Lake Cowichan have put together a GRAND PRIZE gift package to be won on Sunday that will include a stay, dinner and other merchandise. (As always you gotta be there to win!!)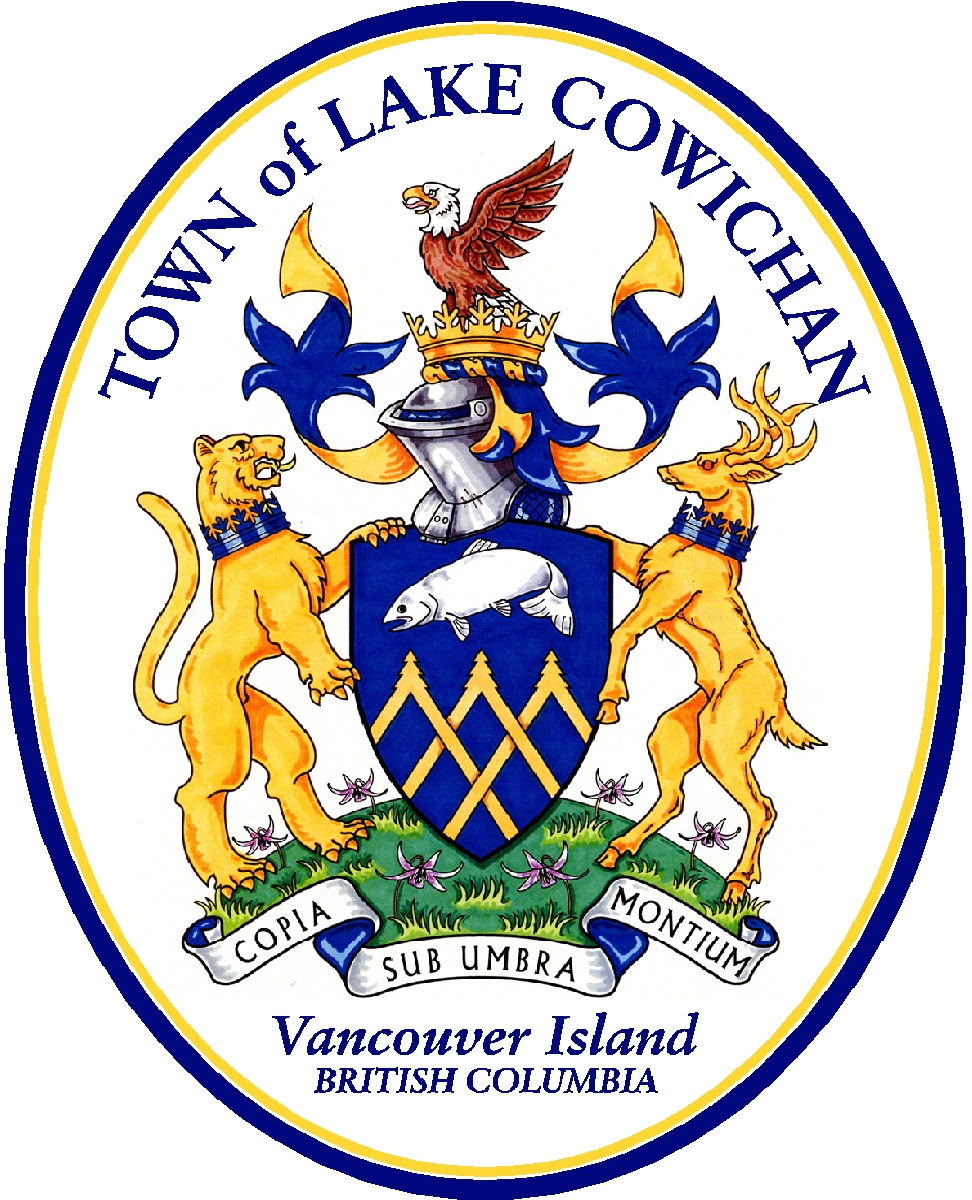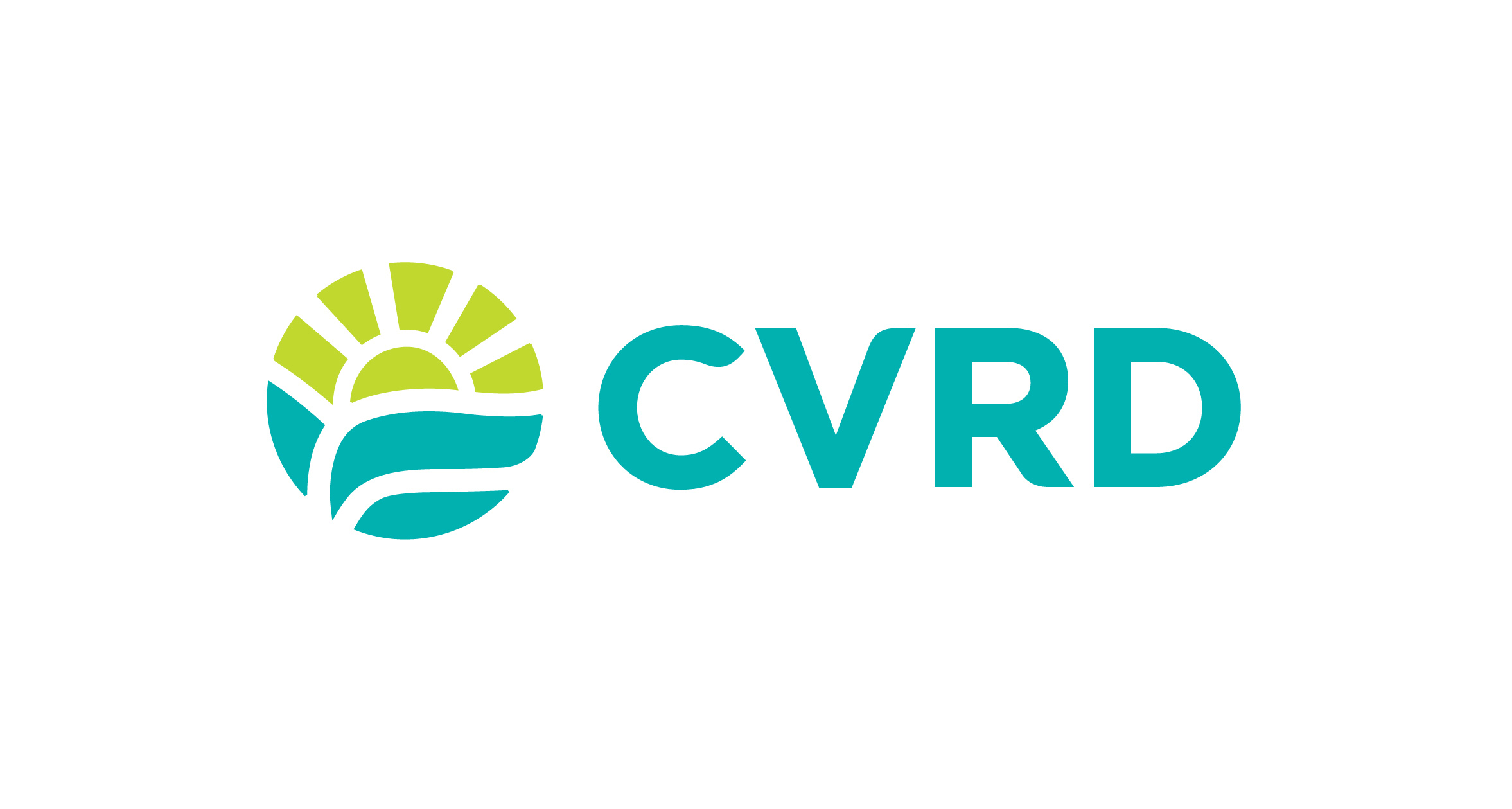 Check out some of these links.
Find out about Sport Tourism and Sports in this area
If you want to come early to Lake Cowichan or are looking for a place to eat here is a directory.

Cowichan Psycho-Cross Infoblast
Where:
Lakeview Park Campsite – Lake Cowichan
Getting Here:
. Turn off Vancouver Island Hwy on to Hwy 18 to Lake Cowichan.
. Follow Hwy 18 until the Lake Cowichan/Youbo junction, turn LEFT in to the town of Lake Cowichan.
. Drive straight through town proceeding straight through all roundabouts.
. Once through the town of Lake Cowichan, turn right on Lakeview Park rd, indicated by the large "Lakeview Park" sign.
. Follow gravel road to race venue where a parking attendant will be there to assist you (from 8:30 on race day).
*If you arrive before 8:30 we will be angle parking along the gravel road that you entered on*
Camping
The entire campsite is posted as closed during our race however racers ARE allowed to camp on site. If you plan on camping there are strict rules as to where/when you can camp, these are as follows:
Price is $23.00 per party, per vehicle and must be paid in cash at the drop box on site
Because we are running a race throughout the campground there are only certain sites open to campers.
Available sites are: 7, 8, 9, 10, 11, 12, 13, 14, 15, 16, 17, 18
. Please note you will NOT be able to move in/out of your campsites until all racers are finished on race day (4:00pm). If you need to leave the venue sooner do NOT camp!
Additional info can be found here:
http://www.town.lakecowichan.bc.ca/camping.shtml
Schedule (Last time for this schedule for 2018. For race #7 and #8 we will be changing to our condensed schedule)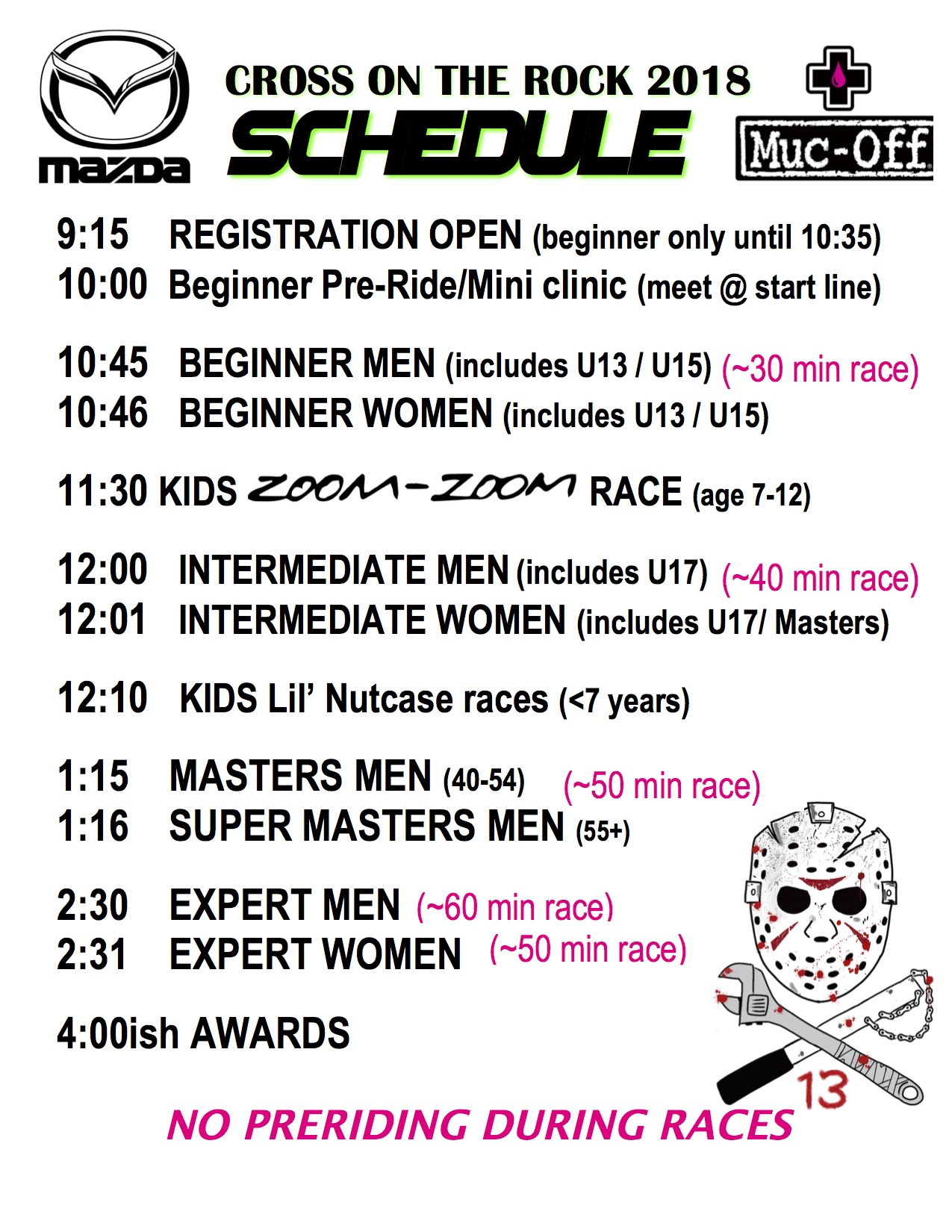 Course
General course:
The course begins with an uphill gravel road sprint to break up the racers. You will then funnel in to a 4ft wide windy gravel path descent that will pop you back on to another gravel road. From here you will wind in an out of a few campsites before a short singletrack descent to the beach. The beach section will be sandy and is sure to tire out even the fittest experts. From here you will climb some stairs and grab some bacon at the first hand up station. You then proceed down a short 4ft wide gravel path that will connect you to the floating boardwalk. The boardwalk is wide and we have installed wire mesh for grip to ensure racers safety, this will be a NO PASSING ZONE. After the boardwalk you will proceed in to the singletrack portion of the race. This trail varies in width from 2.5-5ft and will have a series of bridges to navigate. No bridge is less than 3ft wide and everything is covered in wire mesh for grip. After the singletrack you will pop out on another short gravel road climb in to a widely taped sprint. This will ensure room for passing. Keep an eye out for the wiener roast and more handups. After the gravel road you will navigate through a few more campsites before another very short single track descent to the lower road. The race will end with a final gravel road sprint to give one last chance to pass.
Zoom Zoom(>12ish):
Complete course minus boardwalk and connecting singletrack
Lil Nutcase (>7ish):
Mini course in campsites 40-53
Other Important Notes
Tents:
Teams and clubs are welcome to set up tents up until the first race at 10:45. There will be absolutely NO entry / Exit in to the campgrounds from 10:45 – 3:30ish when racing finishes. Space for tents will be on a first come first serve basis.
Cash:
Bring cash! We will have food, beer, coffee, and merchandise for sale on site. All venders will be operating on cash only!
Big thanks to Carmanah Pizza, Riot Brewing, and Black & White Coffee for supporting cyclocross!

Costumes:
This is a Halloween themed event! Get creative and dress up! There will be prizes for racers that embrace this. Get wild, go fast in a costume, go slow in a better costume, however you approach this, know that if you stand out you will be rewarded!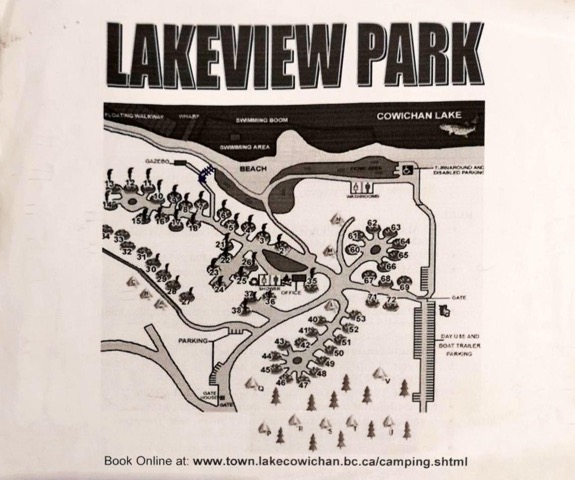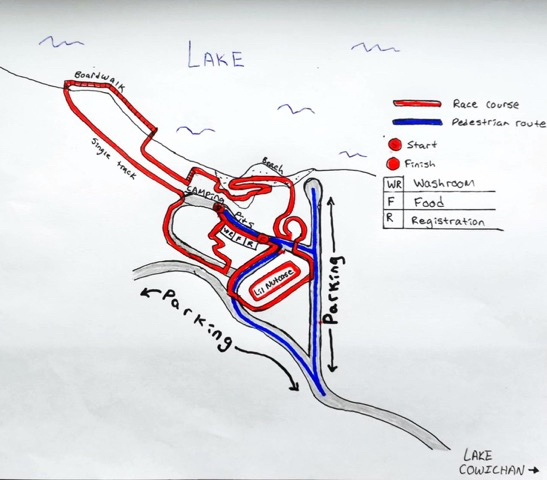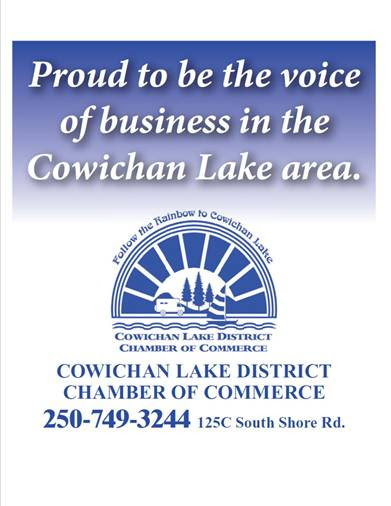 3. Don't forget we owe you $5
If your name is on this list. We have $5 for you (from Qualicum Beach).
There will be an envelope with $ in it at the next 4 races until all our debt is paid. Pop by and pick up your $$ Please.
Alen Fazlagic
Corey Itterman
Erik Leikermoser
Lazarus Difiare
Lief Keithly
Matt Paton
Russ Parks
Scott Mitchell
Scott Pearce
Terry McKall
Toni Begley
Wayne Shtzbel (Not 100% if we owe him the $5 or not?)
4. Weekly Cross Happenings on V.I. (Last Posting for this for the season)
With the daylight fading and time change looming there will not be too many chances left to practice with your buddies. Get out there! We THINK almost all of these practices will be finishing up NEXT week. IF that is NOT the case please let us know!
If you hear of any cross rides or training sessions happening NOT listed here please let me know and I will keep these as up to date as I can.
Rock City Cycles Wednesday Night cross ride/workout. DONE FOR THE SEASON. GREAT JOB RCCCX
Comox Valley Cross Rides. Wednesday Nights. plug our FB group for cx practice in the Comox Valley https://www.facebook.com/groups/457383181299940
Cowichan Valley Cross rides. Contact them through FB.
2018 Cross Club LAST RIDE this coming Halloween!!
Registration link can be found @ www.crossclubvictoria.com.
Ride #7 – October 31st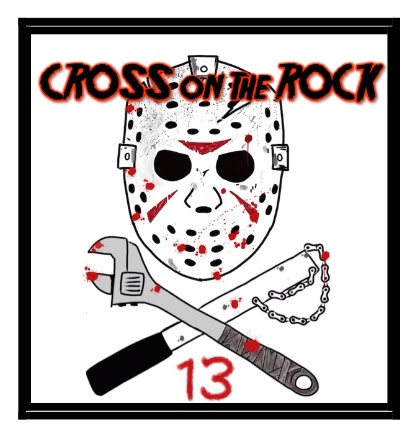 This is an ISLAND series and the past support we have received from our island community is awesome. Lets keep it up in the future as it is what drives this series and makes it special. PLEASE SUPPORT THE SPONSORS. These are local businesses and companies that support local businesses. On-line companies, amazon, big business (besides Shimano) do NOT support community events.
Parting shot. While most of us were just happy to make it over this rock pile at Lumber X. Others…..well…..that just makes the rest of us look bad!!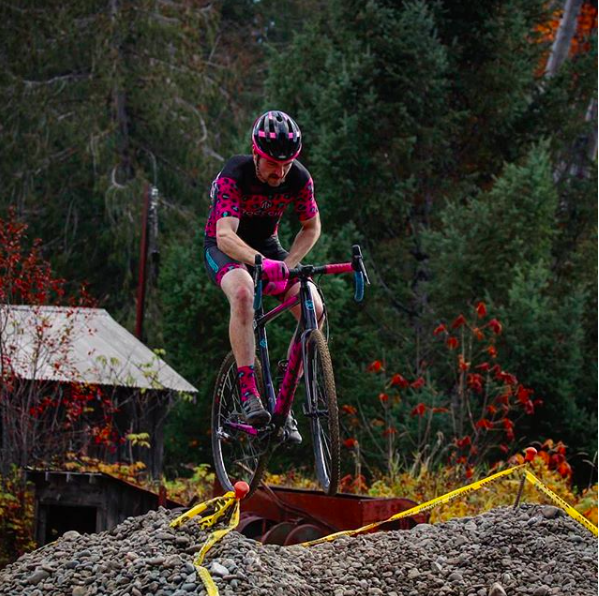 Mazda Cross on the Rock – Newsletter #9 for 2018. Year #13