Newsletter #3 for 2019. MAZDA-COTR. Season #14. Coal Cross Preview.

Powered by MAZDA
Bikes washed, lubed and protected for the season with Muc Off.
Are you getting fired up for this weekend? Check out this edit from our sponsors at Naked Bikes……it will get you higher than gluing tubulars.
How will the first race be started?
This year YOU have the say. Every year the first race has to start by some method….we have done a few through the years. Back in the older days we just lined everyone up on the front row! We have done Le Mans, random and braveheart over the last few years. What should we roll with for the first race of #MAZDACOTR2019? Coal cross is coming quick.
Take the 1 question survey and let us know your thoughts.
Small refresher for everyone that Cross on the Rock is designed to be a supportive environment for all ages. Please keep your language and behavior appropriate. Heckling is part of cross but it is good practices to do "positive" heckles….rather to tear someone down. Talk to a little kid. Encourage beginners and first timers. Be kind to your fellow racers. Make space for those lapping you. Race hard but have a great time. Shake hands at the end!
Be a part of something awesome!
As always…..no pre-riding during other peoples races!
Newsletter #3.
Coal Cross Preview.
License requirements for 2019 (Repeat)
Category name changes and descriptions. (Repeat)
Teams, Clubs, Practices and Clinics. (Updated)
1. Coal Cross Preview;
#1 and #2 thing you need to remember: Don't ride on the BMX track. Don't ride on the playing fields (outside of where the course is).
Tessa and Tycho will be running their Freezie stand at Coal Cross. They love your support and chatting with everyone. I think they are racing LAUNCH for the first time……so ask them how it went.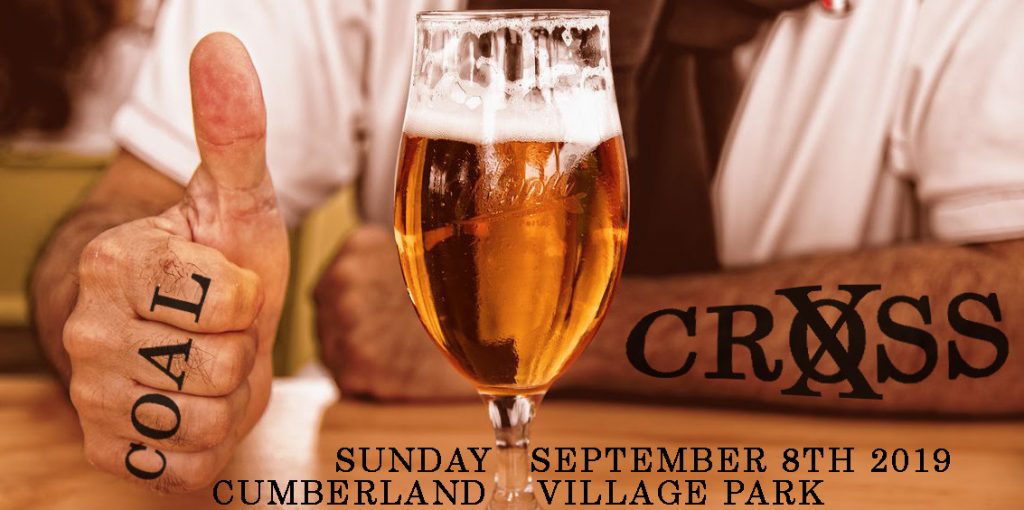 Registration for the series and Coal Cross will open until 6:00PM Saturday. Registration for the SERIES will close at 6:00pm Saturday and not open again.. Registration for each race will close at 6:00pm the night before the event so that we can process the start lists etc. (if you are not pre-registered you do not get a call up). There is always registration available on race day up until 30 minutes before the race OR until it reaches it's registration limit.
EASY LINK TO REGISTRATION FOR THE FULL 7 RACE SERIES
EASY LINK TO REGISTRATION FOR ONLY COAL CROSS
We have received several e-mails from people that have not read this note……so PLEASE NOTE: When you are signing up for TEAMS for the FULL SEASON or for COAL Cross make sure everyone is on the same page with regards to the TEAM NAME. Signing up for the full season does not automatically put the team name into the list for Coal Cross (or any of the other races) and signing up for Coal Cross does not put the team name into the list for registering for the full season.
Race Day Schedule
Until the time change we will be going with the longer schedule. The first race of the year is always a bit tougher with everyone registering for the series as well as data being inputted. We will do our best as always to stay on-schedule but be aware there are always a lot of moving parts!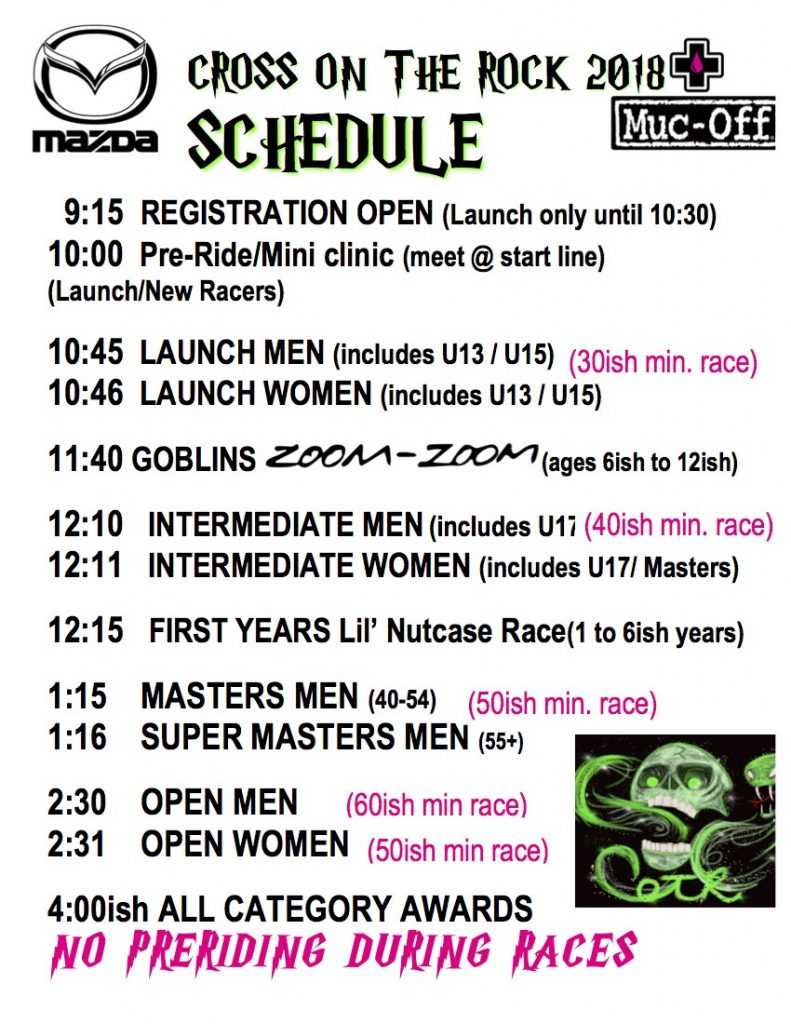 2. Licence Requirements for 2019 (Repeat)
Licencing is confusing. It does not help that every year the licences change. The insurance requirements change and it all starts again…..WHICH LICENCE DO I NEED TO RACE?
So here we go. We will try to explain your options.
1) If you are only going to do a couple of COTR races (We strongly encourage you to race them all) but you don't want to buy any license. You are racing COTR races ONLY. Pay for a Day of Race licence each time you race $10 for an adult. $5 for youth. This is OK if you are only going to race once or twice a year. But it is a PITA (paperwork etc) if you are going to race more than that!
2) Buy a "Provincial Ride Licence" from Cycling BC. $60. This works if you are racing the LAUNCH category (Beginners/Youth/Sport) races at COTR. If you are going to race 6 or more COTR events this year. This is your best bet but ONLY if you are ONLY going to race Cross on the Rock this fall. You can not race other events or the provincial championships with this licence.
3) Buy a "Provincial Race License" from Cycling BC.Adult $90. Youth $60. Get this one if you want to race COTR as well as in Vancouver and Provincial Championships. You can race any category in the province.
4) Buy a UCI license (Cost varies depending on age) if you want to race BIGGER races such as UCI races or National Championships.
Those are your current (for this year) options for Cross on the Rock for 2019
3. Category name changes and descriptions. (Repeat)
If you did not figure it out the theme for this year's series is Harry Potter. We have been getting a lot of awesome feedback about the logo and theme for the year so thanks for sending that and passing it on. With that we have been working on making the categories for this season a bit more "fun". Hopefully everyone will catch on. We are also changing the name of two of the categories (for now) to better reflect who is racing in them.
This is what we are going with for this year. You may have to look up some of these terms as we did. They were researched and suggested by Tycho and Tessa.
Little Nutcase racers will be "First Years". As in the "First Years race the Little Nutcase races".
Mazda Zoom Zoom racers will be "Goblins"
The Beginner category will receive a name change to "Launch". This category is a mix of youth, return to race all ages, masters "c" racers and all age beginners so it was felt that "beginners" did not really fit. Those racing the Launch category this year will be called the "Seekers"
If you are a Boggart you will be racing the men's intermediate category this year. That includes the older youth categories and those not ready to jump into open. We chose Boggart for this category as a boggart can change itself into ANYTHING it wants. Just as an intermediate has endless possibilities.
Women's Intermediate will be the "Animagi"!
Men's masters racers are the "wizards" and women are the "Veela"
Super masters…..well "Professors" just fit so well!
Rounding it out Experts will be changed to OPEN (Actually returns to open) which reflects the nature of that category with "A" level masters racers, fast JR racers and those fitter than most humans racing in this category. Those racing the Open category are of course….the Auror!
We hope this theme is fun for everyone this season. After all racing should be fun!
4. Teams, Clubs, Practices and Clinics. (Updated)
We have received one e-mail from this so far…..we encourage you to share your community and information!!
Cross on the rock would like to increase our focus on Clubs and Teams to foster community and growth to cycling. If you have a club or team that races we would like to know about it and put it on our resource page on the web site.
Please send any club information to: normont@islandnet.com
We would like the following information:
Name of the club/team
Is the club OPEN (will accept new members) or CLOSED (full or have to apply)
Where is the primary location (ie. Victoria).
Age group and what the group focused on (ie. ALL AGES. or "Just hard core single speeders and vodka drinkers)
Contact person and contacts (FB, e-mail, IG)
If you have any weekly practices or groups (Carpooling, monday night barrier practice. Tuesday night close down the bar practice)
If you have a club that does practices or clinics let us know.
Practices:
Rock City Cycles in Nanaimo: Cross practice on Wednesday at 6PM at the Red Barns at Beban.
PS, please be sure to have paid for your cycling BC license.
Practice Races:
Wednesday Victoria Cross Club is back for another season.
Registration and details are at : https://raceroster.com/memberships/3999/2019-victoria-cross-club
We start up September 11 and registration is open now.
Cross on the Rock is an ISLAND series and the past support we have received from our island community is awesome. Lets keep it up in the future as it is what drives this series and makes it special. PLEASE SUPPORT THE SPONSORS. These are local businesses and companies that support local businesses. On-line companies, amazon, big business (besides Shimano and local dealers of MAZDA) do NOT support community events.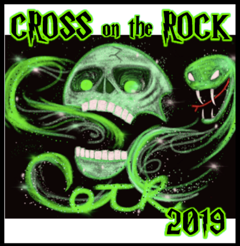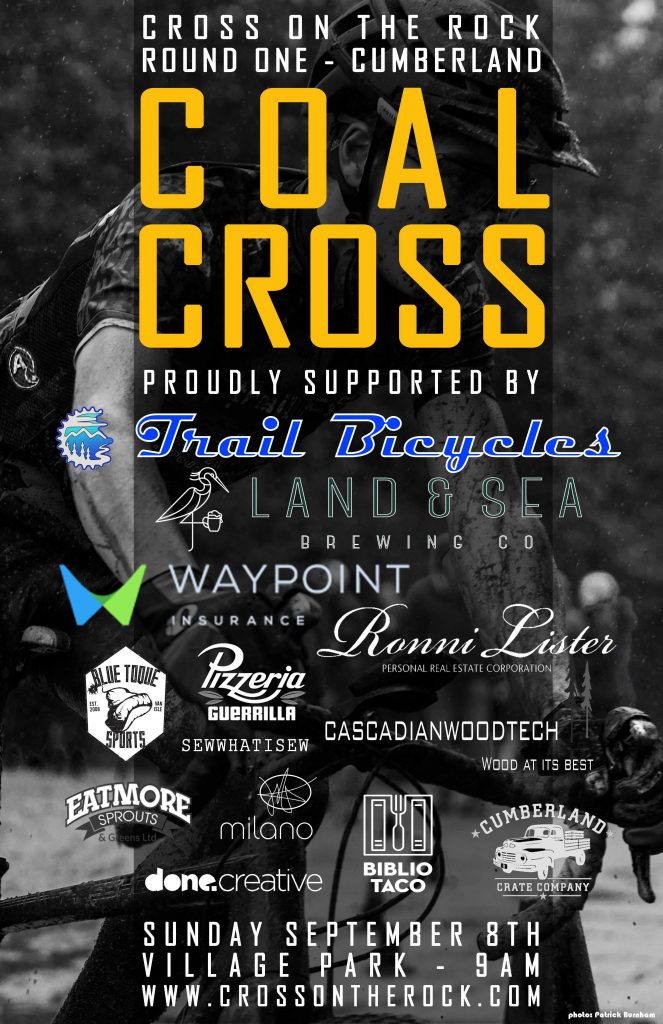 Cross on the Rock is organized by the council of cross and supported by a lot of bike shops and awesome people as well as sanctioned by Cycling BC.
Newsletter #3 for 2019. MAZDA-COTR. Season #14. Coal Cross Preview.