Newsletter #6 for 2019. MAZDA-COTR.
Season #14.
Powered by MAZDA

Bikes washed, lubed and protected for a week of training and preparations with Muc Off.

Newsletter #6.
Pro City GP Review
Review of the 5 races left in Season #14 of COTR
Lost and Found.
A reminder to our cross riders. PLEASE stay off the courses we have used after we have used them. I KNOW they look like awesome practice areas but we need to leave them alone! Thanks.
1. Pro City GP Review
"Great set up today—definitely a bit trickier than in the past"
Patrick Burnham's Photo link from the Pro City GP
From Race Director Scott Mitchell:
What and awesome day for Cyclocross. Another record turnout and the weather was pretty perfect for racing.
A lot of riders mentioned that they really liked the "flow" of the course, myself included.
Can't believe how fast the course came down, that was such a relief after a long day of directing and racing. Thanks to all that helped clean up!
There were several key volunteers that deserve a BIG THANK YOU!
Polly, Rob, Chelsea, Leasa, Chrys, Cheekwan, for their dedication to the registration table, keeping the line-ups reasonable considering the massive amount of racers.
The course setup crew, Dave Pod, Kyle, James, Andrew, Roland, Kelly, Gabor, Doug, Sam, Wendy, Tycho, Tessa,There were more….sorry if I missed ya.
Also the critical number trackers in the timing tent, Patrick, Bruce, Sherry, JJ, Ros, Kim, not an easy job but a job well done.
I'm sure there were several more that pitched in in all aspects of the day and I'm sorry if I missed you.
The City of Victoria Parks Department hasn't complained…… fingers crossed….. so please respect the area and keep away with your cross bike until next year. Yes, there may be a next year…..
As always Norm is the super industrial glue that holds these events together. He is always calm and collected, organized, and deserves so much credit for the success of this event and the entire series. Thanks Norm!
Event sponsors: Shimano Pro and Trek Bikes Victoria
Extra prizing sponsors: Muc Off. 11 Speed Coffee. Phillips Beer and Island Cycles (Super Masters)
Big thanks to Shimano for stepping up big time to help with prizes, course marking, and making great products!
Support your local bike shop, they are the reason that these races happen!
Norm's Notes from Pro City GP
No rain for set up. Rain for pre-ride. No rain for races. Amazing
Breakfast Pies from Saltchuck Pie Company.
First time I did NOT get a wanna wafel when they were at at COTR race. BIG SAD FACE
Missed having music and a bike wash…..but did not have the keys needed this year. Sorry!
Check out the results and the ages of the young guns drilling it out there. So good to see.
Rob Britton!
Hearing that Tycho rode that first greasy hill (bummed I did not actually see it)
The clean up and pack up was VERY FAST. 5:10 pulling out of parking lot. A record for that event!
Once again people were very respectful and nice with regards to letting other racers by and passing. This has been a GREAT theme this year! Thank you from everyone that races!
2. Review of what races are left in Cross on the Rock Season #14
All registration pages are live and linked on the Cross on the Rock web page.
October 6th. COTR #3. Cross on the Commons. Qualicum Beach
Qualicum Beach returns for the 3rd time. Clockwise or Counter clockwise? Something entirely new? We don't know! We can tell you that the ice cream in the village tastes great after a day of racing.
October 14th. COTR #4. Muc Off Cup. Nanaimo
Thanksgiving Monday classic! Name change for this year but one of the best courses (and polarizing) courses around. This event has had the highest DNF rate and the lowest!


October 27th. COTR #5.

Crosstoberfest (The return of). Ladysmith
After a couple of years off COTR will return to Transfer Beach. This time for "Crosstoberfest". Some park changes will mean some course changes. The venue and view can not be beat!
November 3rd. COTR #6. Day of Thunder. Victoria
Back to Western Speedway for the second to last event for the 2019 season at Western Speedway. This venue has probably hosted the 3rd most cyclocross races on Vancouver Island. Lots of space. Lots of "knarly".
November 16th. COTR #7. Hot Crossed Bunnies. Nanaimo
Nanaimo's Beban park will host the last race for 2019 with it's Hot Crossed Bunnies race. Double points will be up for grabs which normally means a shake up in some of the standings right before the awards for the season are given out.
5 races left
3 Sundays
1 Monday
1 Saturday
3. Lost and Found
Simple notice here. We are gathering an amazing amount of "stuff" for only 2 races. UNFORTUNATELY we can not spend hours after each event responding to questions and coordinating pick up of your items. We need to get on our bikes! We have the bin at registration at each event. Check it out if you lost or think you might have lost anything. 1 week after the last race it all goes to the Salvation Army.
(Also someone found some Apple wireless ear buds at the Pro City GP) They are $$ so if you lost them they will bring them to Cross on the Commons.
Cross on the Rock is an ISLAND series and the past support we have received from our island community is awesome. Lets keep it up in the future as it is what drives this series and makes it special. PLEASE SUPPORT THE SPONSORS. These are local businesses and companies that support local businesses. On-line companies, amazon, big business (besides Shimano and local dealers of MAZDA) do NOT support community events.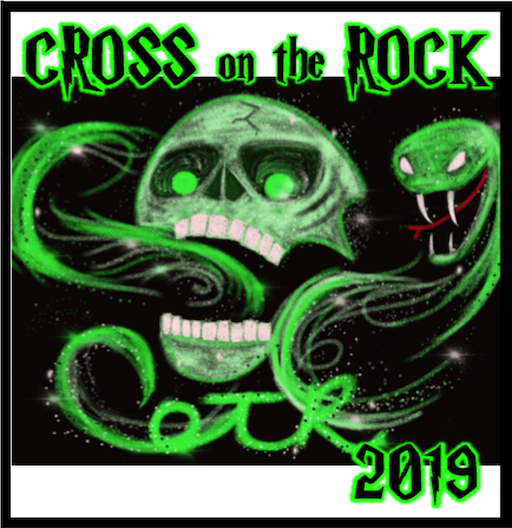 Cross on the Rock is organized by the council of cross and supported by a lot of bike shops and awesome people.
Newsletter #6 for 2019. MAZDA-COTR. Season #14.- Pro City GP. A Great Day for CX.