Newsletter #8 for 2019. MAZDA-COTR. Season #14.
Powered by MAZDA

Bikes washed, lubed and ready to race Monday at the Muc Off Cup.

Newsletter #8.
Muc Off Cup Preview
Cross on the Commons in Qualicum Beach. The rear view.
SIMBS need your help
The Warm Up.
We tried out a different award at Cross on the Commons last Sunday sponsored by Eleven Speed Coffee. The award was for the person that passed the highest number of people from the start of the race to the finish. Qualicum's course allowed us to measure this because of the layout of the finish line that you pass 30 seconds or so after the start. The council has named it the "Moving on up" award. We won't be able to substitute it for the Last not Lapped award at every race because of course lay out but look for it at some of the races in the future.
Winning the Moving on up at Cross on the Commons were:
Peter Veasey (+36) Katie Slater (+17) Alen Fazlagic (+37) Adele Lay (+18) David Opko (+41) Howie Adams (+11) Tara Miller (+10) Emily Unterberger (+11) Drew MacKenzie (+30)
If you are interested in watching the sinister video of our web site hack here is the link: https://www.youtube.com/watch?v=XzhgXlaf878&feature=youtu.be
The FREE JUMP up for Women at Cross on the Commons was GREAT. Lets keep that rolling at the Muc Off Cup. Make sure you keep your normal race number and timing chip but let the registration crew know you are doing a second race. Guys this option is also open to you but…..it is $10 (still a great deal).
From the timing crews: Women if you are rocking a pony tail at the races or have long hair please put your race number a bit lower on your back. Thanks!!
1. Muc Off Cup Preview
The Muc Off Cup is held at Bowen Park which is a public park. It is CRUCIAL to our event-parks and recreation relationship that all racers and fans act in an appropriate manner while using this park. We had an issue a couple of years ago in which one racer had an altercation with someone driving on the upper park road. This one altercation put our event in jeopardy. It is up to everyone. Keep the good vibes going at our series!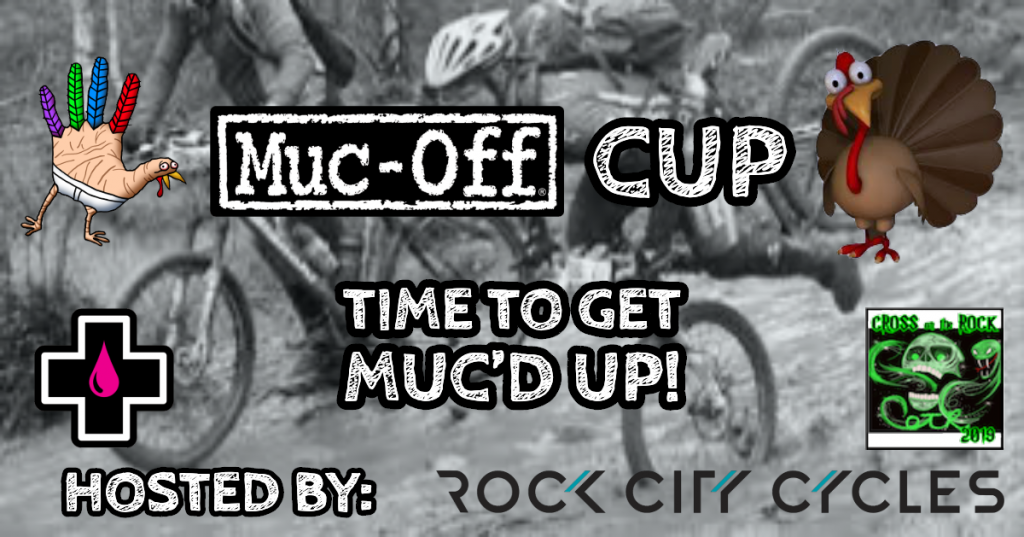 From Rock City Cycles:
We are super stoked to have Muc-Off as a title sponsor this year. The Bowen park course is a classic and even with the predicted sunshine this weekend it will hurt!! The parcours will be similar to previous years starting with a road section into a wooded climb, followed by some open chances to pass. It then gets technical for a short stretch before coming to the twists and turns, sand and stairs, and through the start/finish.
Course Hazards
Please be cautious of the downhill after the pool. There are roots and trees with uneven ground.
Please stay within the cones by the Tennis Courts. This is very important, we are sharing the road with other park users
The last hazard is the downhill after the long stair run up. Please use caution, it is steep and can be loose
Parking
Parking will be in the lot besides the Volleyball court. Overflow parking can be had at the Curling club across the street. Registration will be near the volleyball courts. Please be courteous to other park users.
Team Tents
One row on the grass in front of parking, one row on the dirt. Please do not park in the tent area.
Muc-Off/HawleyLambert will have a bike wash station, these are volunteers please be patient and helpful.
Sip and Sliders food truck will be on site. Handcrafted milkshakes, sliders and hand cut fries.
Make sure you stay for the draw prizes, Lots of Muc-Off prizes and something from our friends at Kestral Helicopters and Moksha Yoga.
Rock City Cycles
2. Cross on the Commons in Qualicum Beach. The rear view.
Link to photos from Petra Knight.
Link to photos from Chad Grice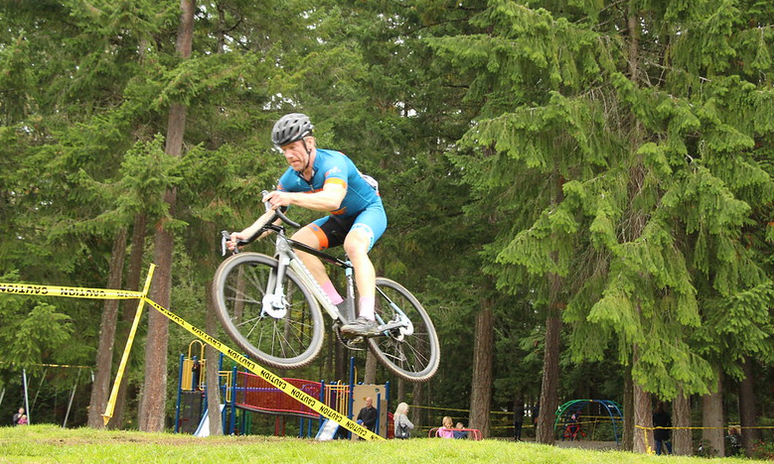 Cross on the Commons (COTC) – The Rear View
Thanks everyone for coming out in record numbers to have fun and shred more sand and grass and pump some BMX track in Qualicum Beach. I bet the town officials and residents never envisioned an event like this taking place. Each year it just keeps getting a little better! Well played all!
And another thank you to everyone for observing the 'no shoes' policy in the Civic Centre. The facilities are pretty ideal so we want to keep them that way. [Next year (?) we will try not to run out of cardboard for the floor]
A special shout-out goes to the many volunteers that come out to make this race really happen. By my count, 28 volunteers doing multiple jobs and putting in many hours of service. Starting with course set-up (Dean, Tam, Rod, Val, Garth, Howie, Laurie, Petra, Sandi, Kebble, Andrew, Georgia, Owen and Paul) the day before (which always leaves me wondering how much will still be standing come Sunday morning at 7 a.m. But three for three, so thank you Qualicum Beach); a great team (Liz, Roxanne, Pearl, Val and Sandi) for registration; the timing crew (Garth, Rod, Jeff and James) hanging in there for the full day. And not to forget the course marshalls (Alan, Tam, Teresa, Andrew, Georgia, Bill and Petra) looking out for racer safety and track issues. Thanks to Laz and Nicholas for running the Beginners Clinic and Paul and Howie for trying to keep the parking lot, sort of, organized and Bertrand for hanging around and doing what needed to be done. And then, course take-down, with a lot of thanks to those that helped out. I think Norm's trailer went away a little more organized.
Did anyone try to get a special, overnight rate at the Sand Pebbles Inn? Well, if you tried but failed then I apologize. The special rate that was outlined in newsletter #7 was from 2018 and not valid for 2019. My mistake, sorry about that!
And far from last, is the awesome support we received from a large number of businesses in Qualicum Beach and Parksville that donated product, gift certificates and a whole lot more to a great event!
And congratulations to Wendy Simms for winning the grand, draw prize of a free tandem sky dive from SkyDive Vancouver Island here in Qualicum Beach. The whole family was pretty pumped about that!
Onwards and upwards for #2019COTR!
Thanks one and all,
Roy
3. SIMBS need your help
Please take 30 seconds to sign the petition here.
Recent Developments: Landfill Expansion
While most of the Hartland Biking Area is within Mt Work Regional Park, some of the trails – including Who's Your Daddy and Night Shift – are on landfill property. The Capital Region District (CRD) is developing a new Solid Waste Management Plan (SWMP) to extend the life of the landfill to the year 2100. This will most likely result in the landfill expanding to the edge of the property line.
Permanent trail closures will not happen for several years
temporary closures for blasting will begin this winter,
public consultation is beginning this month!
SIMBS is a key stakeholder in the consultation and we're advocating hard for new MTB access to offset the impacts of the landfill expansion. We need all members to participate in the consultation by attending public meetings and submitting written feedback. We'll share important dates and info throughout the process. Please share this email widely!
Mt Work Management Plan
We're circulating a petition to CRD asking for a Management Plan for Mount Work Regional Park. This would create an opportunity to address various issues in and around Hartland, including the need to authorize existing trails outside of the authorized biking area – such as Bubble Wrap and Legends, as well as of course the SWMP. We'll present the petition at the next CRD Parks and Environment Committee meeting on October 23 (see below).
Cross on the Rock is an ISLAND series and the past support we have received from our island community is awesome. Lets keep it up in the future as it is what drives this series and makes it special. PLEASE SUPPORT THE SPONSORS. These are local businesses and companies that support local businesses. On-line companies, amazon, big business (besides Shimano and local dealers of MAZDA) do NOT support community events.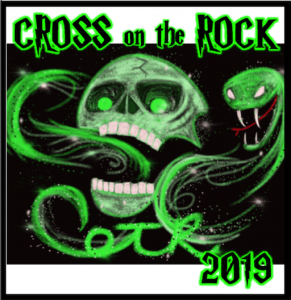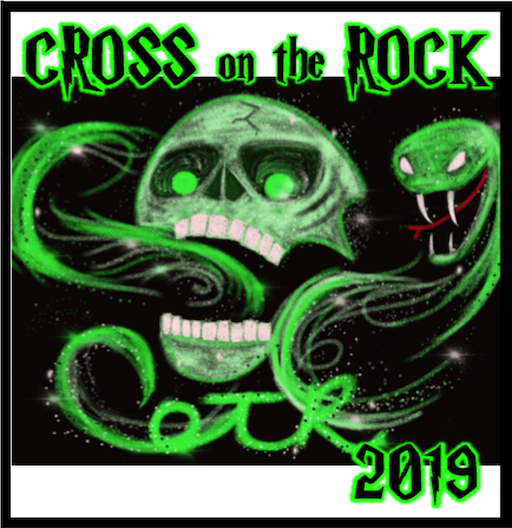 Cross on the Rock is organized by the council of cross and supported by a lot of bike shops and awesome people.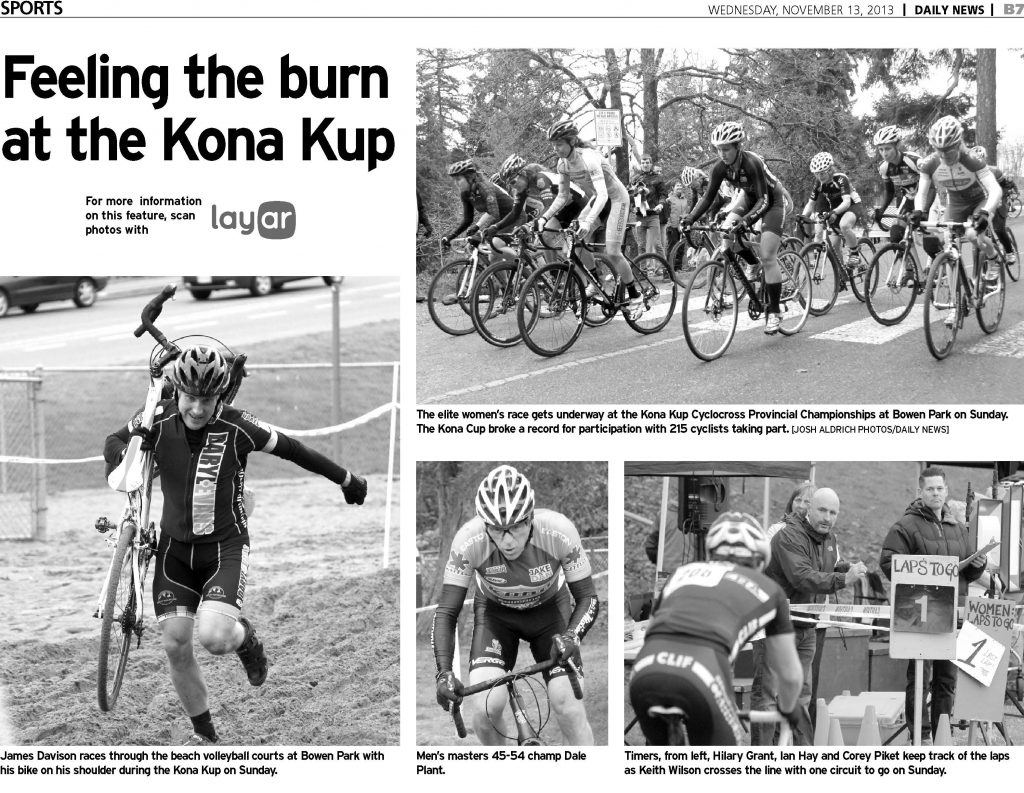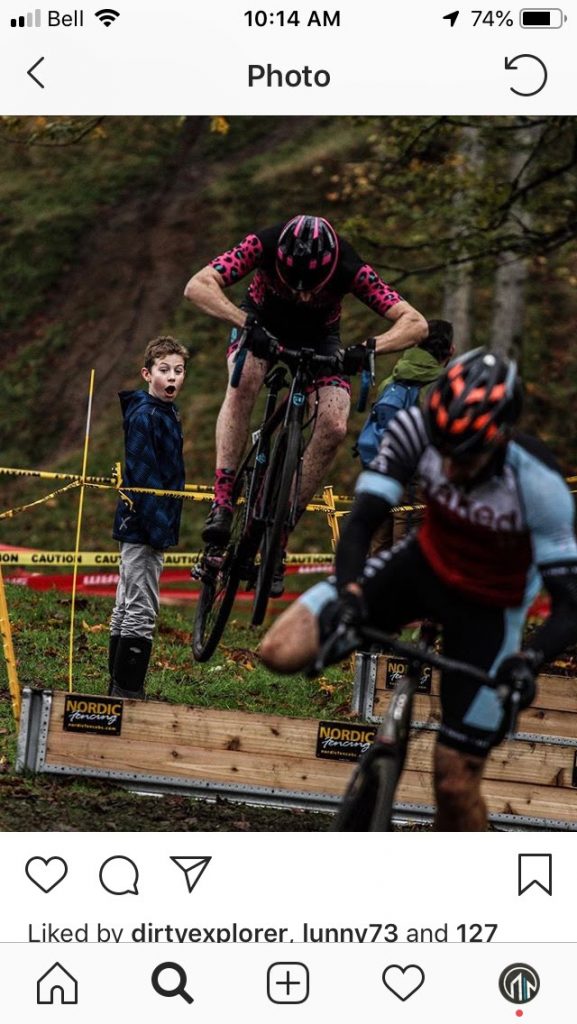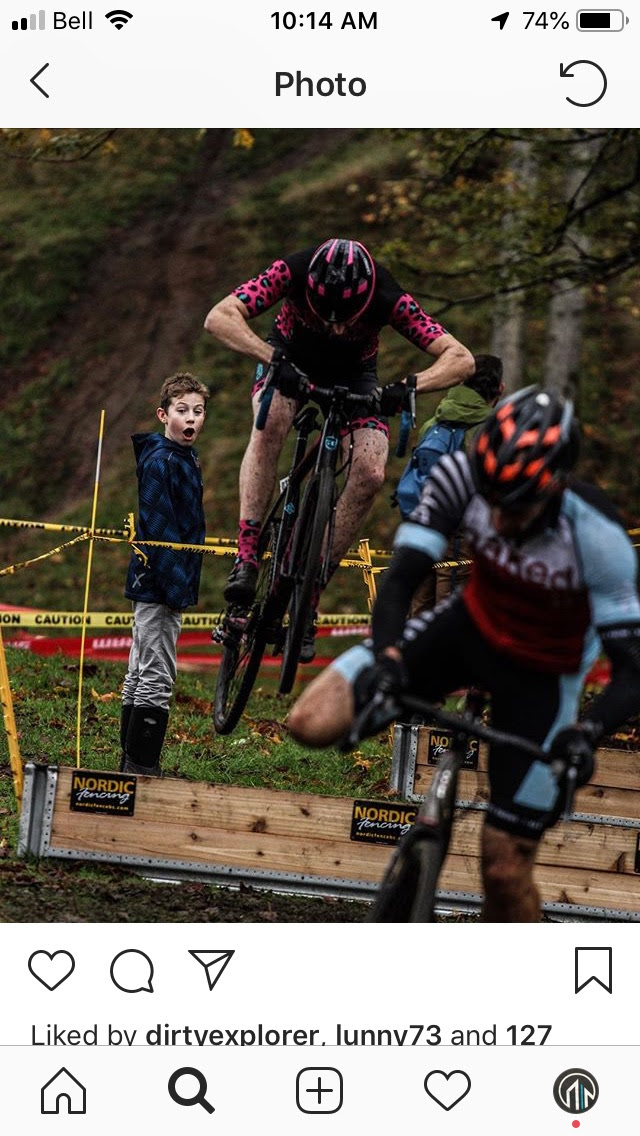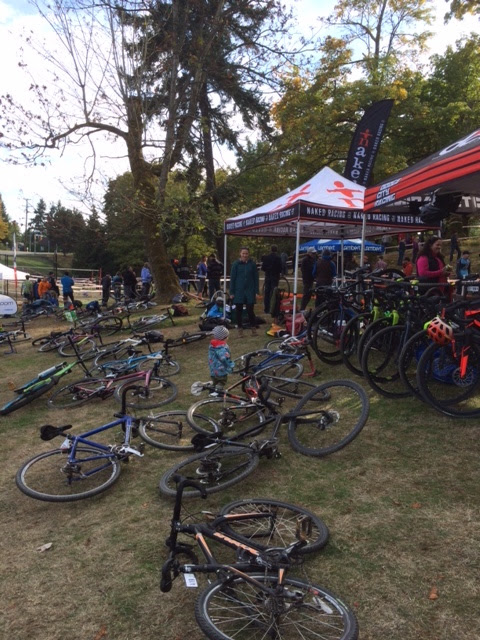 MAZDA-COTR. Newsletter #8. Season #14. Weekend Plan: Fill with Turkey Sunday. Race it off Monday.