Newsletter #9 for 2019. MAZDA-COTR. Season #14.
Powered by MAZDA

Bikes washed, lubed and ready to race Sunday at Crosstoberfest at Transfer Beach, Ladysmith..

Newsletter #9.
Crosstoberfest Preview
Muc Off Cup Review
Crossfondo Wrap Up
The Warm Up.
To get this warmed up Patrick Burnham sent me the links to his last two COTR photo albums Muc Off Cup https://www.flickr.com/photos/palleus/albums/72157711348730661
Cross on the Commons
https://www.flickr.com/photos/palleus/albums/72157711242050142
We have been pumped on the increase in riders in OPEN with The FREE JUMP up for Women at Cross on the Commons was GREAT. Lets keep that rolling at the Crosstoberfest. Make sure you keep your normal race number and timing chip but let the registration crew know you are doing a second race. Guys this option is also open to you but…..it is $10 (still a great deal). (Also note this is good for someone racing Launch that wants to try a second race as well)
Pre-Registration (and your only chance for getting a call up) closes at 6:00 on Saturday night.
If you are moving up a category you CAN retain 50% of your points. This does NOT work for the JUMP UP. Only if you are moving up for the remainder of the season. BUT you need to let us know AHEAD OF registration closing (call up lists are made about 10 minutes after reg. closes)
This is a re-print from Newsletter #3 Season #12:
The word "Sandbagger" is tossed around at cross races as much as the word "Bully" is around the school yard. Both words are probably over and miss used. Someone winning their first time or their first race is not a "Sandbagger". An Elite rider riding down a category….yes….that is. Someone lapping all but 2 riders in an intermediate race….yeah….you can probably in a joke call them that. Just be careful about how you use the word. Give racers the chance to be in the winning circle every once in a while. If they are killing everyone in their category EVERY race (and they are not racing OPEN)……then we will give them the "gentle nudge" as it is known. If it is their first time winning and they have never been top 5 in the series. This might be their year to shine in Beginners or intermediates. We keep an eye on it……and remember……we can joke with our friends only if they can take it! Most of all we are trying to get people racing and having fun. Adding in for this year: The GOAL of the race series is for people to be challenged, develop skills and #1 to RACE people. If someone is WAY ahead on a regular basis then they would probably be more challenged racing up a category (aside from Carter and Emily). We hope people make the right choices but more importantly we want people to come out, race and be a part of this awesome community.
1. Crosstoberfest Preview
We have not been at Transfer Beach Park in Ladysmith for a couple of years now. It is an amazing venue that is enjoyed by a lot of people. Be aware. The park is BUSY. There will be other park users. Remember….it is their park too!
IMPORTANT NOTE: The main road through the park is an active road ALL DAY LONG. We really need to emphasize that traffic flows through the park and anyone warming up, going to and from your cars, with small children, dogs etc. should be very conscious of the traffic and road rules. We can not have any racer/bike/car conflicts in this park. Thank you in advance.
COSTUMES ARE ENCOURAGED!
Norm's Notes:
The race at Transfer beach (Tugboat CX, Crosstoberfest. The great pumpkin cross…. What ever name it has) in Ladysmith has been voted the most popular event by racers the in 2017 and 2016. Racers LOVE this venue and this race.
The 2015 version of Tugboat ranks as the 8th tamest (least DNF's) race in COTR History.
Ladysmith is also one of the easiest races to get to by both UP and DOWN Islanders.
From the Race Directors:
Course Description:
The course will be similar to previous years with all the good characteristics; sand, stairs; and lots of fast grass.
Currently the forecast is NOT for rain…..so it might be time for your FAST sand tires to get mounted up.
Venue:
Transfer beach is located on the water side of Ladysmith right under (east) of the town of Ladysmith. It is SUPER-EASY to find.
Parking will be challenging, so please car pool with friends/frenemies/teammates.
Food.
Wanna Wafel will be on site for the second time this year. (We can't wait). As well making their first COTR appearance will be Taco Mania (We had a chance to sample these at the Frontrunners – Nanaimo anniversary run and they were SO GOOD).
Team tents:
Team tents are welcome and there will be an area set aside for them on the lawn near the volleyball court. First come…..first up.
Crosstoberfest Race Day Schedule
Note this will be the LAST time for the season that this schedule is used. We will move to a slightly more condensed schedule for the last two races of the 2019 COTR season.
Registration and Sign-in Open 9:15 am
Beginner Clinic 10:00 am
Launch Men (Including Youth U13 and U15) 10:45 am
Launch Women (Including Youth U13 and U15) 10:46 am
Zoom Zoom Goblins (Kids) 11:40
Intermediate Men (Including U17) 12:10 noon
Intermediate Women (Including U17 and Masters Women) 12:11 pm
Lil Nutcase Kids Race 12:15 pm
Masters Men (40-54) 1:15 pm
Super Master Men (55+) 1:16 pm
Expert Men 2:30 pm
Expert Women 2:31 pm
Awards 4:00ish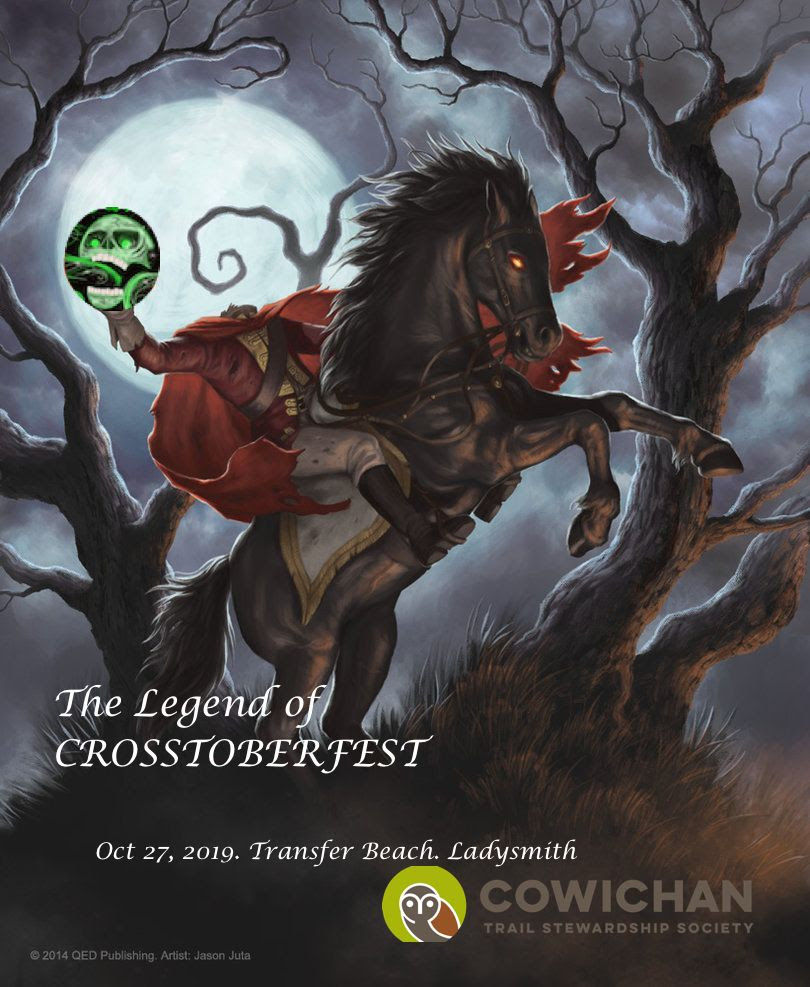 2. Muc Off Cup Review
Notes from Race Directors Corey Piket and Sean Lunny from Rock City Cycles:
Biggest Race Ever in Cross on the Rock history!
Second "tamest" race in COTR history!
Pretty impressive stats for Season #14
Thank you everyone who came out to Race, spectate, and volunteer. As stoked that we are to achieve it at the Muc-Off Cup, I'm hoping we can beat that number in the last few races of the year.
A big thank you to the City of Nanaimo for their continued support of cyclocross. We love checking out new venues but we also love the tradition of coming back to epic courses.
Thank you all the members of the Rock City cyclocross team, Mid Island Velo and the staff at Rock City Cycles who came out early to set up, time keep, race and tear down. Thank you also to all the other racers and spectators who pitch in even though it's not their home course. You guys Rock!
Every year we are amazed how smooth the Cross on the Rock races go, thank you Norm and Wendy for all the pre race prep you do, the day of race work, the kids races, and letting us continue to host a race.
This year it was awesome that Muc-Off stepped up to be the title sponsor of our race. Muc-Off also does so much for the whole series. This is all due to the work of Pete Creighton. Thanks Pete! And thanks to Jamie and Brad for coming out to our race to fix and wash bikes.
Thank you to Patrick for doing such a great job of timing. Roland for all his results and stats and also Sheri from Cycling BC.
We had a few incidents at this years race but all were taken care of by Medix. Thank you for being a part of our race, it keeps my stress levels down knowing we have a great team to take care off any medical emergencies.
Lastly thank you to Sip and Sliders for coming out and making the best burger I've ever had! If you have an event and need a food truck contact Brooke at sipandslidersfoodtruck@gmail.com
A super big thank you to Mike at Kestral Helicopters for the flight prize and to Modo Yoga Nanaimo for the two, month pass prizes.
3. Crossfondo Wrap Up.
Thank you from the 4th Annual Tripleshot CrossFondo
Big shout out to all the COTR friends who rode the Tripleshot CrossFondo Sunday. This fundraiser for the youth program, SIMBS and The Nature Trail Society featured 25 and 43 km options.
The much feared rain turned out to be a feature, filling creeks and producing Flanders caliber mud on the Slugget Farm. This years route used some of previous routes in the Highlands, but then swung north through the farms of central saanich across private woodlots. pastures, ravines, vineyards and fields, before cruising back to the start along Elk Lake. Men's winner was Dave Vunic, and the women's Holly Henry.
A big feature of the crossfondo is access for one day to over 40 private properties. Please respect their support of our sport, and don't try to cross them again until next year.
Holly Henry at the "wet crossing".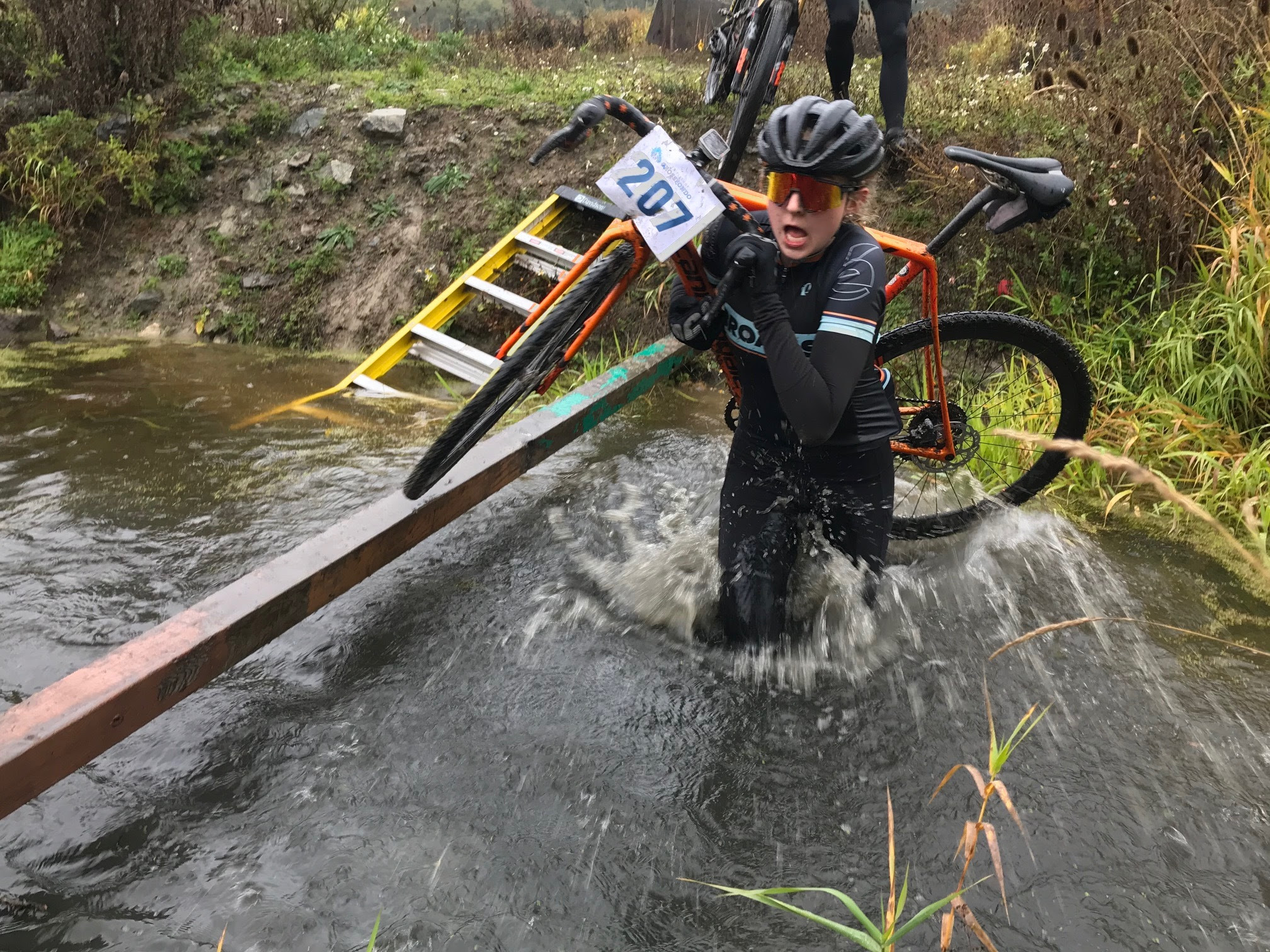 Cross on the Rock is an ISLAND series and the past support we have received from our island community is awesome. Lets keep it up in the future as it is what drives this series and makes it special. PLEASE SUPPORT THE SPONSORS. These are local businesses and companies that support local businesses. On-line companies, amazon, big business (besides Shimano and local dealers of MAZDA) do NOT support community events.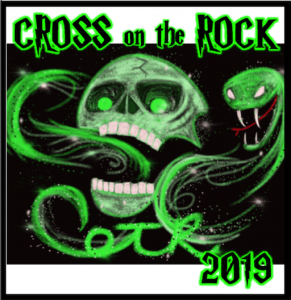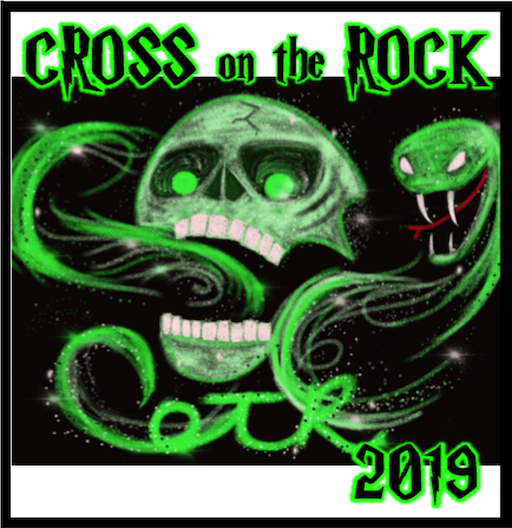 Cross on the Rock is organized by the council of cross and supported by a lot of bike shops and awesome people.
Flashback Old-School. MASSIVE Whirly Whirl at Coal Cross.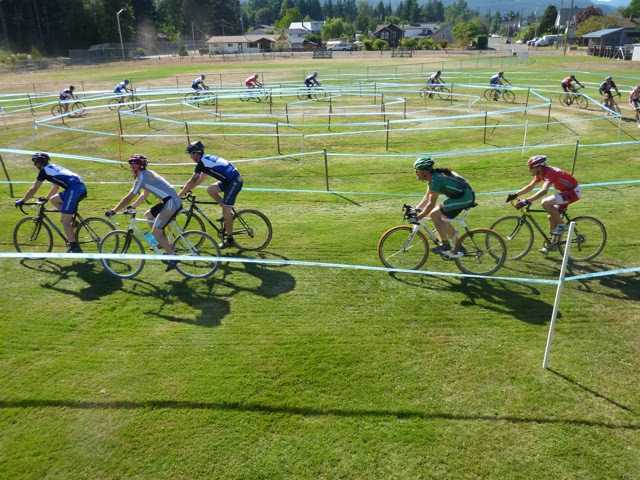 MAZDA-COTR. Newsletter #9. Season #14. The return of Crosstoberfest