Cross on the Rock 2021: Newsletter #9
We made it this far. Lets finish this season off STRONG!

Newsletter #9.
1. Hot Crossed Bunnies. Race #6. Series FINAL. Preview!
2. Broad Street Cycles GP.
3. Check your points. Check your team points!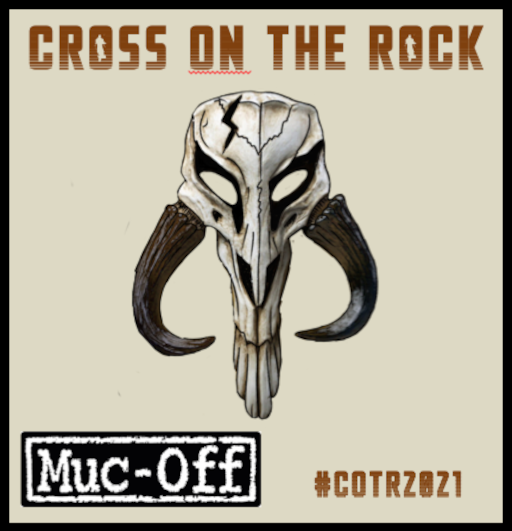 Warm Ups.
Have you ever wanted to win a custom bike frame build specially for you? If you have raced this season then attending the series awards is your BEST CHANCE EVER!! Sam Whittingham will be drawing from our master draw prize list 1 special person that will win a Naked Bikes frame. Every time you raced this year your name has been entered. Race 6 times. You have 6 chances. Race 0 times. You will not win! We will also be drawing for other prizes from our series sponsors including a stay at Hotel Zed in Tofino and gear from MUC-OFF! You have to be there to win any of it!
We have made it this far. 5 of 6 races. When we made the decision to get Cross on the Rocks fired up again after 20 months away we did not know what to expect. One observation from the series so far is how incredible everyone have been. People are pitching in when needed. The community of racers has been great! There has been the least complaints or issues of any of the 15 seasons of racing we have hosted. Most of all people are reporting that during the races people are racing HARD but generally it has been clean and supportive. That has been so great to hear! We have one more race for the season. Lets all work together and finish this off the same way we have been all season. Race Hard. Have Fun. Be Nice. See you Sunday!
Don't forget for the series only your top 5 race scores count. Check the link below in the "Check your points" section which shows which race is your lowest. Then you can do the math to see who you have to beat and by how much to move up in the series!
We started carrying an awesome product called Sport Wipes this fall at Frontrunners in Nanaimo. I have been using them all season after each race to clean up and look presentable for the awards. They are like a HUGE wet wipe towel. One of the best features is that they are 100% Biodegradable and you can put them in your compost. I thought they were so good that I contacted the company and asked if they would sponsor our series! So at the finish line on Sunday everyone will get a FREE Sport Wipe to use to clean up after their race. We will have a compost container on-site so you can drop your used one in there before the awards. I hope you like these as much as I have. You can get more from Frontrunners in Nanaimo!
1. Hot Crossed Bunnies. Race #6. Series FINAL. Preview!
Please NOTE: MASKS ARE MANDATORY IN THE AGRIPLEX for registration and spectating. They will not be mandatory for racers during the race. The awards will need to be fully masked for all ages and all people attending. Plan accordingly.
Parking: (Consult Map) Beban park is HUGE. But on any given weekend there is a LOT going on. The best place to park for the race is south of the race course in the gravel lot by the golf course and tennis courts. Be aware that there is a new road access to the Steve Smith Jump park, please do not block it. IF there is no soccer on the Beban fields then that lot will also be available. The lot by the BMX track is normally under-utilized. The paved parking by the Pool and arena might be over run so it would be best to avoid those lots. Parking on the roadways or grass is strictly forbidden and will get you towed
Team Tents: Make 100% sure your tent is staked and secured. With wind this week and in the forecast we can not have any tents becoming kites. It is drop and go (NO PARKING AT TEAM TENTS AREA) until we close and lock the gates around 9:30am. After that point you will have to carry your gear in. On the flip side the gate will be LOCKED until after the OPEN races so it will be carry out until that point. There will be no team vehicles inside the gate or we will run out of space for the team tents.
Registration: As it has been all season pre-registration only. This will close like normal at 6:00pm the night before the race. In this case that will be SATURDAY NIGHT at 6:00pm. The call up sheets are literally done by 6:10pm the night before the race. So if you FORGET or put it off you are unlikely to get your earned call up spot.
Race day number pick up and race central will be located in the Agriplex. Consult the map.
Washrooms: NOTE: MASKS ON IN THE PORTA JOHNS AND IN ANY OTHER BUILDINGS IN BEBAN PARK. There will be porta johns located at the end of the opening straight away. There are LOTS of other (Flush) washrooms located in Beban park. You can also locate washrooms in almost all buildings in the park. Both arenas. Down by the artificial turf field. In the Pool. NO DIRTY BIKE SHOES OR DIRTY PEOPLE INSIDE THE BUILDINGS OR WASHROOMS. Clean yourself up BEFORE going into a public area. We want to be able to use this venue again. MORE IMPORTANTLY if you are going IN a building LOCK YOUR BIKE!!!
Awards: Awards location will be in the Agriplex where the finish is located.
Race Course: The weather is calling for rain. MIVA will have been out cutting blackberries and scouting lines. With the rain we'll have mud, sand, gravel, grass, pavement and off camber hills. Everything you could want for an epic final race of the season.
Food: Tipsy Avocado (Same as Bowen Park) will be on-site and ready to serve up Lunch. We have also invited Georgies Pies to come back and set up her baked goods stand as she did in 2019.
Post race: We will want to get the awards going as soon as possible on Sunday. With that in mind please help us both tear down as well as RAKE out the course. With the rain in the forecast the more raking we can do the better the course will look on Monday when people are driving by or walking through. Please bring a rake and work gloves. Many hands make light work and get the work done FAST. We will make an announcement when we are starting the awards….and…..well…..there will be no one left on course so you will notice that the awards have started! Ideally we would like to start around 4:00
TENTATIVE COURSE MAP WITH SITE OVERVIEW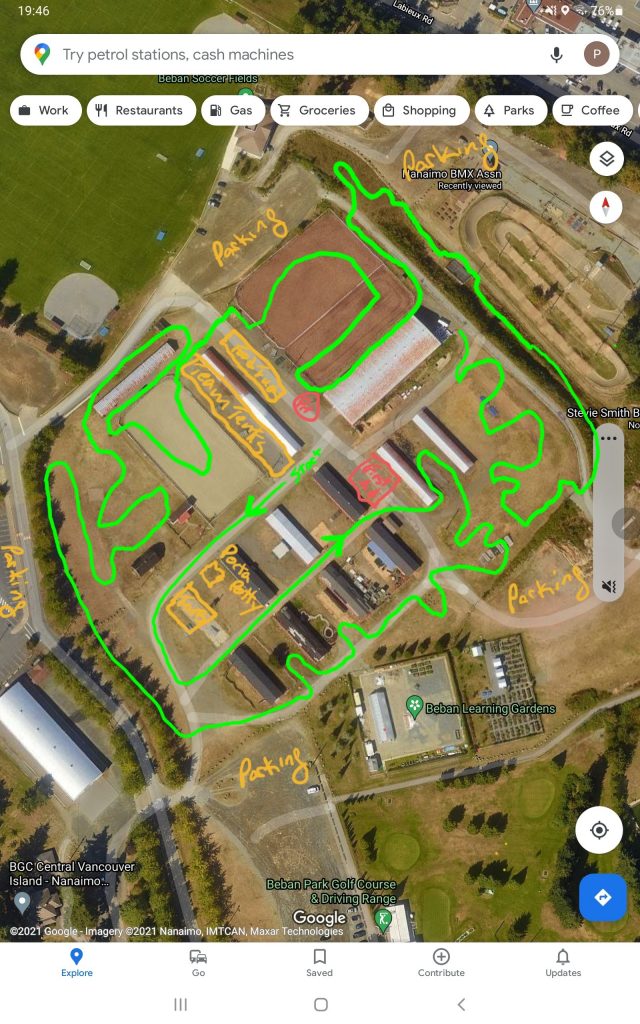 2. Broad Street Cycles GP Review
Photos from Patrick until his camera decided it did not like the rain any more.
From Parker
THANK you to the volunteers, racers, spectators and weather gods for making Sunday a memorable event.
Icy temps, treacherous conditions, some patches of sun and a few squalls: perfect cyclocrossing.
From Roland
Thanks to all racers for coming out to to race. It's getting harder and harder to find venues in Victoria, so it's great to have a venue we will reliably be able to get going into the future. I hope everybody enjoyed the unconventional cross course that brought back memories of the early days of CotR of Jungle Cross at Fletchers Farm. Thanks to Jon Watkin for getting us the course.
Shout out to the setup crew: Parker Bloom, Cam McLellan, Doug Doyle, Andy Achuff, Glenowyn Carlson, Mitch Thacker, Scott Mitchell, James Pauly, Jon Watkin, Meegan Armstrong, Brent Hooper
Registration crew: Denise Mahon, Sylvia Storry, Markus Kellerhals
Timing crew: Dylan Reeves, Geoff Homer, Shawn McKean, Steve Crowe, Joanna Fox, Ros Penty, Holly Henry
Waffles: Ryan Dawson
Event Prizes: Broad St Cycles, Arc'teryx Victoria, Drew MacKenzie of Shimano
And everybody who helped tear down the course!
From Norm
We were very excited to be able to race at the Jordie Lunn Bike park in Irwin Park. Many members of our community including but not limited to Parker Bloom, Jon Watkin and Drew MacKenzie have spent hundreds of hours developing the plan for this facility and bringing it from raw land to what we were able to race on. It was a rowdy day! The course had a bit of EVERYTHING. Most exciting of course was another opportunity to race in the MUD.
With any new venue we learn after the first event. This past Sunday we made many observations and we hope that our event at this venue continues to improve in 2022 and beyond.
A special thanks to the Masters and Super Masters men who maintained their season long cool during our lap 1.5 on course incident. We made the best of the situation and hopefully it did not change anyone's overall result too much.
Also a thanks to Roland for stepping up to race direct this event. Parker and Broad Street for sponsoring and making some REALLY nice prize packs and Jon for being the go between and working the behind the scene to make sure that everything was in place for us to race.
2. Check your points. Check your team points!
As you know from reading our series rules if you race the full series only your top 5 results count towards your overall standings. Roland has made a series results page with your lowest score crossed out. If you want to check it out it is located here!
The team competition continues to be CLOSE. Make sure you check your team points before the series final!!
Most of the errors that happen in the team competition have to do with the team name that was inputted at the time of registration. If it does not match your other team mates…..then your points will not get counted.
If your team name is NOT CORRECT it is now possible to adjust them yourself because Roland is a master of coding!
Now people can go to their user page e.g. https://www.crossontherock.com/php/racer/?racername=Normon+Thibault
There is an edit link next to each result. Click the link, press the get password button. Your password gets emailed to you. Type in the team name you want and hit save. Team name updated!
You can edit team name, city and age. You can't edit your name…..so if you have registered using different names and want the results for all your personalities to be put together send an e-mail to the link on the results page. Multiple names can ALSO effect your call up……so it is worth fixing.
Parting Shot
If you have been following the bike industry over the last 1.5 years you know it has been "Crazy". With that in mind we are very fortunate to have the continued support of Nutcase Helmets supporting our little racers! Thanks to Elladee Brown for her continued support and making this happen for our series!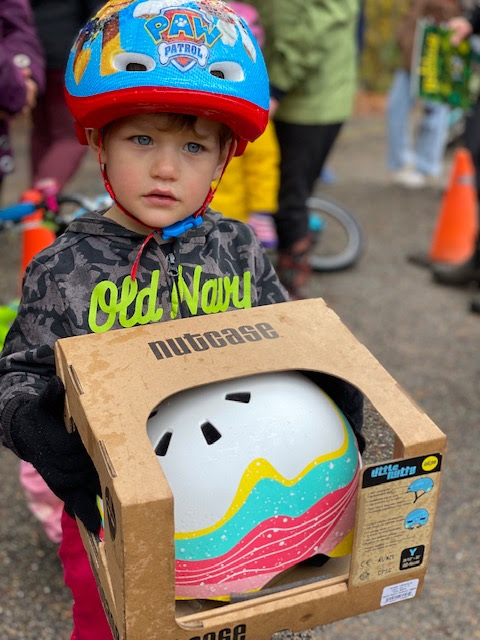 Cross on the Rock Season #15. Newsletter #9