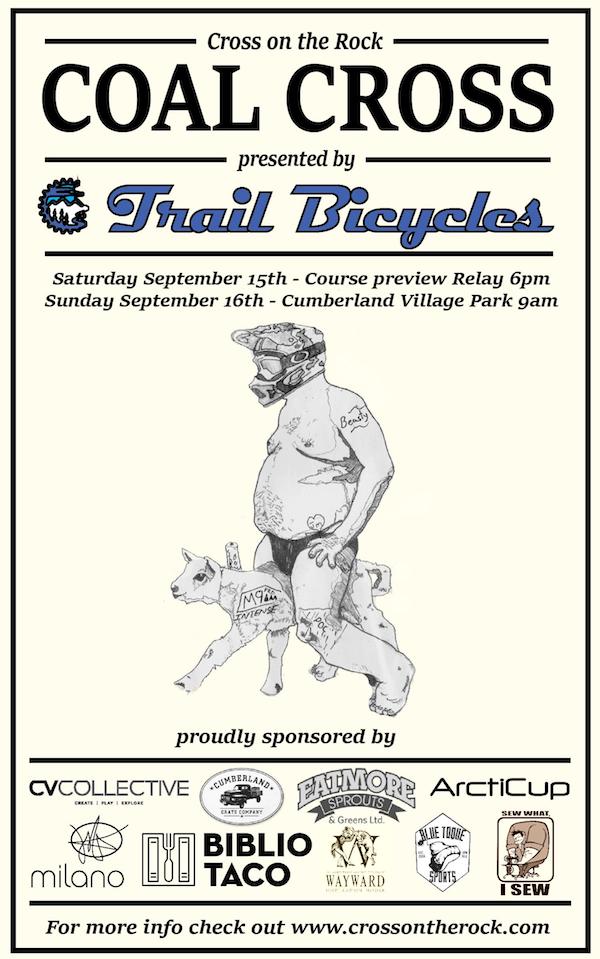 September 16 2018, Cumberland BC
Course Description
2018 Coal Cross returns to the classic venue in the heart of Cumberland, Village park. There have been many renditions of this race and this years will not disappoint. A good call-up will have racers salivating as a wide starting grid leads riders down a long chute allowing them to fight for the "Bacon Holeshot" prize pack. Positioning will be key as you enter the infamous Coal Cross pinwheel. From there the leg burning grass straight aways take you into the ultra tech, winding, tall trees before hitting the gas again on the open field. The pump track should give some riders a break, and others a fit. A mixture of short technical ups and downs, twists and turns brings you into and out of the "back 40" (if you hear banjos, pedal faster) of this course where the hard efforts really start to take their toll before re-entering the soft, velcro-like grass of the village park. One more section of technical turns awaits before crossing the line and starting it all over again. If at any point this course seems like it's the same as lastyear…you're probably going the wrong direction.
ps no barriers will be placed immediately after the starting chute
Saturday night we are setting the course up (minus a few Sunday surprises) people are invited to come out and enter the "for-fun" course preview team relay race. Waivers will need to be signed, so minors must have adult signature to participate. The racing will get underway around 6pm so come early, help set up the course and join in on the fun. Think SSCXWC with less whiskey.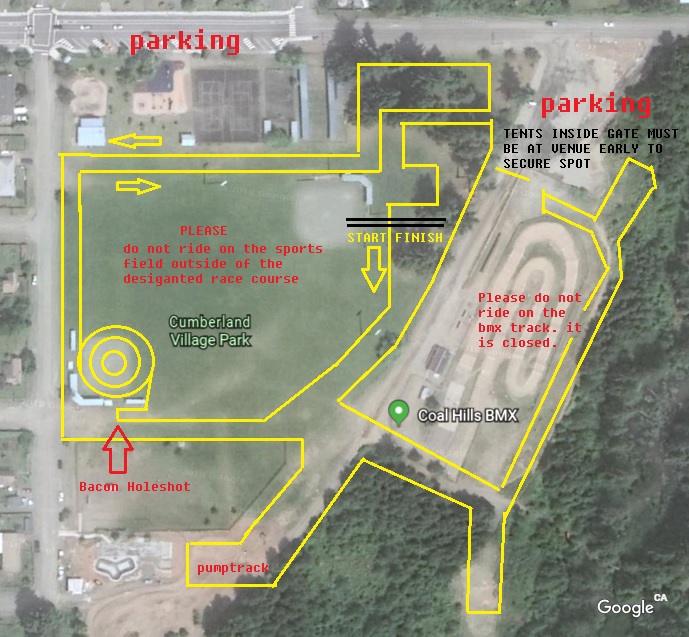 Wayward Distillation has stepped up to sponsor a "Top spirit of Cyclocross" award to be chosen by race directing committee as someone who best displays the values and embodies the spirit of Cross on The Rock throughout the day. They will be onsite to present the award to the chosen individual during closing ceremonies
DO NOT RIDE ON THE SPORTS FIELD OUTSIDE OF THE MARKED COURSE
DO NOT RIDE ON THE BMX TRACK
Important Information
Arrive EARLY if you want to place a tent close to the action.
Team tent space is limited and will be placed in the usual location along the park fence inside the yellow gate. First come first serve.
There will be no parking spaces available inside the yellow gate.
Parking is located around the perimeter of the park and in the gravel parking lot. (please avoid blocking driveways etc.)
Please be respectful of all neighbours and park users when arriving, leaving and using the facilities around the race, as the park is located in a residential area and there will be other users of the playgrounds, dog park, mountain bikers etc
Porta-potty access will be located in gravel parking lot.
There will not be a concession stand open this year, But our sponsor Bibliotaco is very close by and makes excellent food (plus the burritos fit in a bottle cage)

| | Pre-register | Day Of |
| --- | --- | --- |
| Beginner | $17 | $25 |
| Intermediate / Masters / Expert | $25 | $35 |
| Jr/Youth racing Intermediate or Expert | $17 | $25 |
| Kids | Free | |
| Category | Start Time |
| --- | --- |
| Registration Open | 9:15 am |
| Beginner Clinic | 10:00 am |
| Beginner Men (Including Youth U13 and U15) | 10:45 am |
| Beginner Women (Including Youth U13 and U15) | 10:46 am |
| Zoom Zoom Half Lap | 11:30 |
| Intermediate Men (Including U17) | 12:00 noon |
| Intermediate Women (Including U17 and Masters Women) | 12:01 pm |
| Lil Nutcase Kids Race | 12:10 pm |
| Masters Men (40-54) | 1:00 pm |
| Super Master Men (55+) | 1:03 pm |
| Expert Men | 2:15 pm |
| Expert Women | 2:16 pm |