MAZDA is awesome for continuing their title sponsorship of the COTR series. They will have the CX-9 out again at Village Park on Sunday for people to check out. Through the season they will be displaying different CX series vehicles at different races. Check them out.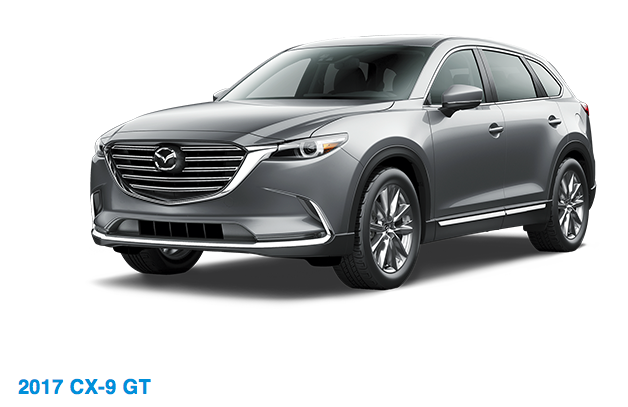 The Warm Up
Photos from Patrick: https://www.flickr.com/photos/palleus/albums/72157686790961104
Merchandise! T-Shirts and Hats will be available for the first time this season at Coal Cross. Limited quantities. We have socks coming as well…..yes…..COTR socks!
If you are EVER changing categories at a COTR event. Say you raced Beginners and are moving up to Intermediate. ANY category change. You NEED to have new race numbers. Each set of race numbers will be for a specific race. This prevents an expert hanging out around the finish line from being recorded in the beginner race etc. So if you are changing races……get new numbers (and remember which set goes with which race).
Some tips on passing at COTR without getting people ANGRY!! When passing, call out "on your left" or "on your right" when you're close. Don't expect them to move a lot to get out of the way, just warn them what side you're on so they don't turn into you. When being passed, don't try to stop them passing, but you don't have to slow or move a lot. You could go off course or lose grip. When it's straight, give some room."
One of our racers asked a good question post-Tugboat. The question/situation was: I was running the sand section that ran parallel and just inland from the beach run, and rider number ### came riding up behind me, shouted at me, and proceeded to repeatedly run into the back of me and my bike as I ran ahead of him and even caught and pulled my bike away from me as I attempted to remove it from my shoulder. He seemed to think that because he was riding the sand that he shoud have a clear path and that it was acceptable to run into me and my bike. I am relatively new to the sport, but what I have read and watched about sand is that it is a viable strategy to run sand and force your competitors behind you to dismount and run. I wasn't being obnoxious about it though and kept my line on the far left throughout the pit. Was I in the wrong? Am I not allowed to use this strategy? This was our response for your consideration: While I would not say your strategy is "wrong" it is not "sporting" by any means. If someone is racing and riding an obstacle that you can not/are not the sporting thing would to give that person the opportunity to do it. You of course are not obliged to….but it is more sportsmanlike. I am not saying what he did was "OK". He sounded like he was being a "not nice person" (We used another word in here).
IN THIS NEWSLETTER:
1. COTR 2017 Series Schedule Change
2. Tugboat Cross Review
3. Coal Cross Preview
4. Race Registration
5. Mid week CX on the Island
1. COTR 2017 Series Schedule Change
The council of cross starts planning the following season LONG before the current one finishes. Even with MUCH advanced planning though we are often thrown curve balls when trying to pull together 8 events. With that we are announcing that COTR 2017 Race #7:
De Grote Prijs van Fairgrounds scheduled for November 5th will become "Days of Thunder – #2" with "Days of Thunder – #1" occurring the day before. BOTH events will be held at Western Speedway. Race director Drew MacKenzie is a master of course design and has promised he will deliver 2 different courses at the same venue for the Double Header weekend.

2. Tugboat Cross Review
From Co-Race director Mike Pollock (who along with his wife Tara are the BRAINS behind Tugboat)
"S" is for sand, stairs and surf!
Thanks to everyone how came out and suffered in Ladysmith last weekend. Grimaces and smiles everywhere! Transfer Beach is an amazing venue so a big thanks to the town of Ladysmith and the Parks and Recreation team who once again allowed us to host an amazing race. So many women, so many kids, the future of Cross on the island looks bright and fast. And the fastest clean up I have ever seen. Thank you all. #COTR2017
Thanks, Mike
Norm's Notes:
Tugboat did not disappoint…..it NEVER has. One of the most masterful courses in the history of COTR. VERY challenging. VERY hard. Unbelievably beautiful
The weather was A factor again.
a HUGE amount of wheel to wheel action which we LOVE to see.
The Mazda Zoom Zoom races continue to be HUGE with us having to run 2 heats again!!
SO many YOUTH in the beginner category!!
Can't wait for COTR #3 this weekend in Cumberland!
3. Coal Cross Preview
Time to get FIRED UP for Sunday. Are you registered yet?
The first thing you need to know is that Greg MacDonald's awesome restaurant, Bibliotaco, will be open until 9pm on Sunday. While I don't recommend pounding one of the amazing Burritos BEFORE your race…..they make excellent recovery meals!
While you are thinking about tacos and burritos check out this edit from the 2012 Coal Cross.
This is the "working" map. Actual course set up and final racing format may vary. The IMPORTANT part is NO RIDING ON THE FIELDS!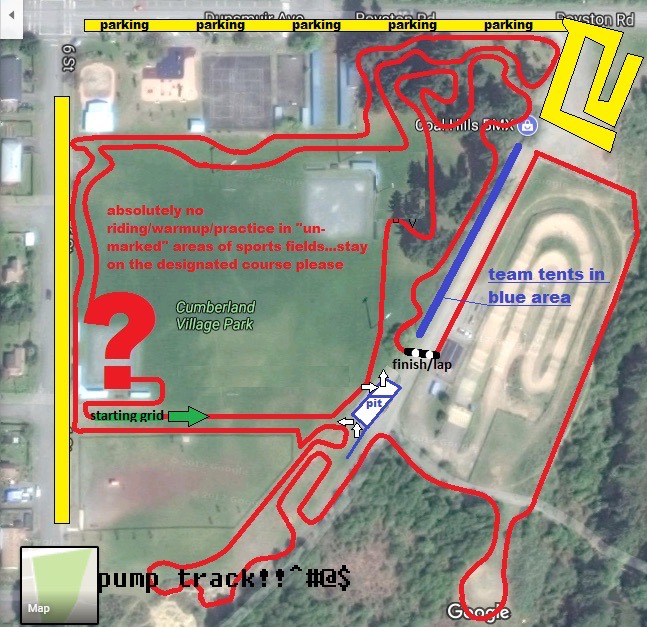 Norm's Notes:
Coal cross returns to Cumberland this year. The original Coal cross was held 10 years ago and it officially our LONGEST cx race in the history of our series. Check out the results here: http://www.crossontherock.com/php/race-results/?raceid=8 You will see some LEGENDARY names on the results sheet (worth checking out for length of race….and who was racing back then).
Course Description:
FAST.
Venue:
Village park in Cumberland. EASY to find! Directions. Take the hwy. to the Cumberland exit. Go to Cumberland. Turn left on the main street. Park will be on the right. See map of where to park.
Team tents:
Take a look at the map for reference. Tents will go along the road by the BMX track. I don't think we can fit vehicles in there as well as there are normally so many tents so it will be drop-set-up and go. Must be in and set before the first race starts. First come.
Coal Cross Race Day Schedule
We are back to our usual race schedule which we will be using for the remainder of the race season.
PLEASE NOTE: We are extending our CUT-OFF time to 30 minutes before your race. Make sure you are REGISTERED and ready!
| Category | Start Time |
| --- | --- |
| Registration Open | 9:15 am |
| Beginner Clinic | 10:00 am |
| Launch Men (formerly Beginner) (Including Youth U13 and U15) | 10:45 am |
| Launch Women (formerly Beginner) (Including Youth U13 and U15) | 10:46 am |
| Younglings (Bigger Kids). Full lap or almost a full lap | 11:40 |
| Intermediate Men (Including U17) | 12:10 pm |
| Intermediate Women (Including U17 and Masters Women) | 12:11 pm |
| Lil Nutcase Kids Race | 12:15 pm |
| Masters Men (40-54) | 1:15 pm |
| Super Master Men (55+) | 1:16 pm |
| Open Men (formerly Expert) | 2:30 pm |
| Open Women (formerly Expert) | 2:31 pm |
Registration/Number Pick Up/Race day Procedure
ALREADY RACED THIS YEAR: If you did the first COTR race this year you need to bring three things: Your bike number (attached to your bike). Your race number (either attached to your jersey or ready to attach). Your license or $10. Check in at registration. Show them your license or pay $10. Check your bike tag at a separate spot set up by reg. Good to go. UNLESS you are changing categories….THEN you need a new set of race numbers.
HAVE NOT RACED THIS YEAR: Head to registration. If you are pre-reg then you don't need a reg form (otherwise you do). If you have a license you don't need a license form (otherwise you do). Head to the counter. Show your license (or pay $10 and give them the cycling BC form). Pick up your bike number and your body number. Check your bike tag at a separate spot set up by reg. Good to go.
4. REGISTRATION.
Almost Mandatory Pre-Registration closes at 8pm on Saturday Night as usual
Coal Cross – https://raceroster.com/events/2017/14138/2017-cross-on-the-rock-coal-cross
Kona Kup – https://raceroster.com/events/2017/14149/2017-cross-on-the-rock-kona-kup
Cross on the Commons – https://raceroster.com/events/2017/14150/2017-cross-on-the-rock-cross-on-the-commons
Days of Thunder #1 – https://raceroster.com/events/2017/14151/2017-cross-on-the-rock-day-of-thunder
Days of Thunder #2 – https://raceroster.com/events/2017/14152/2017-cross-on-the-rock-de-grove-prijs-van-fairgrounds
Hot Crossed Bunnies – https://raceroster.com/events/2017/14154/2017-cross-on-the-rock-hot-crossed-bunnies
5. Mid Week CX on the Island
Cross on the Rock is not the only thing happening on Vancouver Island for Cross over the next few months…..there is a LOT going on (at least until the days get too short to make any of this possible)
VICTORIA
In Victoria there is the Cross Club. 7 training "rides".
Cross Club 2017, Victoria's Underground Cyclocross Series Returns
Rain we need rain…. regardless it's Cyclocross Season, so time to sharpen your CX skills!
B's ride at 5:30pm
A's at 6:00pm.
Details on locations will be emailed to the registered riders list each week.
Ride#3 is September 27
Ride#4 is October 4
Ride#5 is October 18
Ride#6 is October 25
Ride#7 is November 1
www.crossclubvictoria.com
COWICHAN VALLEY
First CX practice is a go for this Wednesday (tonight. August 30th) behind Quamichan high school (on Beverley) starting at 6:30pm. See you there – first race is in two weeks!! #crossiscoming"
cowichancx@gmail.com and Cowichan Cyclocross on Facebook
NANAIMO
Note earlier start time. Wednesday nights at Rock City Cycles. Cross ride starting at 5:30. Will adjust length based on daylight.
Thursday nights starting September 7th. Cross practices hosted by MIVA and run by Carey Mark. Carey3221@gmail.com . 6:00pm at Bowen Park off Wall Street. 5 weeks and re-asses based on light.
COMOX VALLEY
Wednesday Night cross practices. 5:30pm. Location will vary each week in either Cumberland/Courtenay/Comox. FB group for more info: https://www.facebook.com/groups/457383181299940/
ALSO IMPORTANT
Put October 15th on your calendar for the second year of the Cross Fondo hosted and organized by Tripleshot. 40km of backcountry trails. www.Tripleshotcrossfondo.ca Everyone that did this event last year said it was AWESOME!! They will have a table promoting the event at the race this Sunday. Stop by for more information!
The Council of cross signing off until Sunday (we will still be live on FB though).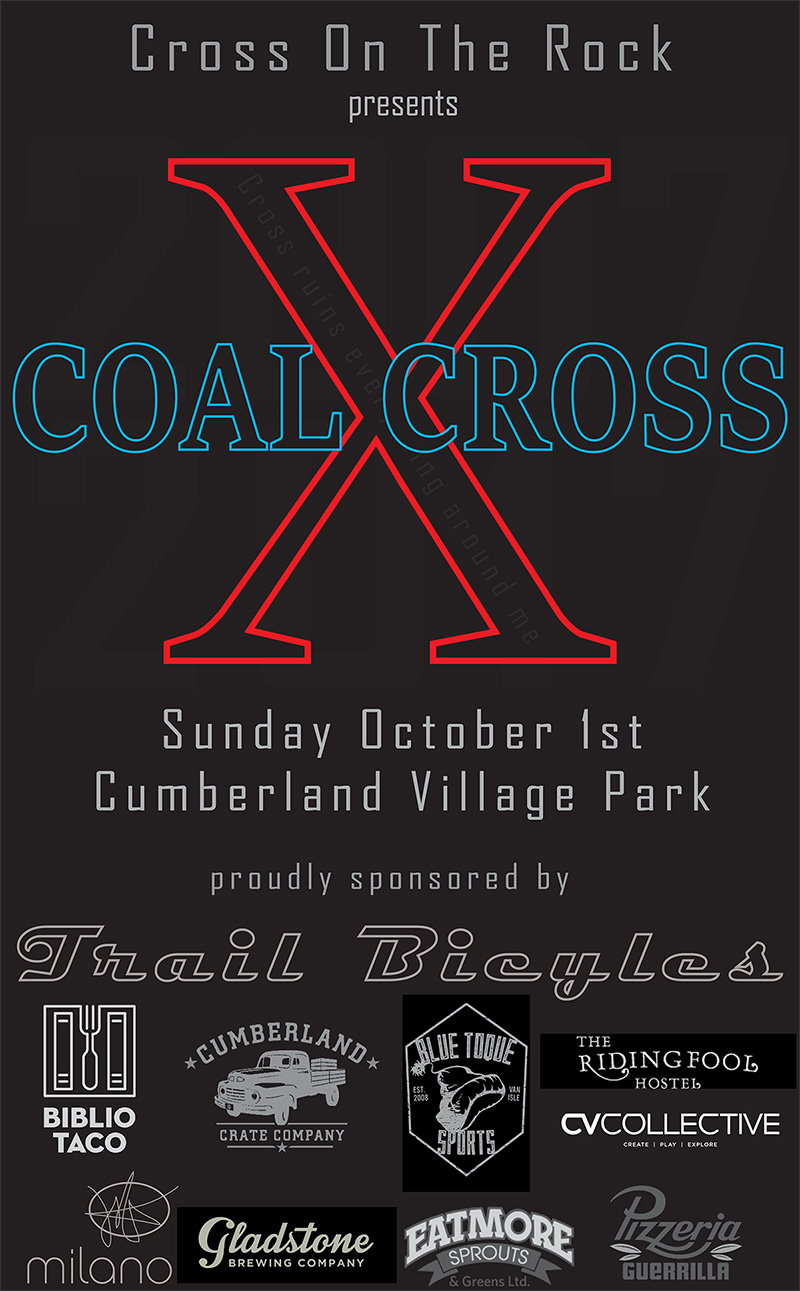 Parting Shot from Tugboat! (I did not even know this was a jump!)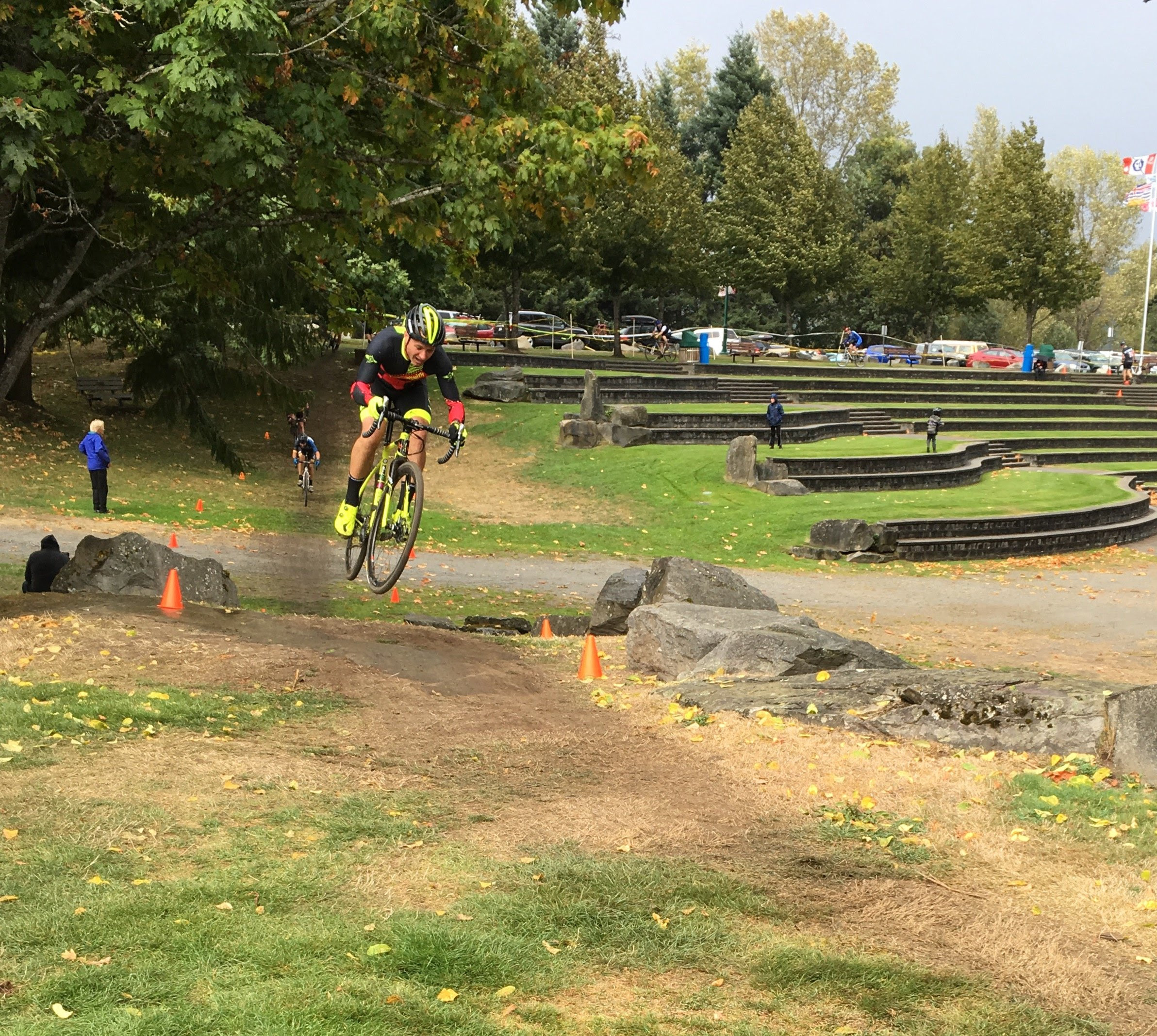 COTR – Newsletter 2017 #4 – Powered by MAZDA then cleaned and prepped by Muc Off. #COTR2017