A MAJOR thanks to MAZDA for continuing their title sponsorship of the COTR series. Did you have a chance to check out the full CX Mazda line up at Days of Thunder? If not check them out on line by clicking the link above. Check it out!!
Game Changer. With winter here and here EARLY this year we all want to find ways to stay on our bikes and be comfortable and dry. The Shake Dry jacket from Gore Bike Wear is a game changer. Most waterproof jackets are TOO HOT to ride in. This is SUPER-THIN. Super light. It compacts up into a tiny ball and breathes like no other waterproof jacket. They are a bit "pricey" but you will get your $ out of it. Invest in your comfort and sport. Check out the video on the Gore Bike Wear Shakedry Jacket here. These are available at Rock City Cycles and other select local bike shops on the island. Check it out. Buy one. Change your life!
This week's Warm Up (and we need it with this cold'er weather!)
Start your weekend recap the RIGHT way with an amazing edit from Ted Hobby. Day's of Thunder
With the SERIES FINAL coming up at Hot Crossed Bunnies. NOW is the time to make sure that your points are all up to date. Right after the race NEXT Saturday is NOT the time…..so lets take care of this NOW. Double check your series results here: Series Results 2017

You need to verify: Placings are correct. Name is spelled the same and their age is correct for each event. Email results@crossontherock.com if there are any issues.

Wannawafel's Ryan Dawson was a bit overwhelmed on Saturday. In his words, "I was completely unprepared for how popular the waffles are with cyclocrossers." It is up to us to keep Ryan up to speed! For the betterment of the series and for all cyclocrossers on the island.
Stuff we LOVE: "I was about to finish my warm up lap before my intermediate men's race when I got a flat right near the team tents. I couldn't get a hold of my girlfriend who had my pump and spare tubes and the race was minutes from starting. I went to the Velofix truck without any money in my pockets and they lent me a tube in good faith that I would return following the race with a replacement. Then, as I was looking for a pump to borrow, the mechanic from the naked racing team saw me having trouble and, without me even asking, he put my bike into his work stand, put in the tube, pumped it up, attached the wheel to my bike, and sent me on my way. I made it to the start line with 30 seconds to spare before the siren started the race. Thanks to the generosity (and trust) from these two people, I was able to make it to my race and have some fun. These guys embody the spirit of cyclocross." (Curtis Fischer)
COTR MERCHANDISE
We have the following inventory left of merchandise for the season:
T Shirts (2017 Version and a few 2016's left) YOUTH, WOMEN and Men's sizes
Socks (Small/Medium only)
Hats (Black on the front and white on the back)
I will put the full – remaining inventory on the newsletter next week. Last chance to buy merchandise (read "Christmas Presents") will be at Hot Crossed Bunnies.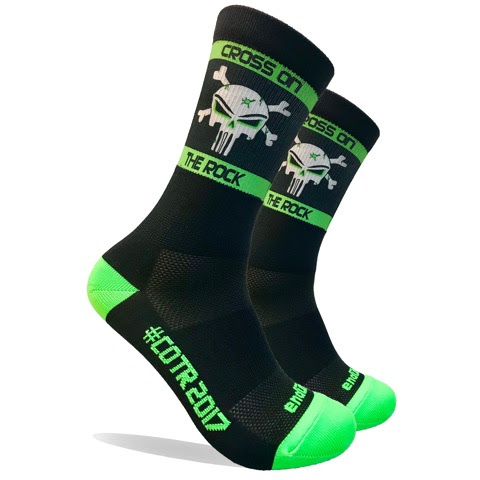 IN THIS NEWSLETTER:
Days of Thunder Recap
Norm's Notes
Practice Groups are still happening (but fading quickly with the light)
1. Days of Thunder Recap
This weekend was the first time we have had a double header in Victoria for a few years. It was also the first time we have ever had a double header at the same location on both days with almost the same course both days. We loved it…..but did you? Fire us a quick e-mail letting us know if you loved it, liked it, didn't like it etc. with any notes. (normont@islandnet.com). Anyone that sends feedback I will put into a little draw for a Muc Off cleaning kit and a 6 pack of Phillips. We would appreciate it!
Photos. Lots of Photos!
A friend of Ed Stead took a BUNCH of shots of the Intermediates on Day #1. Link here.
Photos from Patrick Burnham:
Saturday
https://www.flickr.com/photos/palleus/albums/72157688931317114
Sunday
https://www.flickr.com/photos/palleus/albums/72157688988002314
Max taking the inside line to pass Raph in the puddle
https://www.flickr.com/photos/palleus/38234414671/in/photostream/
A tonne of photos and mini-videos from all races but focused on the Zoom Zoom and 'Lil Nutcase Races from Mazda's Sean Voigt: https://photos.app.goo.gl/VpXMJwD3CxcF9CCj1
Notes from double header race director: Drew MacKenzie
Hey Zeus what a weekend of racing! Epic conditions. Epic battles out on course. And we ran out of waffles! Just your typical, awesome COTR double header weekend.
Massive thanks to all of the volunteers who came out early and stayed long to make the event happen this weekend.
Thank these folks for their contribution to our beloved cross community. When you see them next, give them a high five, or a beer, or heck give em a hug and say thanks for all that they do:
Norm "Tireless" Thibault
Sylvia "Super" Storry
Roland "Rapid Results" Rabien
Patrick Burnham
Terry McKall
Andy Pitre
Mitch Thacker
Dave Podmoroff
Kyle Denny
Curtis Schlossberger
Victoria Leeson
Amy Errington
Clay Webb
Alex Hui
Ian Brown
Joele Guynup
Scotty Mitchell
Andy Achuff
Brent Hooper
Linda Saunders
Betsy Makenzie
Joanna Fox
Patricia Rooney
Sherry Barnes
Bruce Falk
Ryan Clarke
Denise Mahon
Sol Kauffman
Paul Brend
Hugh Hart
Vanessa Service
and Wendy Simms
Also Tessa and Tycho for their friendship pin station.
A massive round of THANK YOUs to everyone who contributes to this great series by chipping in where you see a hand being needed or simply just by coming out being quality individuals.
A very big thank you also to our race sponsors:
Please remember to vote with your dollars and your kind words the next time you're out shopping or talking about bikes to friends and strangers alike. The internet does not put on events or provide prizing for all the races in your local community. Make sure to support your local businesses/shops/distributors/representatives that work hard to support the community!
Extra Event Sponsors (In addition to the series sponsors):
Shimano (bike.shimano.com/)
Pearl Izumi (www.pearlizumi.com/)
Pro Components (www.pro-bikegear.com/en-gb)
Focus Bikes (www.focus-bikes.com)
2. Norm's Notes
One of the most difficult things to do is to organize a full cross on the rocks race AND also race. When you have almost the full racer-volunteer crew also racing…..you are getting to a "Zen Director" like state. On top of that when you can be up setting up the race course at 7am. Going all day long. Racing the last race of the day at 2:15pm AND podium in the Expert Men's category…..you are NEXT level "zen". Congratulations on a HUGE weekend and massive thanks to Drew MacKenzie
Tycho and Tessa would like to thank all the kids that came to their friendship pin station. They re-scheduled it from Saturday to Sunday with the weather. They made 63 pins according to their meticulous records. Can't wait to see what they think of next.
There were quite a few AMAZING rides on the weekend. Hidden amoung them was 26 year old Paul Sales 7th place in Expert men in his first cross race ever. Actually maybe his first bike race of any type. Unreal!
Back in action at Days of Thunder Day #2 was Tyler Trace with a 13th place for one of the best COTR racers of all time. Great to see him out.
Changing of the guard? Out of the 18 podium spots available to race for on Sunday 11 were taken by riders under 20 years old. Add in Felix Burke's 1st in Expert at age of 21 and it looks like the young guns that have been building experience for years are taking over!
FOR SALE
Wendy's Super Jake is for sale. Mix of SRAM, Stans and FSA parts to make it into a bullet proof cx machine. Easy to manage cable-disc brakes. Size 53. $1950
Norm has a Nomad portable (battery or 12V powered) power washer for sale just perfect for CX bikes if anyone is looking $125.
One of my favourite photos from the weekend. Days of Thunder #1. End of Expert Women. (Ken Johnston Photo)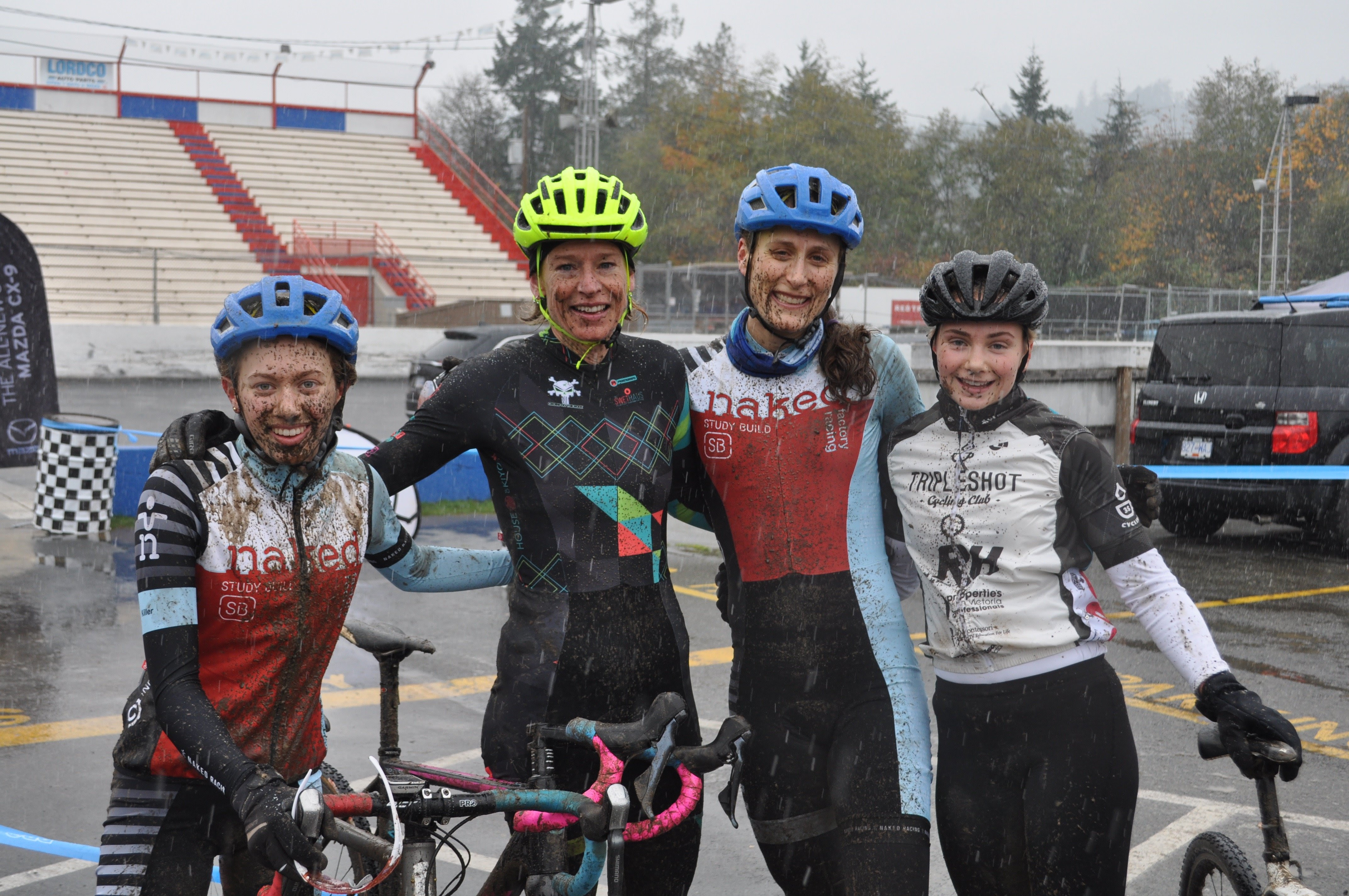 3. Practice Groups are still happening (but fading quickly with the light)
COWICHAN VALLEY (Still going as far as we know)
Wednesday nights. Check their page on Face Book.
cowichancx@gmail.com and Cowichan Cyclocross on Facebook
NANAIMO (Check with Rock City Cycles now that the time has changed)
Wednesday nights at Rock City Cycles. Cross ride starting at 5:00 (NOTE EARLIER START TIME). Will adjust length based on daylight.
COMOX VALLEY (Check with Trail Bikes to confirm)
Wednesday Night cross practices. 5:30pm. Location will vary each week in either Cumberland/Courtenay/Comox. FB group for more info: https://www.facebook.com/groups/457383181299940/
VICTORIA (Done for this year)
The Council of cross signing off until next week. We will be back next week with the preview of Hot Crossed Bunnies our 2017 Series FINAL.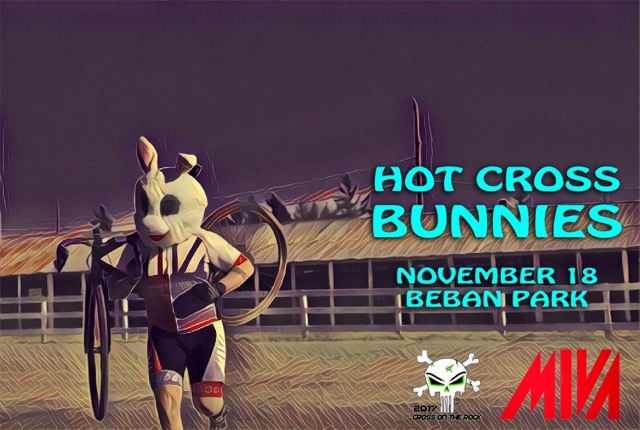 How the Monday morning looks these days.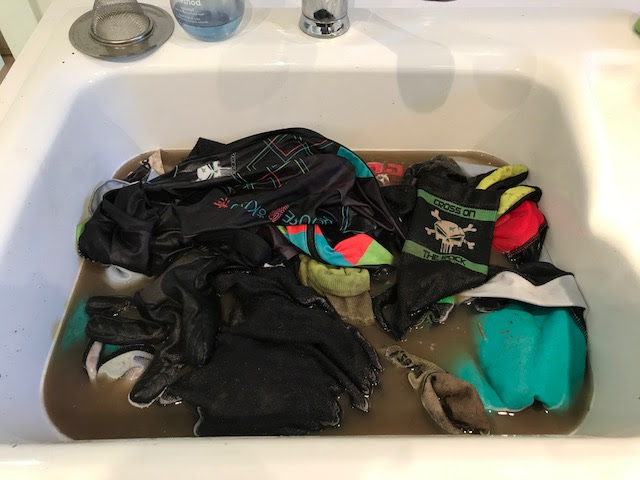 COTR – Newsletter 2017 #10 – Powered by MAZDA then cleaned and prepped by Muc Off. #COTR2017