Newsletter #5.
1. Pro City GP of Cyclocross Preview
2. Cross on the Commons. Review
3. Triple Shot Cross Fondo. One more day to register!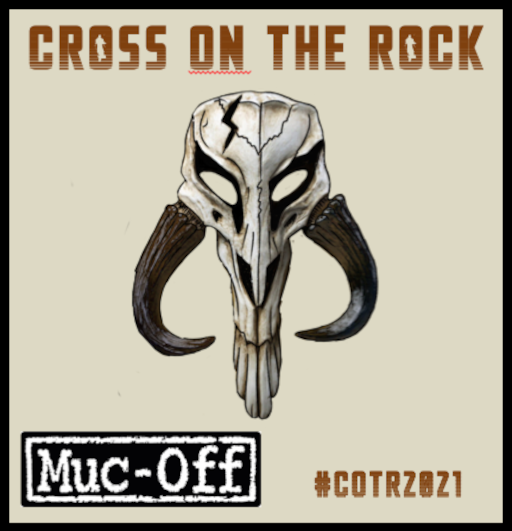 Warm Ups.
Wannawafel coming to Topaz Park on Monday. Everything is RIGHT in the world! (No pie truck this year though)
Cross on the Commons ranked #6 in all time TAMEST races. Meaning the 6th fewest DNF's EVER!
As always please make sure you are HEALTHY for the race this weekend (and your social events) if you plan on attending. Refresh your memory on our COVID Protocols.
If you are CHANGING RACE categories please #1. Let us know so you get your points and #2. we need to re-assign you a number in the new race category so you need to come to registration.
Speaking of registration how is everyone liking the new process for registration this year?
LAST Warm up is Patrick's Photo Album from Cross on the Commons.
1. Pro City GP of Cyclocross Preview
Pro City GP of Cyclocross Monday October 11th 2021
Volunteers needed for all the normal race stuff: Set Up. In Race Day Maintenance. Timing. Registration. Timing. Take Down. Raking etc. Without volunteers none of the races happen! You can still race AND volunteer. Contact Scott Mitchell to help out please: scott@trekbikesvictoria.com
REGISTRATION CLOSES: Sunday at 6:00 PM. CLOSES! No on site registration. LINK TO REGISTRATION
Description:
Could this be the final race at Topaz? There are plans to change the park considerably in the next year so this could be our last chance to race in this central Victoria park.
There will be grass…. and more grass… stairs…. and more grass…… Expect some slippery off camber corners, some long painful straightaways, there is room for the largest whirly whirl in Cross on the Rock history but we will leave that to the course crew on Monday morning.
Venue:
Topaz Park is located at the corner of Finlayson Street and Blanshard Street in Victoria. Parking is available on the north end of the park off of Finlayson Street or on the East side of the park by taking Spruce St off of Quadra Street. Additional parking is available at Mayfair Centre and SJ Willis School, a short walking distance to the park.
Please be courteous to other park users during race day and keep off the sports fields. The park is still open to the public so please be respectful.
We encourage team tents along the East side of the course near the Spruce parking lot, first come first served. If you do not have gear to haul please consider those that do and try to find parking a bit further from the fields.
Race sponsors: Shimano, Pro and Trek Bikes Victoria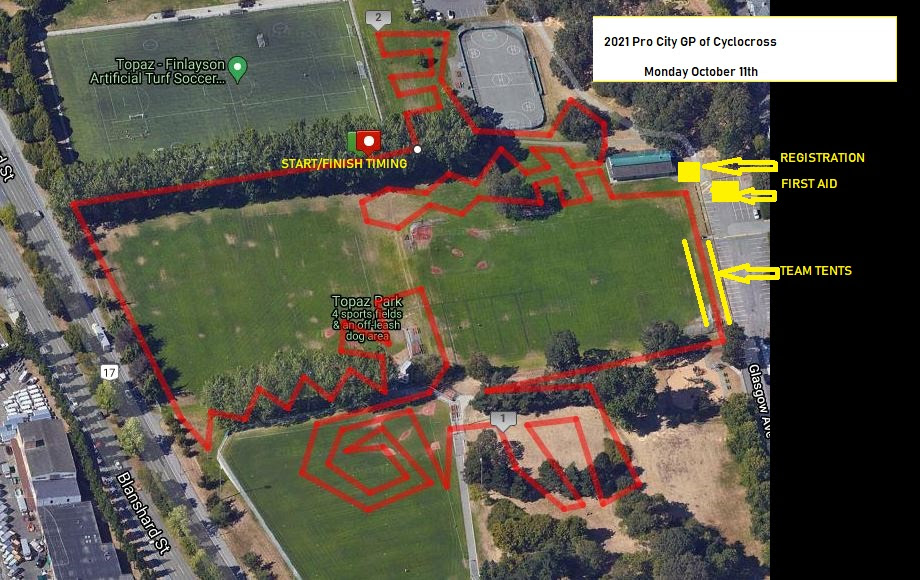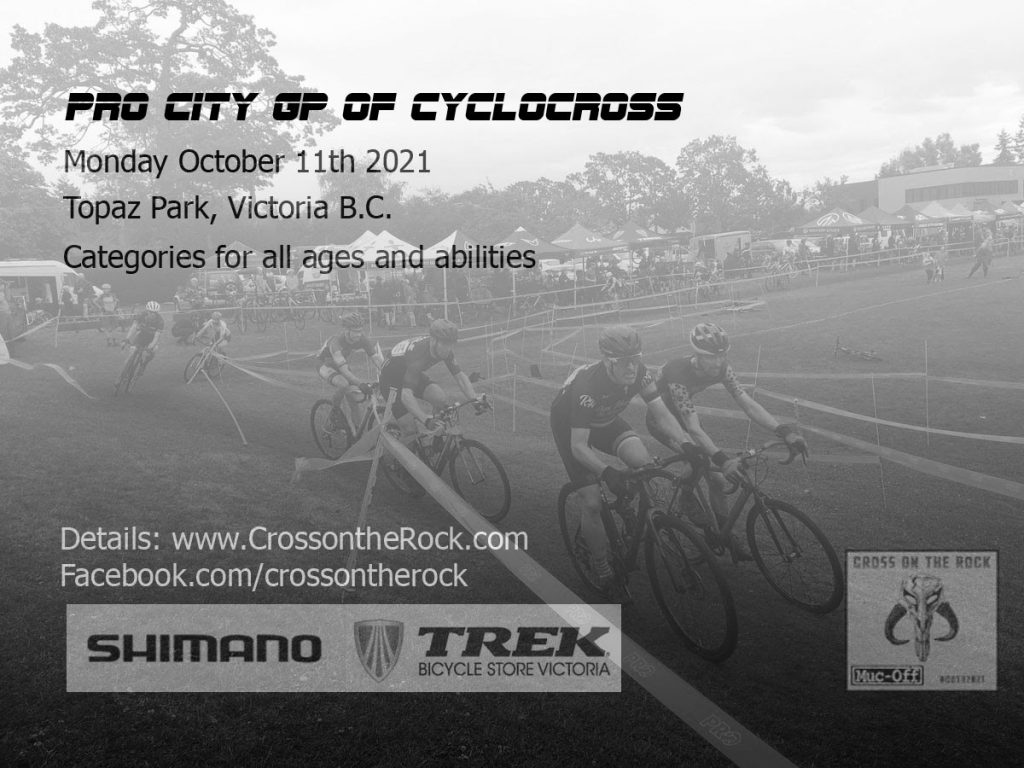 2. CROSS ON THE COMMONS. Review.
2021 Cross on the Commons – The Rear View
Thanks everyone for coming out to the second race in the Cross on The Rock series. Race registrations (334) were awesome as we learn to live in the time of COVID. Thanks also for wearing masks, hard and difficult as it is and being respectful of others.
How did you like the new location for registration, award presentation etc? I figure it worked well and not having to put cardboard down in the Civic Centre was a bonus. Ok, so maybe access to the team tent area was not the best but if we go back there that won't change. Another thing missing was a handy bike wash site (unless you had an 'in' with Jake Mar) but maybe we can twist some QB arms to change that!
And the race course? Just the right amount of gooey mud, slippery grass and, oh ya, the 3 sand sections, fast flat sections and some slow techy sections. OK, so maybe all that sunshine played a big role roll with the fun factor. And what about those Younglings, pushing their bikes up the middle sand slope? True Grit (even better then John Wayne or Jeff Bridges)! I asked one youngster, maybe 6 or 7 yrs. old, how he liked it, his answer; "it was fun". Sweeeet!
Dean figures the "Start worked well, loved the finish line (barring antics like mine!), excellent utilization of the venue and actually felt a bit more user friendly then previous years". So all in all, judging from the comments, feedback, smiles and camaraderie, I would say we had a good time!!
A special shout-out goes to the many volunteers that come out to make this race really happen. By my count, 25 volunteers doing multiple jobs and putting in many hours of service. Starting with course set-up on Saturday (once again, course was still standing come Sunday morning, 4 for 4), registration, marshalling and timing. Thanks to Georgia from Big Grin Bikes for conducting the Beginners Clinic as well as leading out the Younglings half (almost full) lap. Also, a special thanks to Michael Addiscott for providing the First Aid coverage. And then, course take-down, with a lot of thanks to those that helped out. I think Norm's trailer went away a little more organized and, as usual, packed to the gills.
Also, thanks to the Town of Qualicum Beach for wanting and making this race happen.
And far from last, is the awesome support we received from a large number of businesses in Qualicum Beach and Parksville that donated product, gift certificates and a whole lot more to a great event! Including:
Onwards and upwards for #COTR2022!
Thanks one and all,
Roy
Town of Qualicum Beach Qualicum Pet Foods, Qualicum Beach
Arrowsmith Bikes, Parksville Qualicum Toy Shop, Qualicum Beach
Big Grin Bikes, Qualicum Beach Quality Foods, Qualicum Beach
Creekmore's Coffee, Qualicum Beach Richard Frankin, Parksville
Dolly's Home Hardware, Qualicum Beach Samsara Cycle, Vancouver
French Press Coffee Roasters, Qualicum Beach Seabreeze Gifts, Qualicum Beach
Island Cycle, Parksville Sweet Dreams Bed & Bath, Qualicum Beach
Mercy Seat Tattoo Company, Qualicum Beach The Tool Shed, Parksville
Mount Arrowsmith Brewing, Parksville Wild Culture Artisan Bakery, Qualicum Beach
The Cross on the Rock race series is supported through all 6 events by:
MUC OFF
Naked Bikes
Eleven speed coffee
Hotel Zed
Island Cycles
Study Build
Nutcase
Frontrunners
Riverway Dental
Shimano
Rock City Cycles
Phillips Brewery
3. Triple Shot CrossFondo. Last Chance to register!!
2021 Tripleshot CrossFondo, presented by Properties in Victoria Real Estate….45km or 25km….wave starts with both routes showcasing new scenery on private property, swoopy trails with nutrition/aid stations and a hot lunch (salmon! eggplant parmigiana!) and cold bevies (Whistle Buoy brews, Spinnakers cider and sodas, Cultured Kombucha!) …. and so so much more! Registration closes midnight Friday Oct 8! All proceeds go to youth cycling and trail development and maintenance! Register at tripleshotcrossfondo.ca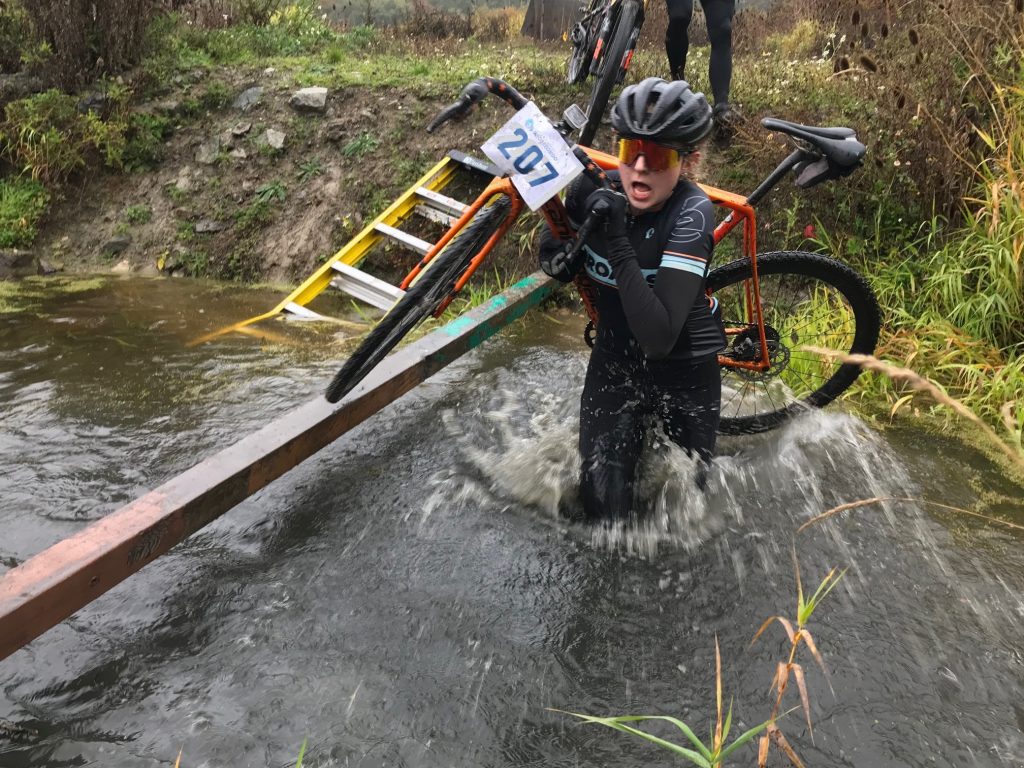 Parting Shot.
So many smiles at the start line for the Younglings.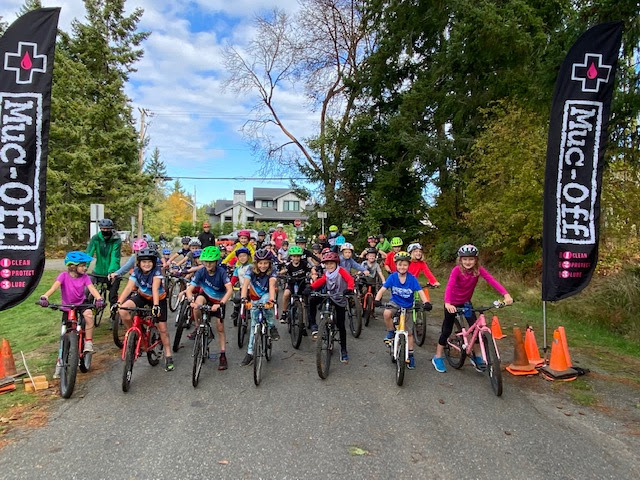 Cross on the Rock 2021: Newsletter #5