Course Description
For the third year, will the race be run clockwise or counter-clockwise or a combination of both? Hot and dry or wet and muddy, who knows. So you better come and ride to find out.
You do know though that there will be many of the features you like at Qualicum Beach. Staging and start section still the same, check! Grass and sand, check! BMX track, check! A bit of single track, check! Smooth grass sections, check! Food Trucks, Check! Same place, same great QB Civic Centre facilities.
NOTE: Absolutely NO riding on the playing fields! The marked course is the only place to be!
NOTE *2: The Town of QB is still insisting on a cardboard down and 'No Shoes' policy in the Civic Centre. This means the registration area as well as the washrooms. Please follow for everyone's benefit!!!
Team Tents
Team tents located next to the Skateboard Park. First Come, First Served. No parking in the Team Tent area. Unload, setup then park.
Parking
Parking is available at the Civic Centre. A lot of other people use the facilities at the Civic Centre so share and share alike. NO PARKING in the Ravensong Pool parking area, that is for pool patrons only.
FYI: A great place for additional parking is at the BMX track parking lot on Park Rd. Quiet, lots of room and quick access to registration area, etc. To get there, continue down Jones St to First Ave W, turn left for 1 block then turn left again on Park Rd. Parking dead ahead.
Of Special Note
A special rate at http://sandpebbles.bc.ca/ has been setup for racers that want to come early or stay late. A great spot with lovely grounds and ocean views!
$79.95 per night
A 'run of house' rate which means guests choose whether they want one bed or two!
Promo code: Cross On The Commons
At the Qualicum Beach Civic Centre. Good access from all highways:
From Hwy 19, take the only off-ramp into Qualicum Beach, follow the traffic circle around to Rupert Rd, drive 1 block and turn right onto Jones St.
Coming from north Island on Hwy 19A, turn right onto Laburnum Rd and continue until a left turn on Jones St.
If coming from down Island on Hwy 19A, turn left at Bennett Rd (also goes to airport), it will change to Rupert Rd, go around the traffic circle then one more block to a right turn on Jones St.
From the west (Port Alberni, Hwy 4) drive towards town and follow the traffic circle around to Rupert Rd, drive 1 block and turn right onto Jones St.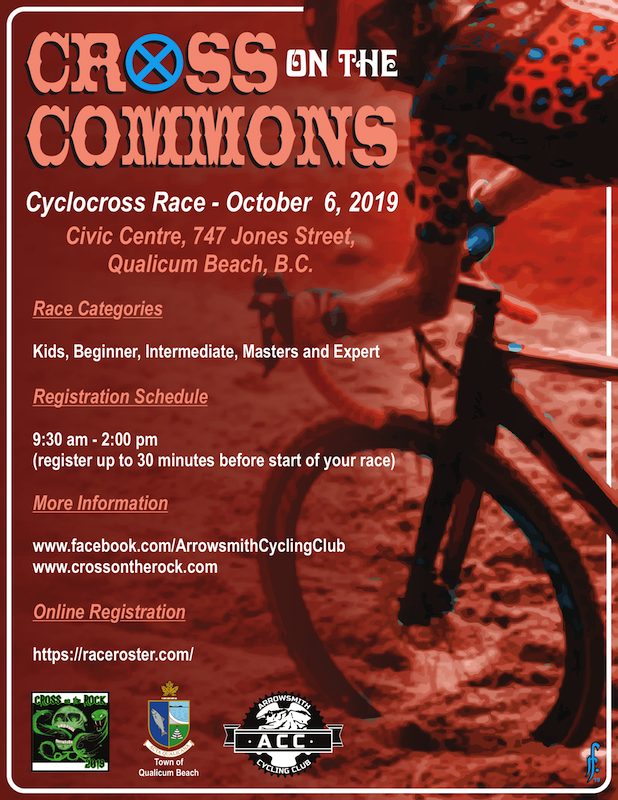 | | Pre-register | Day Of |
| --- | --- | --- |
| Launch | $17 | $25 |
| Intermediate / Masters / Open | $25 | $35 |
| Jr/Youth racing Intermediate or Open | $17 | $25 |
| Kids | Free | |
| Category | Start Time |
| --- | --- |
| Registration Open | 9:15 am |
| Beginner Clinic | 10:00 am |
| Launch Men (formerly Beginner) (Including Youth U13 and U15) | 10:45 am |
| Launch Women (formerly Beginner) (Including Youth U13 and U15) | 10:46 am |
| Goblin Zoom Zoom Half Lap | 11:40 |
| Intermediate Men (Including U17) | 12:10 pm |
| Intermediate Women (Including U17 and Masters Women) | 12:11 pm |
| Lil Nutcase Kids Race | 12:15 pm |
| Masters Men (40-54) | 1:15 pm |
| Super Master Men (55+) | 1:16 pm |
| Open Men (formerly Expert) | 2:30 pm |
| Open Women (formerly Expert) | 2:31 pm |