Course Description
What's in store for the second year? Will it be as awesome as the first year? No doubt! Will there be mud? Maybe! Will there be sand? You bet! A BMX track to test your skills? Slippery grass? Single track? Run ups? Naturally! The same great course with one major change, REVERSE direction!
Start section is still the same, on the pavement by the civic centre, then onto first base, pitcher mound then third base to be confronted with some hilly, sand sections and onto the BMX track. Racers will still be riding it backwards to keep the speed down and everyone safe. From here it is a quick down to the maze and then further to some smooth grass sections. After this it is into the trees for some pea gravel, some ups and downs, some back and forths, more grass then finally to the last sand section and the finish line. What more could you ask for?!
Same place, same great QB Civic Centre facilities. The Ravensong Swimming Pool, kids playground area and skateboard park are only a hop-skip-and-jump away so a great family location.
Team Tents
Team tents, as per last year, located next to the Skateboard Park. First Come, First Served. No parking in the Team Tent area. Unload, setup then park.
Parking
NOTE: Last year there were "some people" that chose to park in areas that were NOT for parking. Please pay attention and be a respectful COTR racer when parking your vehicle.
Parking is available at the Civic Centre. A lot of other people use the facilities at the Civic Centre so share and share alike. NO PARKING in the Ravensong Pool parking area, that is for pool patrons only.
FYI: A great place for additional parking is at the BMX track parking lot on Park Rd. Quiet, lots of room and quick access to registration area, etc. To get there, continue down Jones St to First Ave W, turn left for 1 block then turn left again on Park Rd. Parking dead ahead.
Course Map (Note course may not be EXACTLY like this map….and NO pre riding please)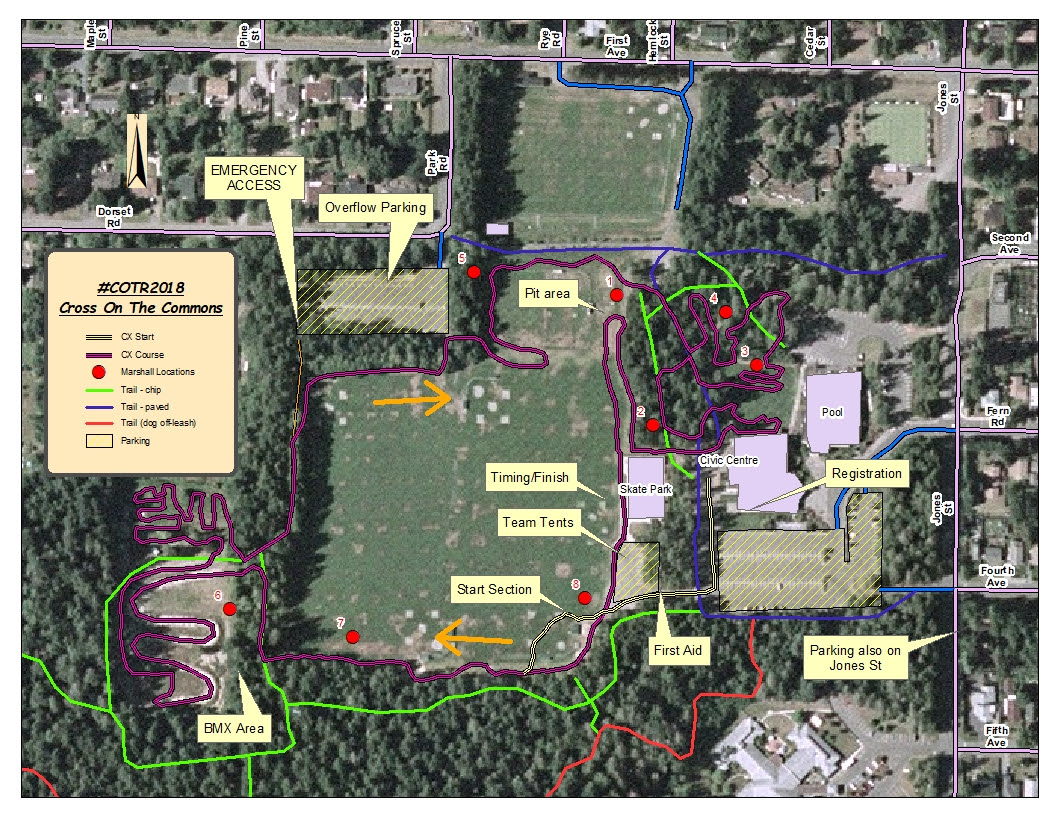 Registration

| | Pre-register | Day Of |
| --- | --- | --- |
| Beginner | $17 | $25 |
| Intermediate / Masters / Expert | $25 | $35 |
| Jr/Youth racing Intermediate or Expert | $17 | $25 |
| Kids | Free | |
| Category | Start Time |
| --- | --- |
| Registration Open | 9:15 am |
| Beginner Clinic | 10:00 am |
| Beginner Men (Including Youth U13 and U15) | 10:45 am |
| Beginner Women (Including Youth U13 and U15) | 10:46 am |
| Zoom Zoom Half Lap | 11:30 |
| Intermediate Men (Including U17) | 12:00 noon |
| Intermediate Women (Including U17 and Masters Women) | 12:01 pm |
| Lil Nutcase Kids Race | 12:10 pm |
| Masters Men (40-54) | 1:00 pm |
| Super Master Men (55+) | 1:03 pm |
| Expert Men | 2:15 pm |
| Expert Women | 2:16 pm |
If coming from up or down Island on Hwy 19 take the exit for Qualicum Beach, continue northward for about 1.5kms to the traffic circle. Take the Rupert Rd W exit after travelling 3/4 of the way around. Go another 0.5km and turn right onto Jones St. Easy!
If travelling on Hwy 19A (Oceanside Hwy) from up Island take the Laburnum Rd bypass. It will turn into Rupert Rd W, follow until Jones St and turn Left. Boom!
If travelling from down Island on Hwy 19A, turn left at the lights onto Bennett Rd (also goes to the airport). This will turn into Rupert Rd E follow to the traffic circle, half way around take exit onto Rupert Rd W, another 0.5km brings you to Jones St. Turn right. Done!