#CROSSISHERE #COTR2018 #crossontherock
Newsletter for 2018. YEAR 13-#3
Powered by MAZDA
Bikes prepped for the season with Muc Off.

Yeah….we are fired up. It seems like a LONG time away after the last race of the season until the next race season. Then BOOM it is here. Are you ready to get fired up?
Check out this 4:17 season 12 summary-wrap up edit from Ted Hobby. JUST published this morning. IF this does not get you fired up……you are not a cross racer!!
Need a place to stay in Victoria this weekend? Every Accent Inn is a Bike-Friendly Hotel
Why should your bike have to stay in a dark, unfriendly storage locker, while you sleep in one of our comfortable rooms?
It shouldn't! That's why we've invented our Bike Love program for all Accent Inns hotel locations.
Bike Love makes us the bike-friendliest hotel chain in BC—maybe even the world. Whether you're a long-distance tourer, a mountain biker, or just bringing your bike on vacation, your bicycle will always be welcome here. Just ask for a bike-friendly room when you make your reservation.
Every Accent Inns hotel offers:
Ground floor rooms you can store your bike in
Bicycle wash and tuning station with a professional-grade bike stand
Shop-quality, 37-piece tool kit at your disposal to do everything from tire changes and brake adjustments to headset overhauls
Rags for cleaning your bike
A laundry room in case it's not just your bike that needs washing
Free Bike Love stickers
IN THIS NEWSLETTER:
Pro City GP Preview
Study – Build Youth Program 2018
Welcome to our IMPORTANT Sponsors (Part 2)
Weekly Cross happenings on V.I.
Before you go on to read this HUGE e-mail a reminder that pre-registration for all the events CLOSES at 5:00pm the night before the race. If you are not pre-registered you do not get a call up (not as big a deal for the first race but it is a big deal after that).
1. Pro City GP Preview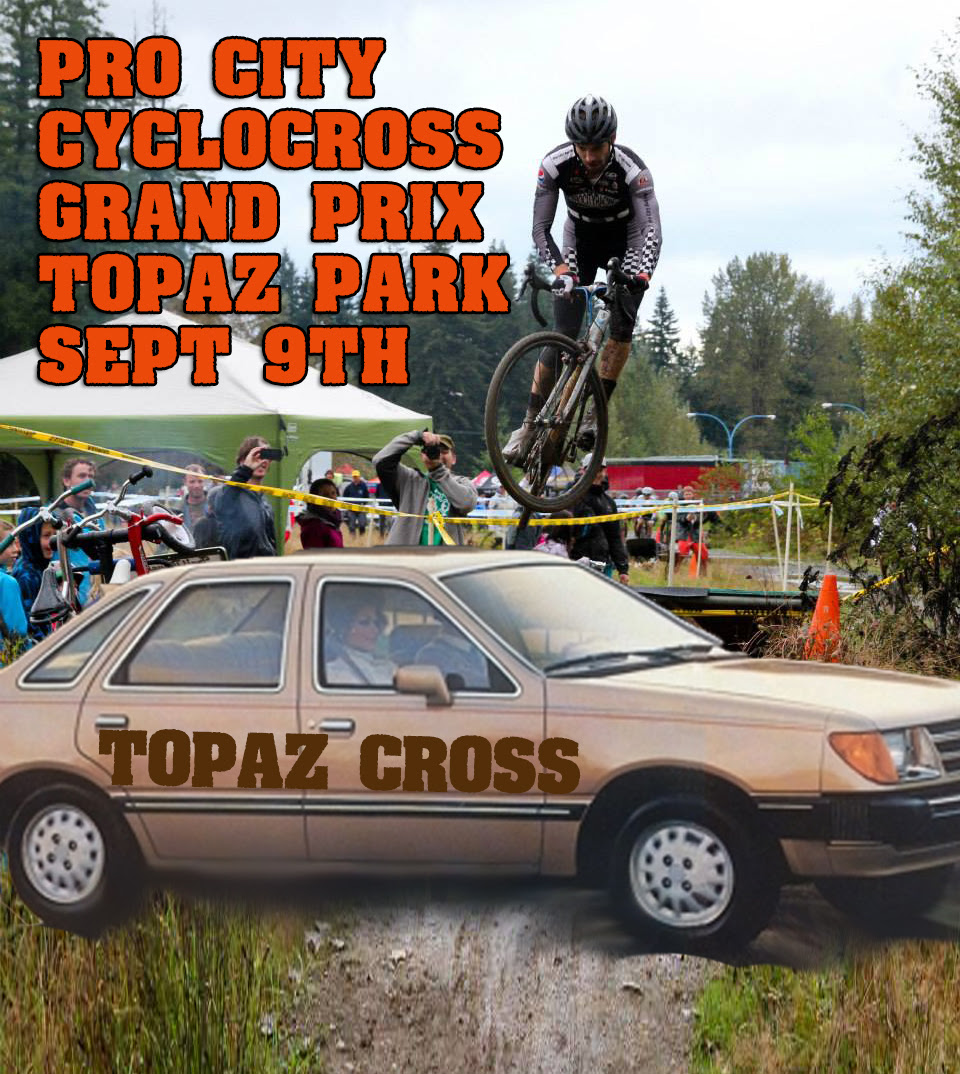 TOPAZ
Race Number Pick up.
You can pre-pick up your race number Saturday night from 5:00-7:00 PM at Pro City Racing
Course Description:
The course will be the same but totally different because we are running it backwards (Year #13….as you know for bike racers if they get a #13 they wear it upside-down. This is the COTR equivalent). Some corners will change a bit but the layout will be the same. Taking advantage of Topaz park's varied terrain including grass, wood chip trails, rocks, and more grass. The 2018 race course is fast, fun, and flowing with a mix of high/low speed riding, wide open power sections, technical cornering, and fluid long radius turns over varied surfaces. Race your file tread tires, (Updated note…..yeah…check the weather….you might NOT want file treads) bring your horsepower and your cornering skills.
Venue:
Topaz Park is located at the corner of Finlayson Street and Blanshard Street in Victoria. Parking is available on the north end of the park off of Finlayson Street or on the East side of the park by taking Spruce St off of Quadra Street. Additional parking is available at Mayfair Centre and SJ Willis School, a short walking distance to the park.
Please be courteous to other park users during race day and keep off the sports fields. The park is still open to the public so please be respectful.
Team tents:
Please send scott@trekbikesvictoria.com if you would like a reserved parking spot and area for your team tent. We will be setting up tents similar to last year, a bit closer to the parking area off Spruce St. Your spot will only be reserved until 9:30 am.
Shout outs:
Race sponsors:
Shimano Pro and Trek Bikes Victoria
Big thanks to Shimano for stepping up big time to help with prizes, course marking, and making great products!
Directions to Topaz Park
From the Mainland:
• Please check www.bcferries.com for up to date sailing times
From the Swartz Bay ferry terminal
1. Follow the Patricia Bay Hwy/BC‐17 S toward Victoria.
2. Head southwest on Patricia Bay Hwy/BC‐17 S (go 28.3 km)
3. Take left onto Finlayson St (go 260m) and look for parking lot entrance to Topaz Park on your right hand side.
OR
4. Additional parking also available by continuing straight on Finlayson another 250m
5. Turn right onto Quadra St (go 200m)
6. Take the 1st right onto Spruce St and follow for 110m to parking lot.
From Nanaimo / Up-Island (Incl. both mid-island ferries)
1. Follow Island Hwy/BC-19A South (go 106km)
2. Continue to follow Island Hwy onto Trans-Canada Hwy/BC-1 S (go 6.8km)
3. Turn left onto Finlayson St go 450m head straight through lights at Blanshard and look for parking lot entrance to Topaz Park on your right hand side.
OR
4. Additional parking also available by continuing straight on Finlayson another 250m
5. Turn right onto Quadra St (go 200m)
6. Take the 1st right onto Spruce St and follow for 110m to parking lot.
From Victoria
1. Take Blanshard St/Patricia Bay Hwy/BC‐17 N towards Yates St (go 2.3 km)
2. Turn right onto Finlayson St (go 260m) and look for parking lot entrance to Topaz Park on your right hand side.
OR
3. Additional parking also available by continuing straight on Finlayson another 250m
4. Turn right onto Quadra St (go 200m)
5. Take the 1st right onto Spruce St and follow for 110m to parking lot.
Volunteers needed!!!
We are currently looking for volunteers to help make the event Crosstastic!! Volunteers are key to COTR events and we are keen to get some new people out to help us set up, take down and run these awesome events!!
If you are in Victoria and would like to learn more about volunteering for Victoria based COTR events send me an email at scott@trekbikesvictoria.com I will gladly sign you up for sweet volunteer position.
We need help with:
Course Construction: Sunday Morning prior to the race, 7:30-10:00
Timers: 1 person for every race to help out…so sign up for a race you are not racing in 🙂
Kids Course Official: kids races are at 11:30am and 12:10.
Course Take down: If everyone pitches in it does not take long at all!
2. Study – Build Youth Program 2018
We have been REALLY lucky to have this program the last two years to support our younger racers. Last year. Study – Build has agreed to do the program again this year and would love to support the youth riders most in need of assistance. If your youth is racing BUT you are "good" when it comes to family income then maybe pass it onto someone that can use it more. Your call. Details below.
COTR 2017 youth recap
We sent cheques to reimburse racing costs for 40 youth, total of just under $5k.
We asked the kids what they would say as thanks to our COTR organizers. There were lots of thanks for great courses and great atmosphere, but here are a few of our favourite responses. We'd encouraged them to write poems!
cyclo-cross is very fun but now the season's done I like to go fast so I don't end up last thank you guys a ton
My name is Nadia, I started cross because my uncle said it was super fun, he is SO right . It is amazing that our whole family can participate in such an amazing sport. There are ten Roberts that race COTR and we all love it. A big thank-you to Norm for organizing everything and I think that you guys at Study Build are doing an amazing thing! Thank-you to everybody that made my first cyclocross season a huge success! THANK-YOU from the bottom of my heart!!!!!!!
Family and friends
Until the day ends
As we race
We must embrace
Sweat and wet
Mud and blood
Since we've begun
Until we're done
It's been all FUN!!!
Thanks for always having such fun and social atmosphere at the start line. I love chatting with friends and other fellow racers. It always helps the nerves before the race to have a few good laughs 🙂
Fast flowy slippery soup
Barely making it through the gloup
The satisfactory sound of ripping grass,
Is awesome
Program Details for 2018
Study Build Youth Program for COTR 2018
Youth must participate in 7 or 8 of the eight races this year to qualify for free entries. At the end of the season, the KIDS should fill out and submit the reimbursement form to us, and then we'll mail them (or their parents) a cheque.
The submission form will be open for one week, starting from day after last race of the season.
The total sponsorship payout will be capped at $4000 this year, so submit early!
3. Welcome to our sponsors for 2018 (Part 2)
This series does not happen without the support from.
SERIES SPONSORS Part 2
Frontrunners who let me race and organize
Nutcase do a great job supporting the little kid races
KONA the sponsor of the Kona Kup
Trek Bikes Victoria. Pro City Cycles for Topaz
Riverway Dental supporting the youth racers.
Andreas and Danielle from Study Build from Quadra Island who are sponsoring the Youth race for FREE program
Also new to the COTR sponsorship team this year are:
Liquor Plus
and Eleven Speed Coffee
It takes a LOT of support to put on these events.
As well as tonne of local sponsors from each community that we tried to give recognition to after each of the events.
This is an ISLAND series and the past support we have received from our island community is awesome. Lets keep it up in the future as it is what drives this series and makes it special. PLEASE SUPPORT THE SPONSORS. These are local businesses and companies that support local businesses. On-line companies, amazon, big business (besides Shimano) do NOT support community events.
4. Weekly Cross Happenings on V.I.
If you hear of any cross rides or training sessions happening NOT listed here please let me know and I will keep these as up to date as I can.
Rock City Cycles Wednesday Night cross ride/workout. 6pm. Nanaimo
Comox Valley Cross Practive. Runs every Wednesday evening at 5:30. Check the Facebook Group for more details
Cowichan Valley Cross rides. I think maybe Wednesday nights too…..contact them through FB.
Wednesday night races in Victoria….they start This coming week. Here is the schedule:
2018 Cross Club registration is now live!

Registration link can be found @ www.crossclubvictoria.com.

Details on locations will be emailed to the registered riders list on the Monday of each week. Make sure you register by Monday morning on the 10th of September so that you can receive the info for Ride # 1 on September 12th.
If anybody you know is not on the email blast list from last year, just send them to www.crossclubvictoria.com to register for this year.
Please bring your UCI Licence, Cycling BC Licence or proof of Club membership to the Kickoff on September 12th.
Cross Club 2018 Schedule
Ride #1 – September 12th
Ride #2 – September 19th
Ride #3 – September 26th
Ride #4 – October 3rd
(Please note: No ride on Oct 10th due to Cross on the Rock race on Monday, Oct 8th of that week)
Ride #5 – October 17th
Ride #6 – October 24th
Ride #7 – October 31st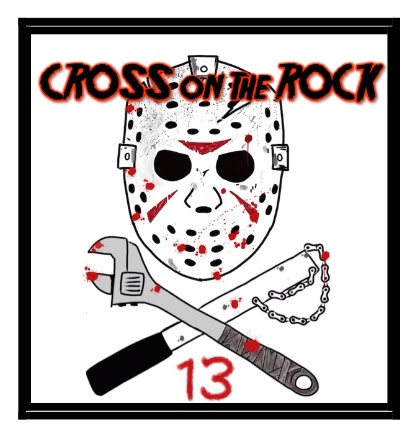 Cross on the Rock #1 is coming FAST.