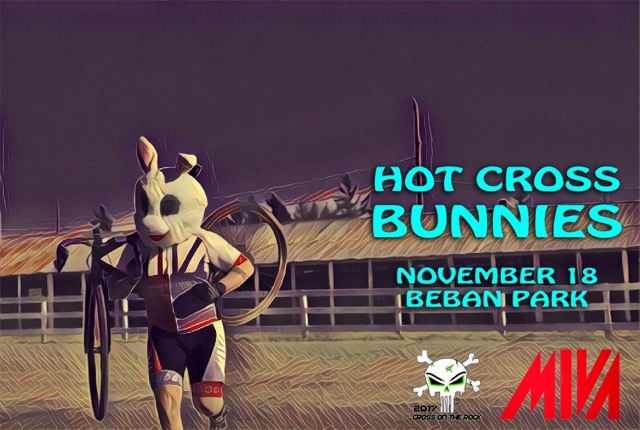 A MAJOR thanks to MAZDA for continuing their title sponsorship of the COTR series.
If you see Sean Voigt at Beban park this weekend (he will be there) please say "thanks" to him and Mazda for supporting Cross on the Rock. If you have not checked out the MAZDA line up them out on line by clicking the link above.

This week's Warm Ups:
Start your Wednesday off RIGHT. Check out Jon Wakin's edit from Days of Thunder here
You might have noticed that we "kind of" like stats at COTR. Well Roland has added a new one to stats page and to every racers page as well. Check out "Time on course" with the top 10 on the stats page and then your individual time on course on your racer page.
Tycho and Tessa will have something new this weekend. It is not something you purchase. It is not something you eat. It is not something you build. BUT you will need $1. Make sure you have a $1 coin with you when you go to registration on Saturday.
Did you have a chance to check the edit from Ted Hobby. Day's of Thunder
Saturday night (one of the reasons it is a good idea to have a race on a Saturday Night). Rock City Cycles will be hosting a CX – POST COTR PARTY. #None to go. 7:30pm doors open. Beer and snacks.
#COTR2017-1-to-go
COTR MERCHANDISE (This is what we have left for Saturday)
We have the following inventory left of merchandise for the season:
T Shirts 2017 Version ($20):
Youth sizes: 6 (very small for 'lil nutcases) 2, Medium: 7, Youth 12: 1
Women: Medium: 6, Large: 2
Men: Small: 8, Medium: 9, Large: 6
T Shirt 2016 Version ($10): Men's Large: 6, Men's Medium: 2, Women's Medium: 1
Socks ($20) (Small/Medium only-Fit up to a size 9 mens or women's 10): 6 Left
Hats ($25)(Black on the front and white on the back): 6 Left
Last chance to buy merchandise (read "Christmas Presents") will be at Hot Crossed Bunnies.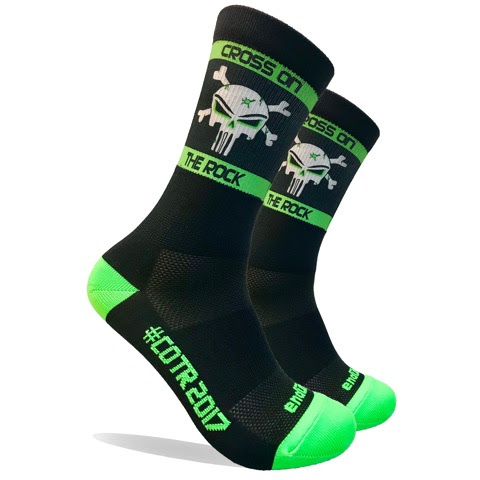 IN THIS NEWSLETTER:
Beban Park's Hot Crossed Bunnies.
Norm's Notes
The Study-Build Youth COTR Sponsorship Program Details
Practice Groups are still happening (but fading quickly with the light)
1. Beban Park's Hot Crossed Bunnies
With this coming race being the LAST race of #COTR2017 we need to make sure as much is dialled in a head of time.
Bowen park is a VERY active park. Please be considerate and aware of other park users while we are using this facility.
First thing to check is make sure that your series standing is correct. This is the ranking that will be used to determine start order on Saturday. The link to the current standings are here.
Second have a look at this sneak peak for the series. This is how the battles of the season will be determined when the mud is cleaned off on Saturday. This is the current series standings WITH your lowest score dropped if you have done all of the races for the year. Check it out here
Just for fun (and because he can) Roland also has done up series points for the Mazda ZOOM ZOOM Half Track. There are no series prizes for this category BUT we love the zoom zoom'er and thought it would be cool to have this as well: #Kids Zoom Zoom Half Track
Parking: Beban park is HUGE. But on any given weekend there is a LOT going on. This weekend in particular there is the Kris Kringle Craft fair in their main buildings along with hockey, soccer, swimming and the list goes on. This will take a lot of the available parking. The best place to park for the race is south of the registration in the gravel lot by the gold course and tennis courts. IF there is no soccer on the Beban fields then that lot will also be available. The lot by the BMX track is normally under-utilized. The paved parking by the Pool and arena will be over-run with craft fair people so it would be best to avoid those lots. Parking on the roadways or grass is strictly forbidden and will get you towed.
Team Tents: Make 100% sure your tent is staked and secured. With wind this week and in the forecast we can not have any tents becoming kites. There will be quite a bit of space for team tents (No vehicles) as marked out on the attached map. It is drop and go until we close and lock the gates around 10am. After that point you will have to carry your gear in. On the flip side the gate will be LOCKED until after the expert race so it will be carry out until that point. There will be no team vehicles inside the gate or we will run out of space for the team tents.
Registration: (Almost) Mandatory pre-registration will close like normal at 8:00pm the night before the race. In this case that will be FRIDAY NIGHT at 8:00pm. Reminder that if you choose to not pre-register you will not receive a call up. No exceptions. The call up sheets are literally done by 8:10pm the night before the race. The link to register is here.
On Saturday number pick up/license check/check in (and Tycho and Tessa's special stand) will be located in the small red barn (refer to map). Same location we have had it in past years.
Washrooms: There are LOTS of washrooms located in Beban park. EXCEPT in the area where the race is held. The washrooms that we have used in the past that are located in the VIEX grounds are now de-funct. You can locate washrooms in almost all buildings in the park. Both arenas. Down by the artificial turf field. In the Pool. Over in the craft fair area. NO DIRTY BIKE SHOES OR DIRTY PEOPLE INSIDE THE BUILDINGS OR WASHROOMS. Clean yourself up BEFORE going into a public area. We want to be able to use this venue again.
Awards: Awards location will be posted at registration. The small red barn will be too small for this year and weather will play a part so we will post this on race day. It will be a GOOD IDEA to bring a lawn chair for the awards as there likely will be no seating and the awards for the series take double the time of a regular COTR event.
Race Course: Things are coming together for Saturday's race. Both the weather and the course will be similar to last year's event but with a few notable changes. With this year's construction of the Steve Smith Bike park the BIG puddle and tree area of the course are GONE. We will make it up though. Expect a mud fest and challenging (long) course. MIVA will use all of the available barriers and every ounce of terrain to ramp up technical aspect. This is the championship event. So expect a championship worthy course.
Food: AJ's Island Grill Food Truck will be on-site and ready to serve upBreakfast and Lunch. Great coffee, Gourmet burgers, wraps and all sort of deliciousnesses.
Beer Garden: Beer Garden! Riot Brewing will also be hosting a covered area serving their finest. Come watch the racing in sand riding arena and heckle responsibly.
Post race: We will want to get the awards going as soon as possible on Saturday. With that in mind please help us both tear down as well as RAKE out the course. With the rain in the forecast the more raking we can do on Saturday the better the course will look on Sunday and Monday when people are driving by or walking through. Please bring a rake and work gloves. Many hands make light work and get the work done FAST. We will make an announcement when we are starting the awards….and…..well…..there will be no one left on course so you will notice that the awards have started!
Course Map and venue map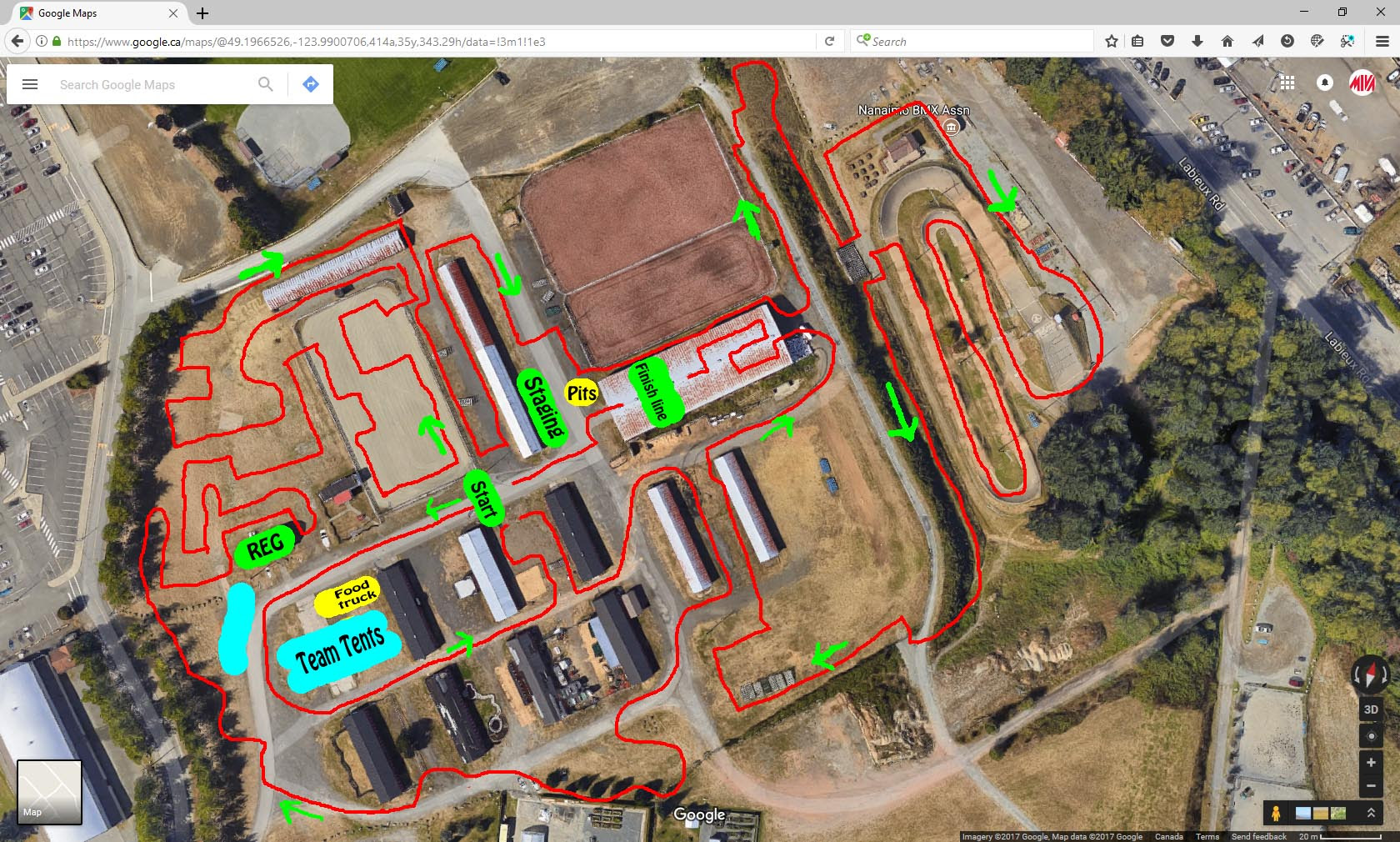 2. Norm's Notes
Nanaimo is home base for some of the businesses that have LONG supported Cross on the Rock. Please make an effort to pop into them while you are in town. Without Rock City Cycles and Frontrunners – Nanaimo this series would be very-very difficult to put on. As well the Howard Johnston in Nanaimo and the Landing Liquor store have both been involved in the past and will be in the future. So if you are staying over or doing some "celebrating" please give the Landing the HoJo some love!
As mentioned above. Tycho and Tessa are excited about their recent idea for the race this weekend. They will be set up in the Registration area until the Zoom Zoom race and then again until the masters races. Please bring $1. It will be a mental challenge and not something you can eat this time (although we can always use a twizzler station.
Bowen Park has the longest history of any venue and course on Vancouver Island. In January of 2004 we hosted the first ever cx race north of Victoria in preparations for Wendy Simm's first trip to CX World Championships. It was won by Robin Dutton. In November of 2004 we hosted the first ever official and insured cx race on Vancouver Island in Beban park. The course started and finished on an old stock car track that still existed in Beban park at the time called the Grandview Bowl. It was an amazing facility for cycling at the time. The race was actually quite well attended. The winner of the main events were Wendy Simms and Andrew Pinfold who went on to race for a number of road teams including Symetrics. In 2005 Beban park hosted the last race of the first ever Provincial Cyclocross series (which we started). In 2006 Beban Park hosted the Canadian Cyclocross Championships. The only Canadian Championships (non-masters) to be held on Vancouver Island (not 100% on that stat but I think it might be true?). Since 2006 Beban has been used almost ever single year of Cross on the Rock with the exception of 2 making it the longest standing and most used Cyclocross venue on Vancouver Island and in BC.
The series final is always a race in which anything can and will happen. With double the normal points on the line and normally more technical conditions…..things can get crazy. Combine that with some lower mainland riders that come over and the normal battles can get mixed up. Anything can happen.
At the series final in 2015 at Shawinigan Lake Olympic Legend, Andreas Hestler, came to race his first COTR race of the season from Vancouver. His placing and the first lap mechanical of Normon shuffled the top 5 of the Masters race and deflated Sean Cruickshank's chance of his first series win by 1 place. Anything can happen.
Next September is a LONG-LONG way's away (with a small summer race in August). You are a cross racer. Finish your season off STRONG. Try to beat someone you have not beaten all year. Try to finish on the lead lap. Try to ride stuff that normally you can't. Try to get a better start or better finish. Push yourself. Most importantly……FINISH THE RACE!
FOR SALE (Contact Norm).
Wendy's Super Jake is for sale. Mix of SRAM, Stans and FSA parts to make it into a bullet proof cx machine. Easy to manage cable-disc brakes. Size 53. $1950
Norm has a Nomad portable (battery or 12V/lighter plug powered) power washer for sale just perfect for CX bikes if anyone is looking $125.
3. The Study-Build Youth COTR Sponsorship Program Details
A reminder of the GENEROUS Youth sponsorship program from Study-Build.
Quadra Island based Study-Build will again be supporting and paying for YOUTH racers (up to 19 year old) for COTR this year.
Here are the requirements:
The racer must participate in 7 or 8 of the eight races this year to qualify for free entries (Under "extraordinary" circumstances less than 7 races may be considered)
For the reimbursement at end of season the racer (NOT the PARENTS) will need to submit a request.
It is important that this request come from the racer. We KNOW the parents have paid in most cases but we are trying to help build responsible little COTR racers!!
Study-Build will then mail a cheque to the racer.
LINK TO THE GOOGLE FORM TO FILL OUT
4. Practice Groups are still happening (I assume this will be the last week for the remaining groups)
COWICHAN VALLEY (Done for the year.)
Wednesday nights (next fall). Check their page on Face Book.
cowichancx@gmail.com and Cowichan Cyclocross on Facebook
NANAIMO (Check with Rock City Cycles now that the time has changed)
Wednesday nights at Rock City Cycles. Cross ride starting at 5:00 (NOTE EARLIER START TIME). Will adjust length based on daylight.
COMOX VALLEY (Check with Trail Bikes to confirm)
Wednesday Night cross practices. 5:30pm. Location will vary each week in either Cumberland/Courtenay/Comox. FB group for more info: https://www.facebook.com/groups/457383181299940/
VICTORIA (Done for this year)
Have you checked this out yet?
Game Changer. With winter here and here EARLY this year we all want to find ways to stay on our bikes and be comfortable and dry. The Shake Dry jacket from Gore Bike Wear is a game changer. Most waterproof jackets are TOO HOT to ride in. This is SUPER-THIN. Super light. It compacts up into a tiny ball and breathes like no other waterproof jacket. They are a bit "pricey" but you will get your $ out of it. Invest in your comfort and sport. Check out the video on the Gore Bike Wear Shakedry Jacket here. These are available at Rock City Cycles and other select local bike shops on the island. Check it out. Buy one. Change your life!
Corey Piket from Rock City Cycles shown in the Shake Dry jacket (and COTR 2017 hat). NOT in cycling clothing….but looking good anyways!!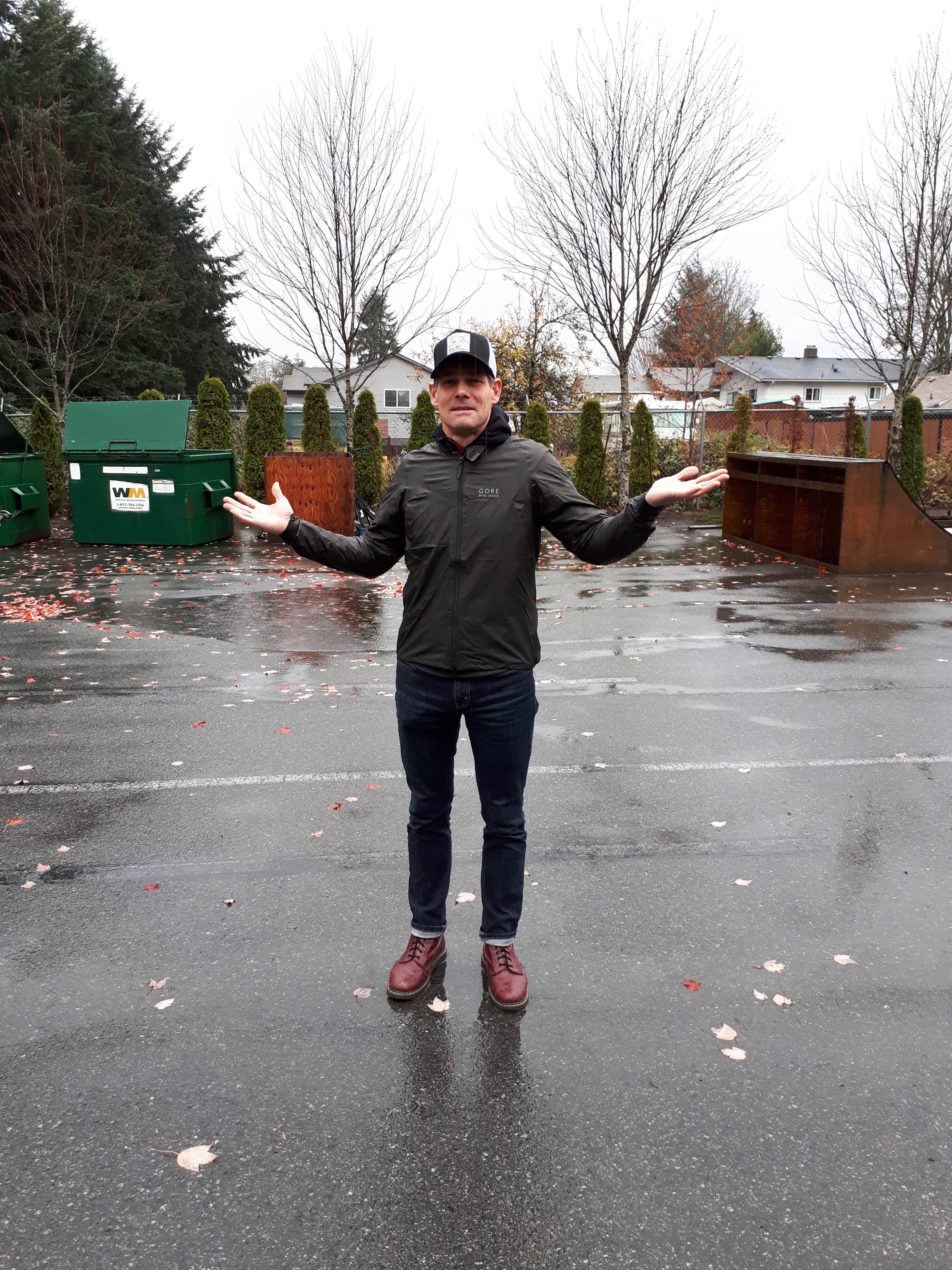 The Council of cross signing off until next week. We will be back next week with our 12th and last Newsletter of 2017. Look for the series final follow up and the series survey.
Do you want to win the coolest thing of your entire life?
You have to be there on Saturday at the series final. So far this season we have had 348 racers average at each race. You have to be a racer in a SERIES category (ie. NOT Zoom Zoom or 'Lil Nutcase). You have to be EXCITED beyond belief!
Win a Naked X Frame in time for 2018 COTR race series.
2015 Naked X Frame winner. Roy Kregosky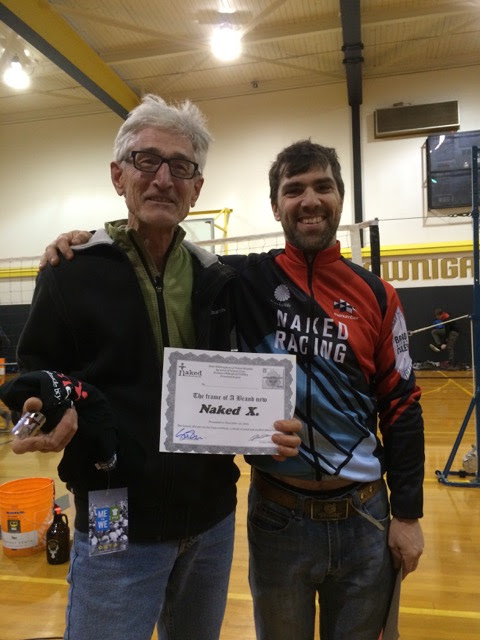 2016 Naked X Frame winner. Ritchie Hughes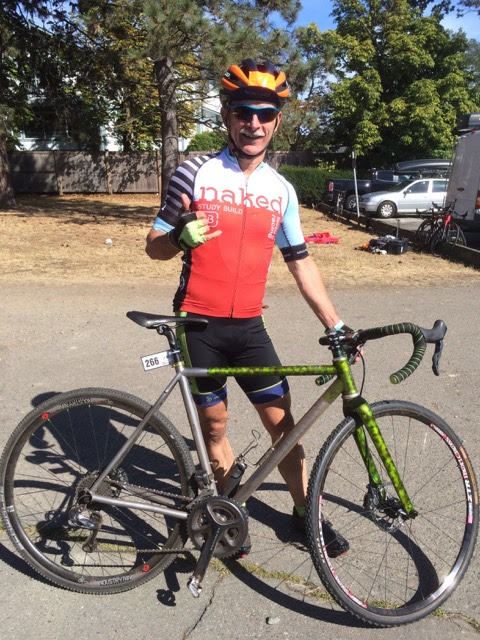 COTR – Newsletter 2017 #11 – Powered by MAZDA then cleaned and prepped by Muc Off. #COTR2017