Newsletter #7.


1. Muc-Off Cup Review
2. Registration is OPEN for the Broad City Cycles GP.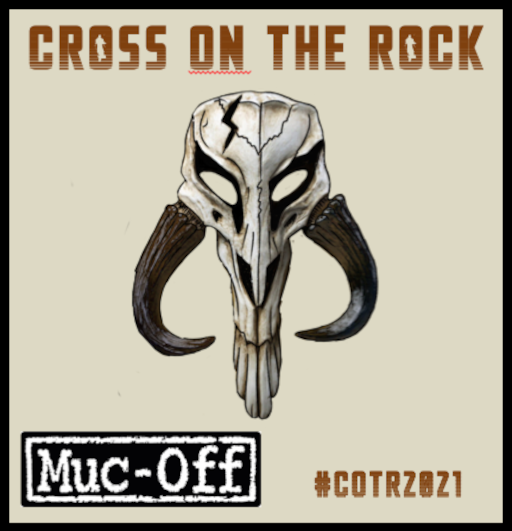 Warm Ups. Just ONE warm up note this week as it is SUPER IMPORTANT.
Before you do ANYTHING else. Before you read this newsletter or register for Race #5. Please send Nanaimo Parks and Recreation a note thanking them (do NOT mention MUD, Rain, course conditions, remediation or destruction) for supporting our race at Bowen Park. They have always been GREAT but the department has a LOT of new staff so they have not been around the last time we hosted this race. Here is the e-mail address: gail.johnson@nanaimo.ca Send a note to her. BCC us at normon@crossontherock.com and we will enter everyone that took the time to send a note into a draw for a prize pack at the next race. We want to return to Bowen park so help us make sure this happens!
1. Muc-Off Cup Review.
PLEASE STAY OFF THE COURSE!
So many posts on Instagram and Facebook from the Muc-Off cup. It was great to see everyone's photos and comments!
Winning the GRAND DRAW PRIZE of a CUSTOM Muc-Off bike was Jonathan Hart!!
Corey from Rock City Cycles presenting the bike.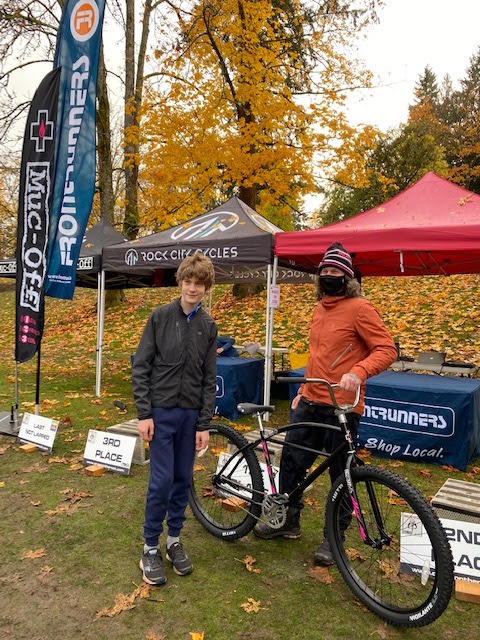 Photos from the Muc-Off Cup
Photos from Nick Dunlop from Rock City Cycles.
Photos from Dirk Heydemann who was blown away after coming to Bowen on Sunday. It was the first time he had attended a cyclocross race.
Photos from Patrick Burnham.
Notes from Sean and Corey.
Wow, just wow!
That was a cross race!! Great turnout, thank you to all that made the effort considering the weather forecast! The Low Pressure Bomb showed up midday to give us all a scare and to set the tone for the afternoon's races. It was the mudder's day to shine and they did. Big thanks to Pete and the Muc Off crew, Jamie and Brad, for keeping everyone's bikes clean.
A separate thank you to Peter Creighton from HCL Bike and the local representative of Muc-Off. Peter has supported the series from the start and is there at the races making sure that everything is covered. His support is a HUGE part of our success!
I always get stressed leading up to this race. We love this course and take pride in doing our best to keep it one of the most loved with you too. Thankfully we have such an amazing crew that comes out that it takes all the stress away.
Thank you to Paul, Sheppard, Nick, Tyler, Aiden, Michael, Andrew.
Extra special thanks to Edwin, Laurie and their girls Bridget and Emma who came out to set up and then raced!
Thanks to Patrick and Roland for timing and scoring and Colin, Leigh and Daniel for helping with the timing.
I really appreciate how many racers pitch in at the end and get the course cleaned in record time. This series really has an incredible family/grassroots feel to it yet still blows every other series in Canada away with how professional the races are. It's great to receive emails from out of town racers telling us how much they like the series.
Thank you to Lyle and his crew at Medix and also to the Tipsy Avocado! We try to only keep the food truck busy but unfortunately we sometimes keep Medix busy too. Send all your good thoughts to Wayne Shtybel to heal up quickly after his crash.
As always we couldn't do this with the support of the City of Nanaimo and Parks and Rec. Thanks for supporting our series for all these years, especially Gail and Michele.
Norm! Thanks for keeping Cross on the Rock alive!! Big congratulations on your win!!
Corey and Sean
Rock City Cycles
Just a few notes from Norm
What a great opportunity for us last Sunday to race in unreal conditions!
A HUGE thanks to the crew from Rock City Cycles, MIVA and other members of our community for coming up to set up, monitor/maintain, clean up and rake. The course was taking a beating and people were stepping up all around the course to make sure it was still maintained.
Although I did not like it at the time a BIG THANK YOU to Patrick Burnham who was observant and with his experience was able to calmly make a call to cut the Masters Men's race by a lap. With the conditions the way they became during that race it surely saved some racers a great deal of discomfort and may have saved a life. There were more than a few masters racers that were not dressed for the conditions once they changed.
Other than that masters race we absolutely lucked out on the weather! For the day that it was supposed to be we had a pretty stellar day for the race.
I was personally very satisfied with the number of people that LOVED the course. It is TOUGH but so fun. Since it is our home course Nanaimo takes pride in making sure that it is great and the tweaks we had this year made it as good as any other and far better than the time we had to do the stairs 10 times!
Always trying to come up with good prizes for the Younglings. This time we had some Halloween goodies in a Muc-Off bottle…..but trying to promote healthy habits with a toothbrush from Dr. Wade Luksay at Riverway Dental.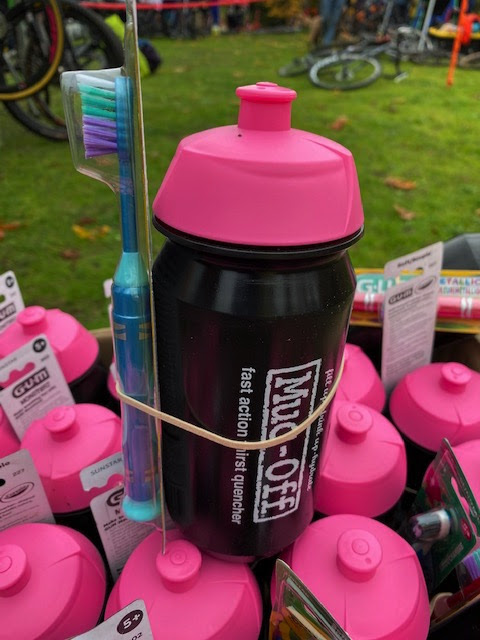 2. Registration is OPEN for the Broad City Cycles GP.
We will post a preview for Race #5 of the 2021 Cross on the Rock series next week. For now here it the link to registraion which is now OPEN but will close the night before the event at 6:00 like normal.
https://ccnbikes.com/#!/events/cross-on-the-rock-2021-race-5-jordie-lunn-bike-park-irwin-park-langford
Parting Shot
Peter Creighton. Cross on the Rock's longest supporter. We all thank you.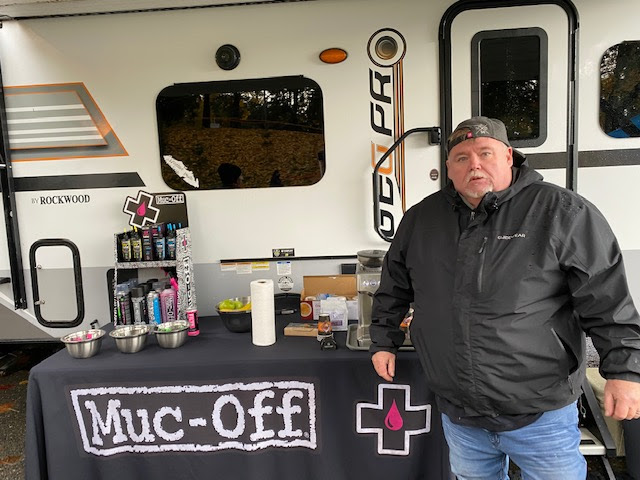 Cross on the Rock 2021. Race #5. Broad City Cycles GP. Registration Confirmation