A MAJOR thanks to MAZDA for continuing their title sponsorship of the COTR series.
I hope you had a chance to say thanks to Sean Voigt from Mazda at Beban park for supporting Cross on the Rock. If you have not checked out the MAZDA line up them out on line by clicking the link above.

First thing first. Please take 5 minutes and 45 seconds (average response time) to fill out our end-of-year COTR survey. This helps us shape future race seasons, gather valuable feedback, support sponsors and gives us one more change for you to win a sweet prize package (2 to be given away).
2017 COTR Year and Survey HERE
This week's Cool Downs:
Most importantly. Who took all the CASH ($75ish) and Jelly Beans in T&T's Jelly Bean contest? Well the correct answer was 396 and the winner was Julie MacTire! Congratulations on your WIN!
I know. For the next 10 months or so you will mostly miss Norm butchering your name during call ups at EVERY race. (Sorry to Isla amoung all others).
The last Ted Hobby Edit from 2017. Hot Crossed Bunnies.
One of our favourite shots of the season. Almost the full record breaking Expert Women category got together for a photo after their race. Organized by Glenowyn.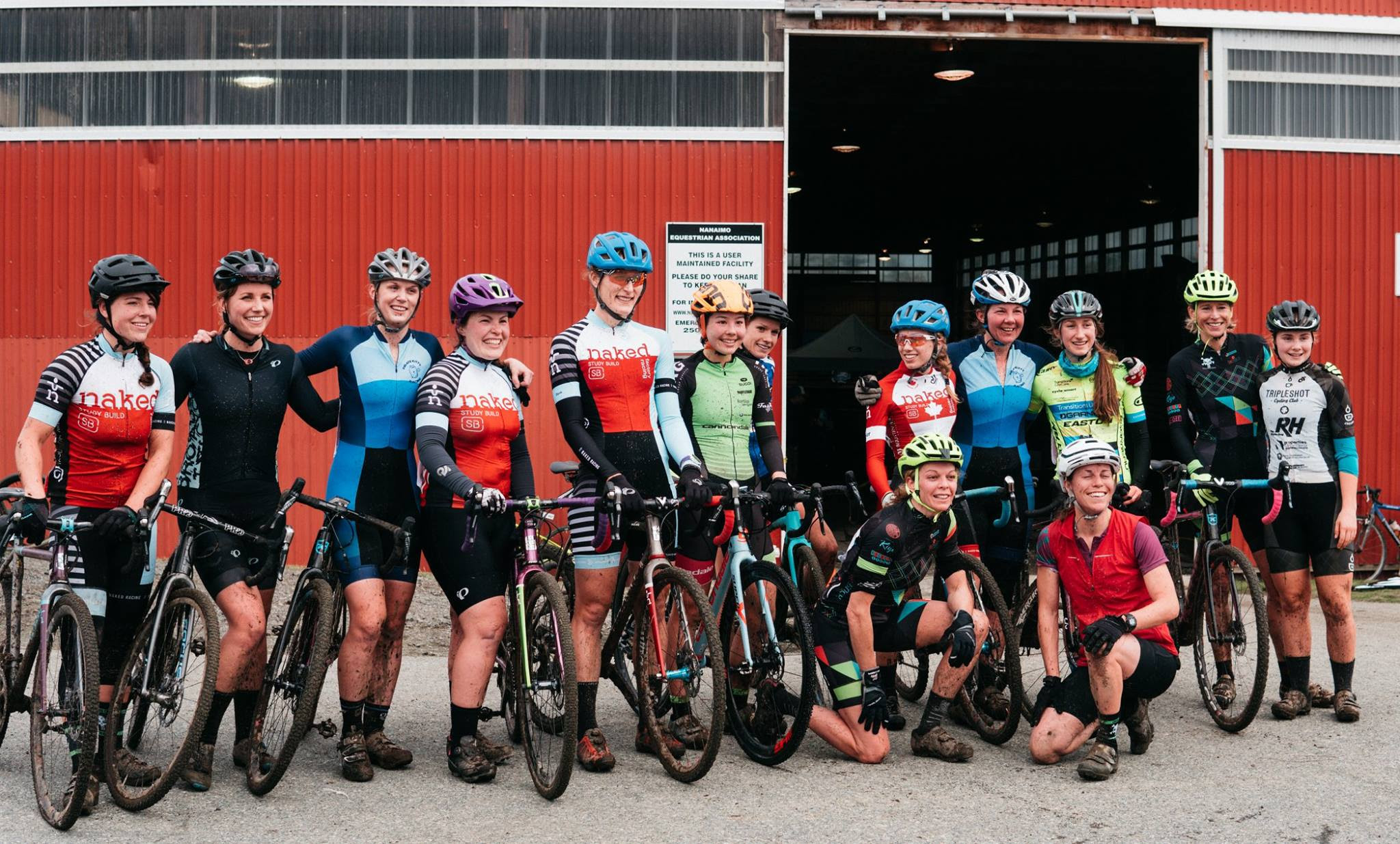 IN THIS NEWSLETTER:
This series does not happen without the support from.
Beban Park's Hot Crossed Bunnies Series Final
Norm's Notes
The Study-Build Youth COTR Sponsorship Program Details (one last time)
First Look…..Save these dates for 2018
1. This series does not happen without the support from.
SERIES SPONSORS
Title Sponsor: Mazda
Presenting and main prizing Sponsor: Muc Off
Sponsor for the Victoria races: Pro–Pearl Izumi–Shimano
Super Masters Men's Category Sponsors Island Cycles
Corey and Sean from Rock City Cycles Nanaimo
Peter Creighton from Cycles Lambert/Muc OFF
Phillips Brewery for their continued support for the Single Speed category and series prizes for all categories (including Root Beer for the youth).
Frontrunners who let me race and organize
Nutcase do a great job supporting the little kid races
KONA the sponsor of the Kona Kup
Trek Bikes Victoria. Pro City Cycles for Topaz
Wade Luksay Riverway Dental (Youth Category Sponsors giving CASH to these little up coming racers at the series final. We hope they were PUMPED)
Andreas and Danielle from Study Build from Quadra Island who are sponsoring the Youth race for FREE program
And Sam Wittingham from Naked Bikes….because he is SAM

Along with these series sponsors each race had a tonne of local sponsors from each community that we tried to give recognition to after each of the events. This is an ISLAND series and the past support we have received from our island community is awesome. Lets keep it up in the future as it is what drives this series and makes it special. PLEASE SUPPORT THE SPONSORS. These are local businesses and companies that support local businesses. On-line companies, amazon, big business (besides Shimano) do NOT support community events.
This is what an amazing prize table looks like at the end of the race season with support from our sponsors. We estimate that we gave away over $25,000 worth of stuff over the course of the race series this year. (Paul Brend working in the back ground finishing up the trophies)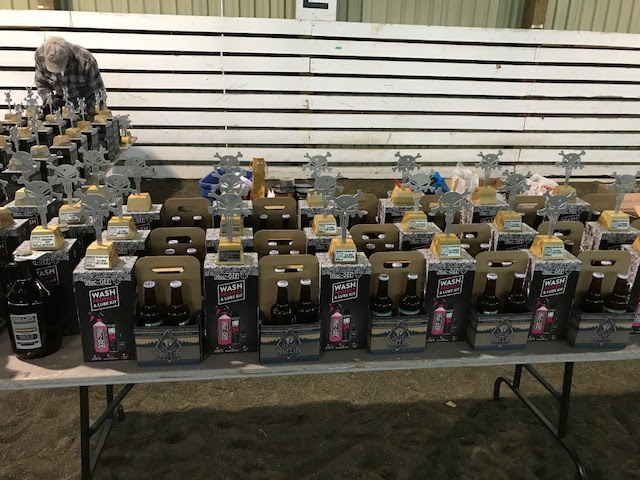 2. Beban Park's Hot Crossed Bunnies Series Final
Notes from: MIVA and Race Director Ron Hewitson
Thanks to all the racers, volunteers and Norm for making the Beban race the best one yet. The feedback especially on the course design was excellent and fun. People especially liked the sand and areas behind the red barn, and BMX. All of which had great viewing!
Thanks to Mary Smith from City of Nanaimo Parks and Rec for working with us to make this happen. Also to the folks from Nanaimo B.M.X, the VIEX and Nanaimo Equestrian Association as they sublease parts of Beban Park from the city and were very cooperative to work with.
Thanks to Andrea and staff from AJ's Food Truck. I had a house burger and it was amazing!
Also thanks to Riot Brewing for setting up and hosting the beer gardens. You never go wrong with Riot.
There was only one medical situation when young Zachary Loveless crashed hard in the BMX. Ryan and Adam from our medical support Medix raced in to begin their initial assessment. I really appreciated the care they took and professionalism they displayed when they deferred the case to EMS. The local fire truck came and they deferred it to the ambulance. I'm glad to report that Zachary is OK. Nothing Broken.
Last but not least a special thanks to Norm and the MIVA crew especially president Patrick, Phil and past prez Mike for stepping up and doing the lion's share of the work. Also to all the volunteers who helped with set up, course marshalling, timing, registration, tear down and all the other small but important tasks that make an event like this run smoothly. We couldn't have done it without you!
3. Norm's Notes
The last race of the year is always a bit more work. That combined with having the last race at Beban by my club…..and it was even more than normal. I always take a bit more "responsibility" when a race is a Beban as it is the first course we ever used and I want things to go well. It has a lot of "eyes" on it. I was really impressed with the number of people that came together to help out when the last race was done to do as much remediation as possible on Saturday. Thank you!
This series is a massive amount of work. We have 8 groups that each put on events and then the council of cross that tries to pull it all together to make it work. In the middle of it all I am puling on all the kite strings to make it fly. Getting it off the ground is one thing. Flying is another. This year I feel like the COTR series is starting to soar. 12 years in the making. Thank you all for supporting the series. It has always been about the racers. It is about competition. It is about community. It is about fun. You make it happen.
Behind the scenes there are always people pulling everything together. At the front of each race are the race directors. This year they were:

Scott Mitchell
Drew MacKenzie
Tara and Mike Pollock
Dave Nowak and Chris Sykes
Corey and Sean from Rock City Cycles
Roy Kregosky
Ron Hewitson and Patrick Burnham

Hugely involved with the series as well is our timing, stats and web site crew. Patrick Burnham, Roland Rabien and Brett Whitehead keep things up to date and accurate for the results, awards and web site.
Getting our trophies designed, built and delivered were Jamie Cameron and Paul Brend
Did you see the new stat on your athlete page? After adding "Time on course" Roland has now added "Average placing" (with standard deviations of course). Roland is always upgrading the stats!
4. The Study-Build Youth COTR Sponsorship Program Details (One last time)
Deadline for applications for this is This FRIDAY. November 24th. 6:00pm.
A reminder of the GENEROUS Youth sponsorship program from Study-Build.
Quadra Island based Study-Build will again be supporting and paying for YOUTH racers (up to 19 year old) for COTR this year.
Here are the requirements:
The racer must participate in 7 or 8 of the eight races this year to qualify for free entries (Under "extraordinary" circumstances less than 7 races may be considered)
For the reimbursement at end of season the racer (NOT the PARENTS) will need to submit a request. It is important that this request come from the racer. We KNOW the parents have paid in most cases but we are trying to help build responsible little COTR racers!!
Study-Build will then mail a cheque to the racer.
LINK TO THE GOOGLE FORM TO FILL OUT
5. First Look…..Save these dates for 2018
OK. We always publish this on the last newsletter. And on our Web site. BUT we ALWAYS get e-mails asking when the races are. Dates. Details. SO despite the fact that a lot of people ignore what we publish here is how the series is shaping up for 2018.

Year #13 of COTR.
This is a SOLID draft at this point. There might be some small variations BUT unlikely that everything would change!
Race #1: Season opener September 9th. Victoria. Currently: Topaz Pre-race day race number and chip pick up at Pro City from 5:00 – 8:00. Same as the last 2 years.
Race #2: September 16th…..back in Cumberland with the Saturday NIGHT pub/taco race. (Moving up 2 weeks from this year)
Race #3: September 30th: Qualicum Beach. Group favourite! (earlier)
Race #4: October 8th: Bowen Park Nanaimo (Status Quo) (YES this is a MONDAY)
Race #5: October 21st: Port Alberni. The return of P.A. Currently one of two possible venues.
Race #6: October 28th. Crosstoberfest. MID island. Either at Cowichan Exhibitions, Sun Fest or Ladysmith.
Race #7: November 4th SINGLE HEADER at MIVA's choice Venue. Arbutus Meadows or back at Beban
(Nationals champs on the 10th in Peterborough)
Race #8: Series final. November 17th Seaanich Fairgrounds OR Speedway for the final race of the year. Need to confirm venue. But in Victoria. Bookending the race season with Victoria races.
So it would go
2 weekends in a row.
1 weekend off
2 weekends in a row (8 days between)
1 weekend off (crossfondo)
2 weekends in a row
1 off
and then Series final.
6 Sundays
1 Monday
1 Saturday.
This fits closely with our Survey responses from 2016 for days preferred for COTR races. Around 80% said Sunday…..so we are at 75%. Not bad!
THAT IS IT FOR US for 2017!
The Council of cross signing off until next August. We are always on FB though updating that all the time. Thanks for a GREAT race season. Don't forget to do the survey!
Who won the Naked Frameset?
Well it was Rowan Belanger who won the AMAZING frame from Naked bikes and Sam Whittingham. Instantly making her the envy of all others!!
Congratulations!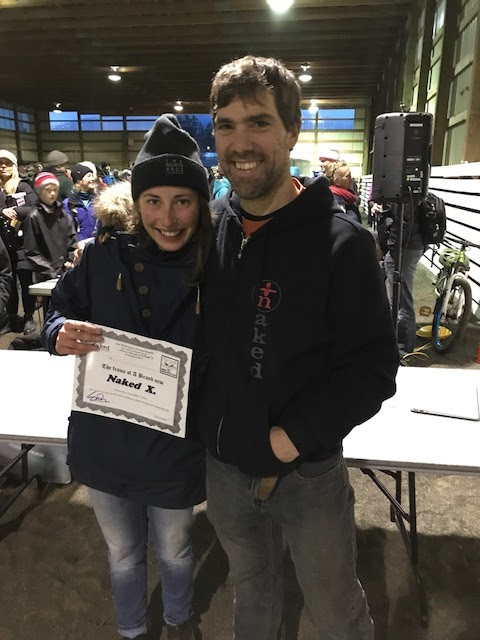 Parting Shot for 2018. These races do NOT happen by themselves. Behind EVERY SINGLE COTR race there is a huge support crew. Here is a shot of a strong crew from MIVA out Sunday morning in driving rain checking the course over and doing remediation. Thanks to EVERYONE that pitched in this year to make COTR what it is!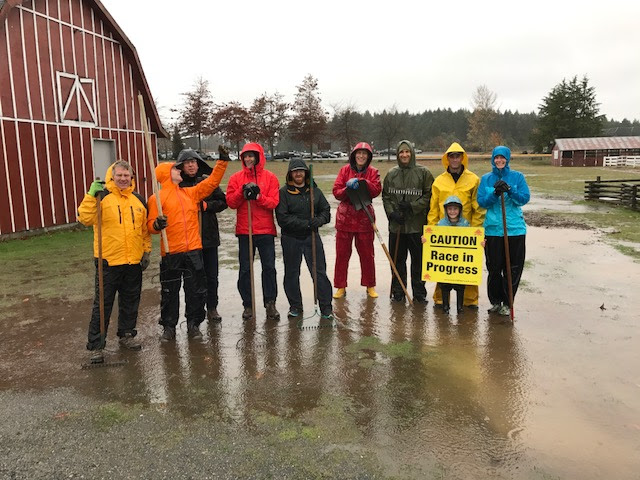 The LAST COTR – Newsletter for 2017. #12 – Powered by MAZDA then cleaned, prepped and put away with Muc Off. #COTR2017